Just how crazy have the bond markets gotten?
Submitted by gjohnsit on Fri, 08/16/2019 - 5:13pm
What is a negative interest rate bond?
It is by definition a default.
Just because it is an agreed upon default doesn't change that fact.
And that's at nominal rates. If there is any price inflation at all (and there is), that just adds to the losses.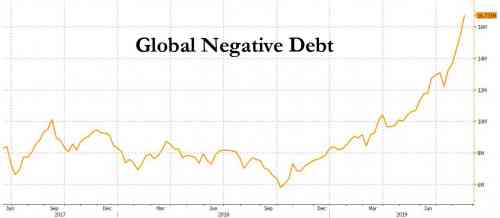 Right now more than 25% of all the bonds in the world have a built-in default.
There are ways that bond traders can still make a profit, but they require a lot of risk for very little profit.
Extremely low interest rates in the U.S. are nothing compared to Europe and Japan, where most interest rates are negative.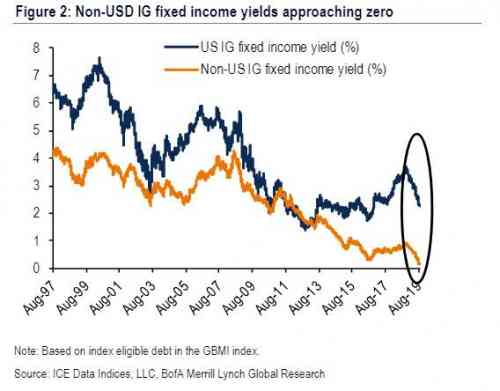 Essentially if you want some yield and you don't want to buy junk bonds, you have to buy American.
The only way that this can be true is if a) the rest of the world's central banks are engaging in massive QE programs on a level that qualifies at an untested monetary experiment, and b) the U.S. is issuing new debt of its own by the boatload.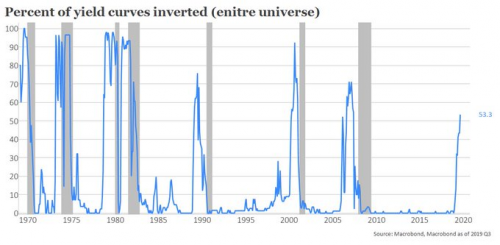 More than half of all the bond yield curves in the world have inverted.
Meaning that short-term debt pays better than long-term debt.
This indicated a global recession is coming.
Which means that global central banks will be cutting already historically low rates.
Meanwhile, Trump is hyper-focused on the markets.
When the stock market tumbled on Wednesday President Trump panicked and held a conference call with the chief executives of JPMorgan, Bank of America and Citigroup.
Stocks are only 5% off of all-time highs. What happens when there is a bear market?
At the same time, Trump is putting immense pressure on the Federal Reserve to cut already low rates.

Jay Powell, the Federal Reserve Chairman, has banned any public appearances by any member of the Fed, Cockburn hears. Appearances at conferences have been canceled, all scheduled interviews have been abandoned and any comments on or off the record are outlawed.

This unprecedented action is a reflection of two pressures. First, there are growing economic indicators that suggest the US is heading into a recession with the Dow plunging 800 points on Wednesday. Second, relations with the White House have reached a new low. President Trump has pinned the success of his presidency upon a strong economy and his qualifications as a businessman who understands the economy. If a recession takes hold, Trump believes his reputation will be destroyed and his chances of reelection dimmed.

This week President Trump lashed out at Powell and the Fed claiming they are responsible for the slide in the stock market.
...
For his part, Powell believes that the Fed, which cut interest rates by a quarter point at the end of last month, has very little left in its armory and that even a cut in interest rates would do nothing to combat growing international economic pressures. Powell has become increasingly concerned at Trump's criticisms, which he believes shows he has little understanding of the economy or the Fed's role.
Powell is right. Trump doesn't understand sh*t. Only Trump voters are fooled.
But Trump can influence the Fed and interest rates, especially when the inevitable recession hits.