John Adams and the Two-Party System
Submitted by darkmatter on Sat, 06/04/2016 - 7:34pm
In 1780, seven years before our present Constitution was drafted, John Adams wrote the following in a letter:
There is nothing which I dread so much as a division of the republic into two great parties, each arranged under its leader, and concerting measures in opposition to each other. This, in my humble apprehension, is to be dreaded as the greatest political evil under our Constitution.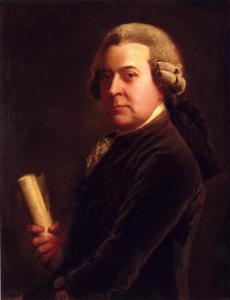 When Adams refers to "our Constitution," he is referring of course to the Articles of Confederation, which were drafted in the late 1770's and finally ratified in early 1781.
But our nation did get another bite at the apple. As we all know, the Articles were too weak and there was a second attempt to create a viable federal government among the former British colonies. What always bothers me is why did the founders not head the two-party danger off at the pass in the 1787 Constitution? Adams, alas, was not present in Philadelphia in the summer of 1787; he was in England, serving as the American ambassador. What if Adams had been active in the drafting of the Constitution? Did no one else share his grave concerns about the rise of a duopoly? Was it again a question of appeasing the slaveholding states, or some other form of privilege protection? I would be grateful if someone more versed than I in the history of the Constitution could shed some light on this question, although for our present purposes, it is all so much water under the bridge.
Article IV, Section 4 of the U.S. Constitution guarantees to all states a "Republican form of government." Imagine if the Founders had qualified that just a bit, by saying, "With all Legislatures constituted proportionally by all parties standing for election." Just. That. Phrase.