Greenland is burning
Submitted by

Steven D

on Thu, 08/10/2017 - 9:26am
Yes, that's right. As the Greenland ice sheet has receded, large areas of peatland have thawed, and those areas hold massive amounts of carbon. Now two large fires are occurring. Here's a ESA satellite photograph of the fires: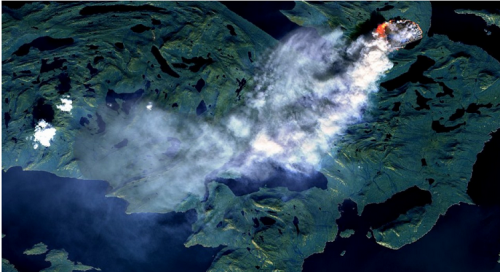 Such fires have been rare events - in the past. But now, as the ice sheets in the Arctic recede, and more areas previously frozen year round thaw and dry out, we are likely to see more and more of these game changing wildfires.
Increased size and number of wildfires is one of the expected consequences of climate change. Scientists have warned the US West has already entered a "new era of wildfires" with average temperatures in that part of the world now two degrees Celsius higher and the burning season nearly three months longer than in the 1970s.

Greenland's vast ice sheet, which could raise global sea levels by six metres, lost a trillion tonnes of ice between 2011 and 2014, according to one recent study which found the rate of melting had tripled.
The likely result? It's not good. Read on:
Three-quarters of Greenland is covered by the only permanent ice sheet outside Antarctica, and permafrost is found on most of the rest of the island. These are reasons why it is very unusual, and possibly unprecedented, that two wildfires are burning on the giant island.

"These fires appear to be peatland fires, as there are low grass, some shrub, and lots of rocks on the western edge of the Greenland Ice Sheet", Jessica L. McCarty, an Assistant Professor of Geography at Miami University told us Monday. She continued, "They are likely occurring in areas of degraded permafrost, which are predicted to have high thaw rates between now and 2050 with some evidence of current melt near Sisimiut. Fires in the High Northern Latitudes release significant CO2, CH4, N20, and black carbon. A fire this close to the Greenland Ice Shelf is likely to deposit additional black carbon on the ice, further speeding up the melt.
So what does it mean? Bad things, my friends, bad things:
Globally, the amount of carbon stored in peats exceeds that stored in vegetation and is similar in size to the current atmospheric carbon pool. Fire is a threat to many peat-rich biomes and has the potential to disturb these carbon stocks. Peat fires are dominated by smouldering combustion, which is ignited more readily than flaming combustion and can persist in wet conditions. In undisturbed peatlands, most of the peat carbon stock typically is protected from smouldering, and resistance to fire has led to a build-up of peat carbon storage in boreal and tropical regions over long timescales. But drying as a result of climate change and human activity lowers the water table in peatlands and increases the frequency and extent of peat fires. The combustion of deep peat affects older soil carbon that has not been part of the active carbon cycle for centuries to millennia, and thus will dictate the importance of peat fire emissions to the carbon cycle and feedbacks to the climate.
In lay person's terms, this is the equivalent of adding gasoline to an oil fire in your kitchen. Read that first sentence from the 2015 study in Nature, which is cited above, again.
Globally, the amount of carbon stored in peats exceeds that stored in vegetation and is similar in size to the current atmospheric carbon pool.
These peat fires in areas previously covered by ice sheets, or previously captured and held withing vast sections of frozen tundra, is now exposed to wildfires. The amount of greenhouse gases that Arctic wildfires will dump into the Northern Hemisphere's atmosphere is enormous. Such fires will create further warming there, and additional havoc for global climate patterns. This is one more feedback loop, but it's one from which we may not be able to recover.
Increased melt of the Greenland ice sheet from black carbon will accelerate sea level rise, the effects of which coastal communities in America are already seeing. The increase in warming on the Arctic already has led to unprecedented extreme weather patterns across North America, Europe and Northern and Central Asia.
The string of massive snowstorms and bone-chilling cold on the US east coast, as well as flooding in Britain and record temperatures in Europe, are linked to rapid ice loss in the Arctic, new research appears to confirm.

While the rapidly-thawing Arctic cannot be held responsible for specific weather events like the "snowmageddon" in 2009, Hurricane Sandy, or European heatwaves, researchers at Rutgers university said it appears to be a prime reason why the polar jet stream – a ribbon of winds that encircles the globe – gets 'stuck' with increasing frequency.

Western Europe and large parts of North America will experience more extreme weather because of "Arctic amplification" - the enhanced sensitivity of high latitudes to global warming, the team suggested in a paper published in the journal Philosophical Transactions of the Royal Society A.
This ain't no hoax. Those who believe otherwise, or think that this is merely the result of cyclical changes in the Earth's climate are fooling themselves.
The times they are a changing, and that change is coming faster than anyone predicted. As a former Senator and movie actor once noted on screen:
Indeed, this business of Anthropogenic Climate Disruption largely caused by a few greedy profit seeking corporations is already out of control. And doing nothing about it right now will ensure that the human species will not be lucky enough to "live through it."