Going to the center never works
Submitted by

gjohnsit

on Wed, 09/12/2018 - 12:55pm
Former President Jimmy Carter had a warning for Democrats yesterday.

"Independents need to know they can invest their vote in the Democratic Party," Carter said Tuesday during his annual report at his post-presidential center and library in Atlanta, where he offered caution about the political consequences should Democrats "move to a very liberal program, like universal health care."
...
Carter alluded to arguments from self-identified progressives that Democrats will sacrifice votes on the left if they don't embrace the liberal base: "I don't think any Democrat is going to vote against a Democratic nominee," and he insisted that he's not asking the left to sacrifice its goals, only to see that winning elections is necessary to accomplish any of them.
Carter should know something about losing elections.

There is some historical irony in Carter's analysis. He came to the White House in 1976 from the moderate wing of the Democratic Party, and he clashed with party liberals, drawing a spirited primary challenge in 1980 from Massachusetts Sen. Ted Kennedy. Carter prevailed, but he was wounded, abandoned by Kennedy's most liberal supporters and unable to win over independents who helped deliver a landslide for Republican Ronald Reagan.
Former President Carter is much loved, but President Carter was a huge deregulator and no friend of progressives. His turning his back on labor unions and liberals led to them not showing up in the 1980 election.
Former President Bill Clinton had a warning for Democrats a couple years ago.

It's not altogether mysterious that there are a lot of people that say, well, the Republican party rewarded the Tea Party. Just tell people what they want to hear, move them to the right, and we'll be rewarded, except they didn't get anything done.
Then that's going on now in our party. If you don't deal with the fact that we are too politically polarized and we keep rewarding people who tell us things we know they can't do because it pushes our hot button, we can't go forward together.
Former President Barak Obama had a similar warning for Democrats.

President Obama on Thursday warned Democrats against adopting a "Tea Party mentality" that could lead to deep divisions within the party and harm its chances of winning national elections.
"The thing Democrats have to guard against is going in the direction that the Republicans are much further along on, and that is this sense 'we are just going to get our way, and if we don't, then we'll cannibalize our own, kick them out and try again,' " he said at a town-hall meeting with law students in Chicago.
...The president did not name Clinton or Sanders. But he offered a staunch defense of his incrementalist view of politics, which has sometimes come under fire from the Vermont senator.
"That's how change generally happens," he said, citing the example of his signature healthcare law.
"It's not perfect. There is no public option, not single-payer," he said. "If I was designing a system from scratch, it would have been more elegant. But that's not what was possible in our democracy."
Both Clinton and Obama are warning their progressive base against demanding anything from the Democratic leadership, especially single-payer health care. Otherwise the Republicans will win.


Clinton was worried that the party is drifting too far to the left before midterm elections. He was worried that the party's progressive base would sit out the 2010 election.

Clinton railed against public ignorance, saying he did not think voters on either the left or right understood the Obama administration's record on issues such as health-care reform, financial regulation, and curbing student-loan abuses.

"Some people on the left are so tender-minded and dogmatic that they think in abstractions and principles instead of reality… Clinton's mission is actually getting things done."

Disgruntled Obama supporters planning to sit out the midterms are making "a horrible mistake," he said. "Like everything else you do when you're mad, there's an 80 percent chance you're making a mistake. You'll get the exact result you don't want."
Clinton should know something about progressives not turning out for a midterm election after the Democratic leadership abandoned them.

In 1994, the Democrats lost control of the House after turnout amongst labor households and non-unionized working class families declined. Polling found that upset about NAFTA's passage and specifically about local representative's support of NAFTA moved many traditional Democratic party voters to stay home on election day. The 1994 elections were remarkable in that low turnout — not swings from Democratic to Republican party support — decided many of the seats which switched parties on margins of fewer than 1000 votes.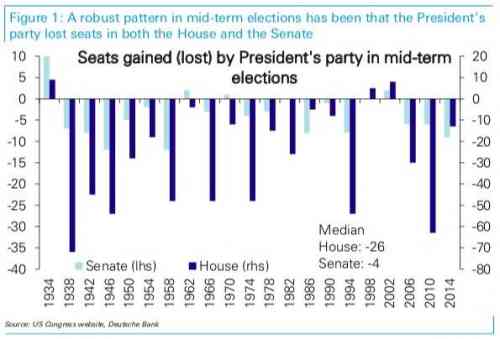 Can you see the pattern here?
Every time the progressive base starts demanding something, the Corporate Democrats warns that this will lead to electoral disaster.
They then work directly against what the party base wants, which discourages the base from turning out in the election. Thus the Corporate Democrats create the electoral disaster that they warned against.
They then vote-shame their base, which never helps.

About 11 percent of 2010 voters were 18-29 years of age, sharply down from their 18 percent share in 2008 and also down from their 13 percent share in 2006. The last time the proportion of young voters dropped this much between a presidential and congressional election was between 1992 and 1994.
...There was a sharp swing among independents toward the Republicans in 2010. The GOP carried this group by 18 points, 56-38 percent. That compares to an eight-point Democratic win among independents in 2008 and an 18-point advantage in 2006. This is by far the GOP's best performance among this group since 1994, when they carried them by 14 points.
Conservative Blue Dog Dems were the ones crushed in the 2010 elections, after gutting the progressive agenda.
Going to the center literally never works. It always leads to disaster. In 1980, 1994, 2010, and 2016.
And Corporate Dems know it.