The FinTech Debt Bubble and the working poor
Submitted by

gjohnsit

on Tue, 08/07/2018 - 1:17pm
A couple weeks ago Reuters published a surprisingly good article about the fragile and unsustainable state of our economy.

A Reuters analysis of U.S. household data shows that the bottom 60 percent of income-earners have accounted for most of the rise in spending over the past two years even as the their finances worsened - a break with a decades-old trend where the top 40 percent had primarily fueled consumption growth.
...The data shows the rise in median expenditures has outpaced before-tax income for the lower 40 percent of earners in the five years to mid-2017 while the upper half has increased its financial cushion, deepening income disparities.
...A hot job market and other signs of economic health encourage rich and poor alike to spend more, but tepid wage growth for many middle-class and lower-income Americans means they need to dip into their savings and borrow more to do that.
This is not a good trend. Poor people dipping into savings while their wages are stagnant is not something that can last for long.
And that's just the start of the bad news.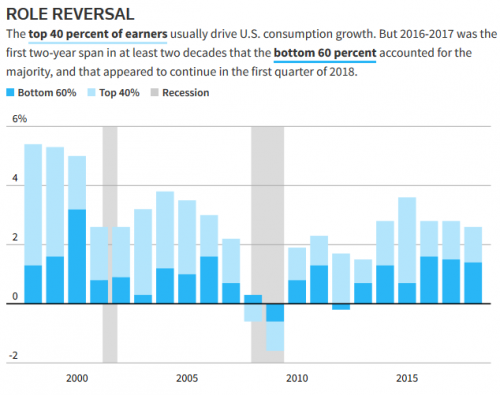 The bottom 40 percent of households in the United States have an average net pre-tax income of negative $11,660 a year, according to a new report by Reuters.
The report's data shows that the bottom two quintiles of households make, on average, $11,587 and $29,414 a year in pre-tax income, respectively. Their expenses, meanwhile, are $26,144 and $38,187, respectively. This means that the bottom quintile has an average net loss of $14,557 a year and the next quintile a loss of $8,773, prior to taxes.
...The data covers students, who are taking on student debt, and recipients of food stamps and federal benefits, who may receive small sums to help pay for expenses. However, the bottom 40 percent of households is overwhelmingly composed of low-wage workers, who, despite their immense sacrifices, are unable to cover the basic cost of living.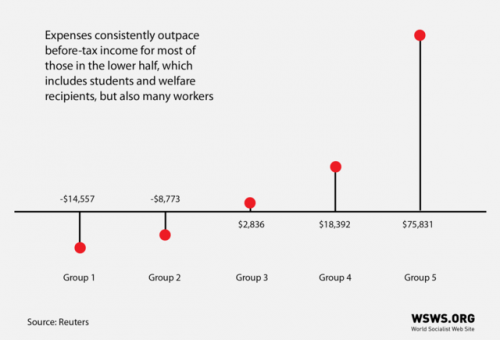 As bad as this sounds, the most disturbing parts is a) this is happening very late in the business cycle, when unemployment is still low, b) this is happening when interest rates have begun to rise, and c) this is such a huge percentage of the population.
All of these things point toward a recession happening soon, and the working class being absolutely crushed.
It leaves only one question: who is it that is doing all this lending to the working poor at the worst time? (i.e. who will be asking for a taxpayer bailout in a year or two?)
Those guys are known as FinTech.

Ten years on from the credit crisis, Americans are again piling on debt in all its varieties, from credit cards to student loans to mortgages. These days, personal loans—a category turbocharged by fintech upstarts—are growing especially quickly. With an increasing number of shaky borrowers taking on this debt, the risks are growing for lenders during the next economic downturn.

The stock of personal loans outstanding has grown to about $120 billion as of March, according to TransUnion data. That compares with $71.9 billion a decade ago—worth around $90 billion adjusted for inflation—when the subprime mortgage crisis crescendoed.
...
Upstart financial technology companies like Lending Club, Prosper, and Avant account for about a third of this lending, up from less than 1% in 2010.

Until recently, personal loans were mainly used by borrowers with poor credit who may not have had access to credit cards or home equity loans, according to Jason Laky, TransUnion's consumer-lending business lead.

If you're thinking "I've never heard of these guys before" then consider who backs them.

Goldman Sachs has jumped in with its Marcus online bank, which the Wall Street stalwart introduced in 2016. Goldman says Marcus has more than 1.5 million customers and has originated more than $4 billion in consumer loans since it launched.