Fake News isn't our problem. Fake Reality is our problem.
Submitted by gjohnsit on Fri, 02/03/2017 - 6:56pm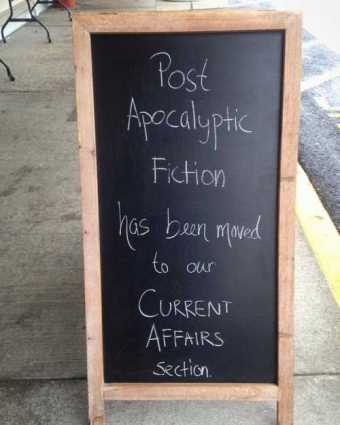 You know it's bad when you can't tell the satirists from reality.

Between reality and the bubble of fantasy news stories, these are tough times for satirists.
The New Yorker magazine recently took steps to distinguish Andy Borowitz's humor columns from politically motivated false stories circulating online. His editor said the New Yorker was getting email asking if there was a difference between the two.
So they changed the tagline for "The Borowitz Report" from "the news, reshuffled" to "not the news" on the magazine's website. When the stories are shared online, they are more clearly identified as satire, said Nicholas Thompson, editor of NewYorker.com.
"It made more sense when people from another country would read one of my stories and not get the joke — that was kind of predictable," Borowitz said. "But the fact that so many Americans have to go to Snopes.com to find out that Trump didn't really hire El Chapo to be head of the D.E.A. or something like that, that's a reading comprehension problem."
But is it really the fault of the reader?
Consider, for example, Trump's cabinet, and then tell me honestly if you are absolutely certain that this is not satire.

As Trump appoints a white nationalist Breitbart executive to run his team, puts a fast-food baron opposed to the minimum wage in charge of the Labor Department, and hands former Texas Gov. Rick Perry control over the department that he famously couldn't remember he wanted to eliminate, it can be easy to believe more and more unbelievable things. Maintaining some ability to discern reality amidst all of this is both crucial and increasingly difficult.
That's not even counting the guy running the Treasury, who specialized in illegal foreclosures, the new head of the EPA is a climate change science denier, and the new CIA guy who ran his own Black Site torture operation.
This made me learn a new word.
kakistocracy: government by the worst people
It's gotten so bad that the NY Times recently ran a sympathetic article for The Onion.
What is sanity and reality when you have a headline like this:
Bank of America analysts claim there's a 50% chance we live in a 'Matrix reality simulation'
What got me thinking about Fake Reality was today's Snapchat IPO.

As expected, Snap Inc. (the company formerly known as Snapchat), has filed the paperwork for its initial public offering (IPO). According to the S1 documents in the filing, Snap Inc. is seeking $3 billion when it goes public and will value itself between $20 and $25 billion...
For one thing, Snap is losing an absolute shitton of money. According to the S1 filing, Snap LOST $514.6 million in 2016. It brought in $404.4 million in revenue, way up than a measly $58 million it brought in in 2015 (a massive 6X increase!), but it had to spend buckets of money to make that work. But for revenue to increase that much, its losses skyrocketed too. Snapchat lost $372.9 million in 2015.
As Bloomberg's Shira Ovide noted on Twitter, it's certainly notable that the cost of revenue for Snapchat was higher than the revenue itself.
"Notable". That's one word you can use. Not the word I would use.
I prefer Bizarre. Insane. Idiotic.
However, the Crème de la Crème of Fake Reality would have to our Forever War on Some Terror.
There is no clear definition of our enemy.
There is almost no domestic danger from this enemy, other than what our government invents.
There is no real expectation of it ever ending.
There is no real expectation of victory.
The only things that we can be certain of is: 1) we are destined to surrender all of our liberties to fight this war, 2) the war will bankrupt our nation, and 3) we will eventually lose.
And yet, no one cares!
Hardly anyone even talks about it. We pretend it doesn't exist, thus making Actual Reality into Fake Reality.
We protest not allowing foreign refugees into the country, but never even pause to consider not bombing their nations and making them into refugees in the first place.
It makes one wonder if we need to redefine the words "normal" and "insane".
I'm not sure what to do with this essay at this point. I'm going to have to sleep on it.