The economic depression comes into focus
Submitted by gjohnsit on Sat, 05/02/2020 - 1:22pm
The economic collapse from the covid-19 lockdown is so enormous it boggles the mind.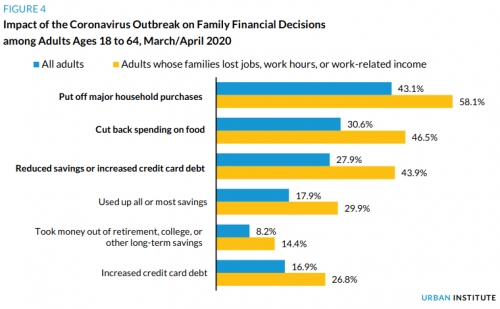 Roughly 41% of working-age adults say their families have experienced a job loss, a decrease in work hours or other employment-related declines in income in recent weeks, according to a new analysis by the Urban Institute.

Underscoring the jump in financial distress around the country: More than 4 in 10 of Americans whose work was affected by the pandemic said they weren't able to pay the rent, mortgage or utility bills; skipped medical care; or were at risk of going hungry.

31% of survey respondents reported their families cut spending on food.
28% were forced to use savings or take on credit card debt to pay their bills.
69% of those whose family incomes were below the poverty level were unable to pay for their housing, were food insecure or were unable to seek needed medical care.
Nearly a third of US apartment renters did not pay their rent within the first week of April.
The coming tsunami of evictions will be brutal.

"Landlords are waiting to pounce; they're salivating right now. This situation is ideal for landlords because they aren't getting much money from these rent-stabilized apartments anyway," Hanzal said. "They have an opportunity to sit by, lose some months' rent, pay some legal fees to get people out, pay maybe $5,000 to renovate these long-neglected apartments, and drastically raise the rent."
San Bernardino County has seen a 28.6 percent increase in first time homeless.
Sacramento residents noticed the downtown homeless population shot up nearly 50 percent.
And then there is this.

The City of Hollywood Park is trying to figure out how to clean-up an underground town of homeless people uncovered this week.