The Democratic TriParty (Part 2: Incrementalists v. Reactionaries)
Submitted by Not Henry Kissinger on Sat, 09/21/2019 - 6:15pm

.
The Democratic TriParty (Part 1: The Players) introduced the three centers of influence in the Democratic Party: Progressive, Reactionary, and Incrementalist.
In this part, we begin to examine the intersecting Areas of Competition, starting with the blue area where the Incrementalist and Reactionary circles overlap.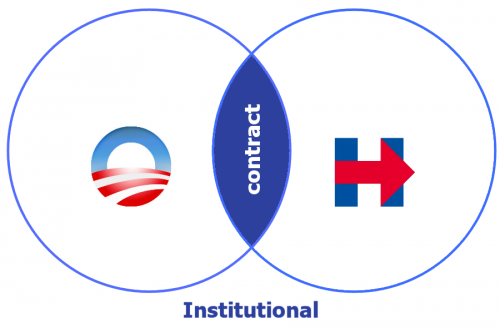 .
Axis: Institutional
The overlap between Incrementalist and Reactionaries is where the business of politics happens. The competition takes place along the Institutional axis, in offices, boardrooms, and legislatures, where the players wheel and deal for Establishment power and Big Money donors. No longer so smoke-filled, those old backrooms still get plenty of use.
How the players view each other:
Reactionaries view Incrementalists as ambitious upstarts, providing technocratic solutions to problems that don't need to be fixed, but who help blunt more sweeping change demanded by Progressives.
Incrementalists view Reactionaries as out of touch dinosaurs whose lack of technical proficiency blinds them to opportunities, but from whom they profit by assuming the role of arbiter in the conflict between Reactionaries and Progressives.

.
Messaging: Polite
While the competition can be cut throat, the messaging between these two institutional factions is almost always orderly and polite. Both sides place a premium on civility and 'playing by the rules'. After all, it's just business.
Competition: Contractual
The Incrementalist and Reactionary dynamic lends itself to contractual deal making, where Incrementalists seek to extract concessions from Reactionaries that ameliorate the worst of status quo predations ('rounding the sharp edges').
Reactionaries, under pressure from Progressives for structural reform, seek to limit concessions to non-systemic change.
Incrementalist Goal: Extract Concessions
Incrementalists extract concessions from Reactionaries in two ways:
Appeal to Reactionary Self-Interest.
Persuade Reactionaries that concessions are to their benefit, typically by couching changes as improvements to systemic efficiency, production, and/or profit.
Appeal to Reactionary Self-Preservation.
Exploit Progressive demands of systemic change to provide Reactionaries with a benign, non-structural 'off ramp'.
Reactionary Goal: Limit Concessions
The goal of Reactionaries is to concede the minimum in non-systemic reforms for the maximum gain in both self-interest and self-preservation. In this way, Reactionaries seek to leverage their power of institutional inertia to improve their own standing as well as reduce support for systemic change.
Example: Obamacare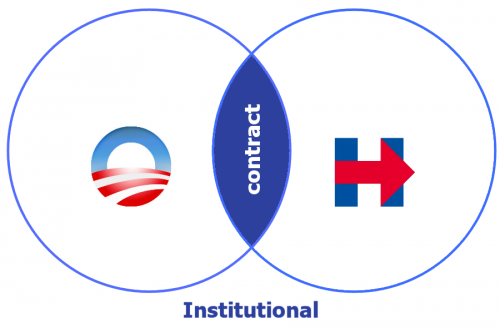 .
Negotiations between Incrementalist and Reactionary lawmakers during the passing of the ACA provide a good example of the Institutional dynamic in action. Having co-opted Progressive voters with a campaign promise of a potentially system busting* Public Option for health insurance, Incrementalist Obama failed to press Reactionaries for this concession, leaving the Public Option to die on the Progressive vine.
*(A Public Option has the potential for systemic change because over time it out-competes private insurance and eventually results in a de facto public health system.)
Obama was willing to leverage Progressive pressure to gain non-systemic concessions primarily in the area of private health insurance regulation (appealing to Reactionary self-preservation), but only at the cost of large government subsidies to corporate insurers and a doubling of rates to consumers (appealing to Reactionary self-interest).
The system-reforming Public Option, however, was a deal breaker in the negotiations between Incrementalists and Reactionaries.
The lesson of Obamacare is clear: voters expecting Incrementalists to follow through on promises of negotiating systemic reforms with Reactionaries are bound to be disappointed, because much of Incrementalists' leverage with Reactionaries is based specifically on ensuring that those systemic reforms do NOT happen.
Looking back now, Progressives really should not have been surprised by Obama's Public Option capitulation. Having appointed old Clinton Administration Reactionaries like Rahm Emmanuel to lead the negotiations, Obama all but ensured that the systemic reform of the Public Option would never see the light of day.

.
Other Observations:
An interesting twist for Reactionaries is that the bigger they 'win' at these negotiations, the more Incrementalists lose support from co-opted voters disappointed by the lack of reform. But Reactionaries need to be careful, because they also rely on Incrementalists to help ward off systemic challenges from Progressives.
If Reactionaries win too big over Incrementalists, then co-opted voters hoping for more robust change start looking elsewhere. Indeed, ten years after Obamacare, Democratic voters are so disillusioned by the Incrementalist ACA that fundamental systemic reform under Progressive M4A now enjoys overwhelming support.
_______
Next Time: The Democratic TriParty (Part 3: Incrementalists v. Progressives)

.
Other Essays in this Series:
The Democratic TriParty (Part 1: The Players)