DailyKos member since 2003, now banned in the middle of the night.
Submitted by Sean Robertson on Mon, 04/25/2016 - 10:10am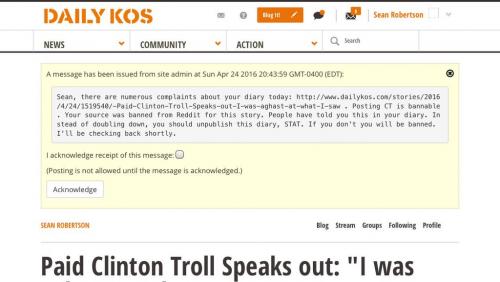 I have been a member of DailyKos since October of 2003. I joined way back during the Dean campaign and have been active ever since. I've been a trusted user for most of the history of the site and I've had a number of posts make the recommended, most notably, "Why the Great Experiment is Failing," which called out the decline in critical thinking and a variety of other ills in our society, which have only gotten wors since.
Yesterday, I posted a diary about a former paid pro-Clinton troll who claimed to have resigned in disgust after being repeatedly directed to go more and more negative in smearing Bernie Sanders. It quoted a fairly detailed post on Reddit that accurately mapped to the timeline and the character of the various attacks we have seen.
The veracity of the posters specific claims obviously cannot be verified as they were posted anonymously, and it is very likely that they are under an NDA (as I am for the Coders for Sanders team). If they came out publicly, they'd obviously be sued and the Clinton camp is well known for vindictiveness (they literally kept a spreadsheet of people who they felt did not support Clinton in 08 to target them for political retribution). I stand by the claims made even if this specific post is not real, because they square perfectly with many facts we do know.
At any rate, some time after I went offline last night (my boyfriend's sister arrived in NYC around 8, so we were on the subway or in Penn Station from 7:30 until 10:00), an admin left a notice that the story had been debunked and I was to unpublish the diary or face consequences. Needless to say, I did not see that until this morning, long after they added a disclaimer to the diary and banned me. I was given no reasonable recourse and was literally banned in the dark of night.
I have met Markos in person numbers times as well as a number of the other top posters on that site. I've been to YearlyKos when it was still called that in Chicago. I was at Netroots Nation when an acquaintance, Lane Hudson, famously heckled Bill Clinton. I worked for six and a half years in Democratic politics full time, designing and building over three hundred web sites for campaigns all across the country at all levels. I've met and worked with many of the people we read about in the news.
I can tell you that DailyKos generally, and Markos specifically are mere shadows of their former selves. I have no idea when arkos decided to stop "crashing the gate" and went all-in for the establishment, but it has been disgusting and disappointing to watch. I often wonder if his making the talkshow circuit on television has clouded his judgment. I do know that he and his ilk no longer represent the netroots. If I have a chance to meet him again, I will certainly ask him when he stopped believing in the things he wrote in his book (which he autographed for me).
I will not go down without a fight, not while Hillary is trying to do everything possible to lose my vote in November. I live in New York City - I do not have to vote for the lesser of two evils. And if the corporate-owned establishment of both parties and the media manages to suppress the political revolution, they'll have to deal with a physical one.