The cost of destroying Iraq for 30 years
Submitted by gjohnsit on Fri, 08/07/2020 - 5:12pm
I think these three headlines sum up the situation pretty effectively. (links are here, here and here)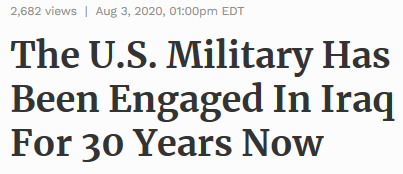 "Given how polarized the country is on so many other issues, it is striking how unified Americans are on ending our endless wars in the Middle East, prioritizing domestic concerns over foreign ones, and avoiding greater military engagement in conflicts overseas," Will Ruger, vice president of research and policy at the Charles Koch Institute, said in a statement to The Hill.
The 1990-91 Gulf War was a bargain, costing just $61.1 billion ($52 Billion paid by our allies) and just 292 coalition troops killed.
Of course, 25,000–50,000 Iraqi troops were killed, plus another 3,664 Iraqi civilians killed, but it's not like furriners are real people like 'Muricans.
However, this was the most expensive bargain in history because it set up everything to come.
For over 12 years following the Gulf War we maintained an active no-fly zone over Iraq.
By active, I mean we dropped over 1,800 bombs that killed more than 1,400 civilians and an unknown number of Iraq's military, just to enforce the no-fly zone that wasn't sanctioned by the UN.
The estimated, unofficial cost of this was around $1 billion per year.
2 Blackhawk helicopters were shot down by friendly fire, killing 26 troops.
In addition to all the bombs we dropped enforcing the no-fly zone, there is the 1993 cruise missile strikes, the 1996 cruise missile strikes, and the massive 1998 bombing campaign.
The total cost of these three is unknown, but is certainly in the millions of dollars.
No US troops died during these operations, but thousands of Iraqis did.
Starting in 2003 and lasting until 2011 we have The Catastrophe.
In 2013 the total cost of the Iraq War was estimated at $1.7 trillion by the Watson Institute of International Studies, but that doesn't include legacy costs.
4,507 U.S. troops were killed, plus hundreds of coalition soldiers, plus 1,554 private security contractors. Not to mention the tens of thousands of soldiers that were wounded.
Estimates of Iraqi deaths start at 100k and go up to, and over, 1 million.
Then we have a 2.5 year gap where we only messed with Iraq from afar. Over two years of not dropping bombs on Iraq must have been strange.
In mid-2014 we got back to bombing Iraq.
Total cost of defeating ISIS was $14.4 Billion.
It also took the lives of 69 U.S. soldiers.
Around 70,000 Iraqis died.
So basically we spent $2 trillion, sacrificed 5000 US soldiers, and killed roughly 1 million Iraqis, to accomplish nothing except to make us hated by the world.