Comey Claims Nobody Asked About Clinton Obstruction Before Today
Submitted by snoopydawg on Sun, 04/22/2018 - 9:27pm
From the 'you can't make this shit up' files. Hillary had been involved in government long enough to know and understand the rules of what she needed to do with her emails after her tenure was over. As well as the rules for handling classified information with an email account. But I guess she thought that rules only applied to everyone else but her. And why wouldn't she think that she could do whatever she wanted to? Because she and Bill had been getting away with doing whatever they wanted their entire political careers with no repercussions.
Using a private email server that would be a way around the freedom of information act would have also allowed her to put her foundation's business on it so that Chelsea and others could have access to it even though it was tied into her state department business and the people who did didn't have the proper security clearances to read the emails. (Sydney Bluementhal) Tut, tut ..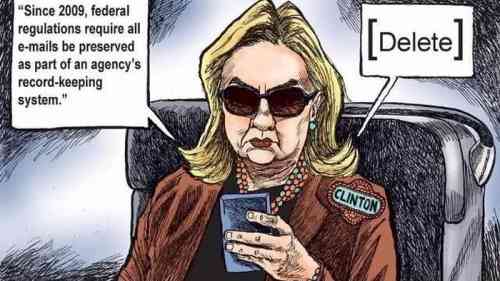 Comey Claims Nobody Asked About Clinton Obstruction Before Today
When WTOP's Joan Jones asked former FBI Director James Comey on Wednesday if the "smashing of cellphones and destruction of thousands of emails" during the investigation into Hillary Clinton was "obstruction of justice," Comey said that he had never been asked that question before.

"You have raised the specter of obstruction of justice charges with the president of the United States," Jones said to Comey concerning his new book, "A Higher Loyalty: Truth, Lies, and Leadership." The book was released earlier this week.

"Some are asking, though, 'Why wouldn't smashing of cellphones and destruction of thousands of emails during an investigation clearly be obstruction of justice?'" Jones asked Comey.

Comey replied, "Now that's a great question. That's the first time I've been asked that."
Although mainstream media outlets, liberal pundits, and lawmakers have been obsessing over possible obstruction of justice charges and anticipating impeachment for Trump as a result, these same individuals showed a marked lack of interest in whether or not Clinton and her team obstructed justice.
There's that word intent again.
"And the answer is, it would depend upon what the intent of the people doing it was," Comey said. "It's the reason I can't say when people ask me, 'Did Donald Trump committee obstruction of justice?' My answer is, 'I don't know. It could be. It would depend upon, is there evidence to establish that he took actions with corrupt intent?'"

"So if you smash a cellphone, lots of people smash their cellphones so they're not resold on the secondary market and your personal stuff ends up in somebody else's hands," Comey continued. "But if you smash your cellphone knowing that investigators want it and that they've got a subpoena for it, for example, that is a different thing and can be obstruction of justice."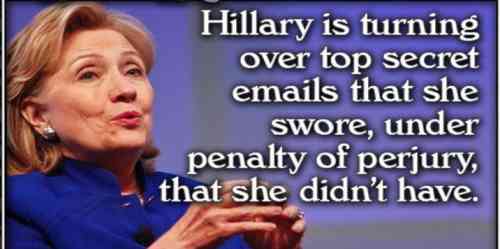 What about deleting ones emails after being told to turn them over to congress after they found out that you didn't do it when your job was done. Is this considered obstruction of justice, James? I think that answer is yes. How about backing up your emails on someone else's computer when some of them were found to be classified?
Jones followed up, asking, "The law requires intent?"
"Yes. It requires not just intent, but the prosecutors demonstrate corrupt intent, which is a special kind of intent that you were taking actions with the intention of defeating and obstructing an investigation you knew was going on," Comey replied.
Did he just change the rules there? Now it's not just intent, but corrupt intent. This is exactly what Hillary did, James! She deliberately destroyed her emails after she was told to turn them over to congress, so if you didn't have the chance to see them l, then how do you know that the ones that she destroyed weren't classified? I would say that qualifies as intent. But we know that you had a job to protect her from being prosecuted. This is why when the wording was changed from "grossly negligent" to "extremely careless". you went with the new ones!
BTW, James. Why wasn't Hillary under oath when she was questioned by the other FBI agents? Why didn't you question her or look at her other computers and cell phones she had at her home? I'd think that they might have shown you something that she didn't want you to see? One more question, James. Did you ask the NSA to find the deleted emails that she destroyed because she said that they were just personal ones about Chelsea's wedding? Do you really think that it took 30,000 emails to plan a wedding? Okay, one more. Did you even think that those emails might have had something to do with her foundation that might have had some incriminating evidence of either classified information on them or even possible proof of her "pay to play" shenanigans that she was told not to do during her tenure as SOS? This thought never crossed your mind?
Last question I promise. Did you really do due diligence on investigating her use of her private email server or were you still covering for her like you have been since she started getting investigated?
This amazing comment came from a person on Common Dreams. It shows the history of
Comey, Mueller and Rosenstein for over two decades and their role in protecting the Clintons
Dismissed FBI agent changed Comey's language on Clinton emails to 'extremely careless'
One source told the news outlet that electronic records reveal that Strzok changed the language from "grossly negligent" to "extremely careless," scrubbing a key word that could have had legal ramifications for Clinton. An individual who mishandled classified material could be prosecuted under federal law for "gross negligence."
What would have happened if Comey had found Hillary guilty of mishandling classified information on her private email server? She couldn't have become president of course because her security clearances would have been revoked. This makes it kinda hard to be one if she couldn't have access to top secret information, now wouldn't it?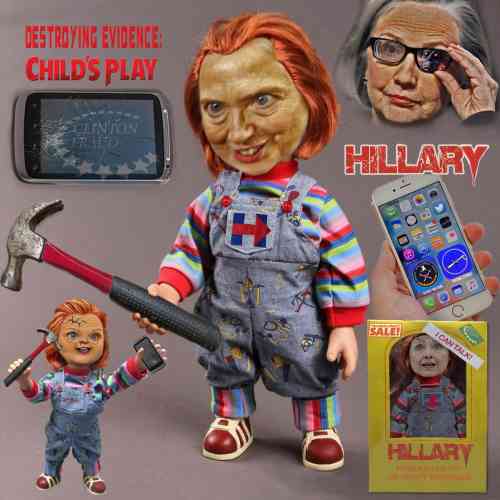 Have you seen this statement by people who don't think that what Hillary did when she used her private email server was wrong and that's why some people didn't vote for her and Trump became president because of it?