Betelgeuse, Betelgeuse, Betelgeuse--Open Science Thread
Submitted by apenultimate on Sun, 01/26/2020 - 10:34am
A fairly nearby star is starting to act in weird ways . . .
If you have ever gazed towards the night sky in the winter, you may be familiar with the constellation Orion, the ancient Greek hunter, and the very bright red star in the upper left arm of Orion, called Betelgeuse: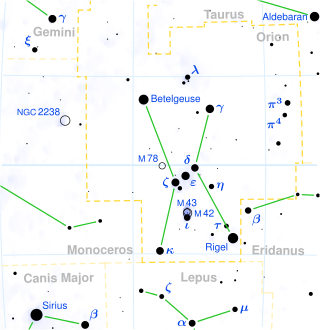 (Source: Orion_constellation_map.png: Torsten Bronger derivative work: Kxx (talk) - Orion_constellation_map.png)
Betelgeuse, a red super-giant star, is highly unusual. The late, great Jack Horkheimer (aka, The Star Hustler), probably had the best description of Betelgeuse:
If you go out February 14th, Valentine's Day night between the hours of 8 and 9 p.m and look due south you'll see what I like to call the Valentine's Day star because every Valentine's Day night between 8 and 9 p.m. you'll see a very bright red star shining at its highest above the horizon. In fact it is the brightest red star we can see with the naked eye . . . It marks the shoulder star of the great sky giant Orion the Hunter and its name is Betelgeuse which in arabic means 'the armpit', which isn't very romantic for Valentines Day. But if you want to give your beloved a really big Valentine, well this is about as big a one as you'll ever find.

You see, if we compare Betelgeuse, our Valentine star with our own star, the sun, and our own planet earth, you will understand just how big. Now we all know that our 8,000 mile wide earth is pretty dinky compared to our 865 thousand mile wide sun. In fact we could fit over 1 million earths inside our sun. Betelgeuse, however, is so humongous we could fit over 160 million of our suns in side it! And that's when it's at its smallest size. You see, Betelgeuse is one of those stars which changes its size regularly like a slowly beating heart. It beats about once every 6 years and when it is fully contracted and at its minimum size it is about 500 times the diameter of our sun but when it expands to its maximum size it is almost 900 times as wide. Or if you care to think of it this way, if we could place Betelgeuse where our sun is, even when it is at its minimum size, it would stretch out past the orbits of Mercury, Venus, Earth, all the way to Mars. But when it's at its maximum it would reach all the way to Jupiter. Wow!

So there you have it, a humongous cosmic Valentine. A giant red star slowly beating like a heavenly heart for your sweetheart, courtesy of our local galaxy, and you can see it any and every clear Valentine's night, between 8 and 9 p.m., at its highest above the horizon, just look due south.
(Source: http://jackstargazer.com/scripts_feb2001.html )
You see, Betelgeuse is a very unstable star--it has already fused all of its Hydrogen and is now fusing its internal Helium, which indicates it is not far from the end of its life (in relative, stellar terms of time). In fact, a couple decades ago, scientists thought it would end its life in a supernova explosion at some point in the next 1 million years--but more recent estimates with better equipment indicate it will go supernova at some point in the next 100,000 years!
But . . .
Since this past September (2019), Betelgeuse has been dimming to an unprecedented extent, never before observed in 100 years of observation. In the last week, its dimming has slowed (although not stopped), so it may end up being nothing, but it is no longer the brightest star in Orion for the first time in 180 years of scientific observation, and its brightness has decreased by an amazing 25%.
The Continued Unprecedented Fading of Betelgeuse
What is happening? From the above:
However, as pointed out by others, the current fainting episode could also arise from expelled, cooling gas/dust partially obscuring the star. The recent changes defined by our V-band/Wing photometry seem best explained from changes in the envelop-outer convection atmosphere of this pulsating, unstable supergiant. If these recent light changes are due to an extra-large amplitude light pulse on the ~420-day period, then the next mid-light minimum is expected during late January/early February, 2020. If Betelgeuse continues to dim after that time then other possibilities will have to be considered. The unusual behavior of Betelgeuse should be closely watched.
Perhaps the star just expelled some gas or dust, obscuring itself to an unprecedented extent. Or, if the dimming continues past early February, perhaps this could be the end of it?
On the off chance that Betelgeuse goes supernova, what would happen?
The star would suddenly turn into a Type II supernova. These have a number of different visual results, but here is one recent example from another galaxy: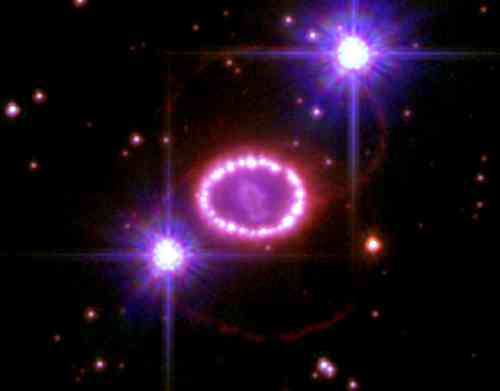 (Courtesy: NASA)
The supernova explosion would have half the brightness of the full moon for a couple of weeks. It would slowly fade to the brightness of the planet Venus over a couple of years, and then as the years went on, it would fade and disappear entirely. Orion would lose its left armpit--its club-carrying arm that was battling the constellation Taurus the Bull, which is next to it. It would be quite the thing to observe, and change our sky forever!
Since Betelgeuse is relatively near, would the Earth be in danger?
Thankfully, the answer is "No". We're not exactly sure how far away the star is--somewhere between 520 and 700 light years (considering our Milky Way galaxy is 150,000 light years wide, that's pretty darn close!). But, at that distance, the remnants of the supernova would slow and disperse into dust and the interstellar medium long before they ever reached the Earth or our solar system. There might be electromagnetic interference for a period of years, but that's the likely extent of damage. If the star was 150 light years away or closer, the story would be very much different!
Perhaps if you are so inclined, and have a camera or mobile phone with a tripod, maybe get a long-exposure photograph of Orion in the upcoming week. There is an off chance that you might just end up with one of the final photographs of the full constellation Orion!
Open thread for science and the like!