Am I on the same planet as these people?
Submitted by gjohnsit on Tue, 03/20/2018 - 10:10pm
There is a serious problem in the American economy today: Too many jobs and not enough people.

For every job opening in America, there's now barely more than one unemployed person available to take it.
The number of job openings in the U.S. has touched another record high while the number of Americans readily available to fill those roles trends lower, according to Labor Department data released Friday.
...
The latest Labor Department data showed job openings rose in January to a seasonally adjusted 6.3 million, the highest level on record back to 2000. But the number of openings has been at or near record levels since July 2015...
In mid-2015, there were 2.3 million more unemployed people than open jobs. By January, the gap had narrowed to 372,000.
There have literally never been more job openings in American history.
Things have never been better for the American worker.
Did you know that?
I didn't know that, and while the corporate media keep telling us how great it is to be working for a living these days (like this article), the American worker never seems to get the memo.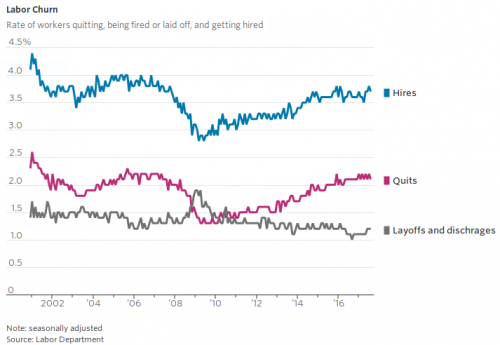 The rate at which workers quit their jobs—seen by many economists as a sign of confidence in the labor market—fell slightly to a seasonally adjusted 2.1% in August from 2.2% in July, according to the Labor Department's Job Openings and Labor Turnover Survey, known as Jolts, released Wednesday.
The quits rate, or the share of employed people who voluntarily leave their jobs in a month, has held nearly steady for two years after slowly climbing after the recession ended in mid-2009. The sideways move in the quits rate comes at a time when the unemployment rate has fallen to a 16-year low and the number of available jobs has touched the highest level on records back to 2000.
...The unwillingness to quit could be a factor holding back better wage growth, reflecting workers' relative lack of bargaining power.
You see, the problem is that if only workers were willing to quit they would be getting better wages.
Stupid workers!
If you read the news articles a pattern emerges:
Everything that is wrong with the American economy can be blamed on the workers.
If only the American workers weren't so stupid and lazy we would be living in a capitalist paradise.
Let me give you some examples.
Why are there so many job openings? Because American workers are stupid.

"Employers need skilled labor and experienced workers are in short supply, which continues to suggest the economy has returned to a relatively normal labor market that does not need exceptional support from the Fed," said John Ryding, chief economist at RDQ Economics in New York.
The NFIB survey showed a record share of small businesses in August ranked difficulties finding qualified workers as "their top business problem."
If you can't get a job today it's because you are probably too dumb to dress yourself.
Now some may disagree with this conclusion, and you might even produce some fancy numbers.

For example, 65% of recent job postings for secretaries who work for executives (now known as "administrative assistants") required a college degree. Yet among current executive assistants, only 19% have college degrees, according to a recent Harvard Business School survey. That's a big gap between expectations and reality.
Blah, blah, blah. Everyone who goes to college dreams of being an administrative assistant, so I don't see the point.
What is curious, what no one, NO ONE can fully explain, is why worker's wages aren't going up despite employers bending over backwards to give workers money.

The economy's biggest mystery — paychecks just aren't growing
Missing pay rises: the ever deepening economics mystery
Why aren't wages growing more quickly?
An Econ Mystery: Why Did Wages Flatline?
The Mystery of the Tight Labor Market
Jobs galore but when will wages finally pick up?

In 2014, a few days after she took over as chair of the U.S. Federal Reserve, Janet Yellen admitted that she could not fathom the "very worrisome" trend of weak wage growth for American workers.
It certainly is a mystery.
After all, we gave corporations everything they wanted.
We demonized and destroyed labor unions.
Completely deindustrialized the nation.
Opened the borders wide with free trade agreements, so that American workers have to compete with starving peasants in third-world nations.
Made our own slave labor force in our enormous prison system.
Stopped enforcing anti-trust laws.
Stopped enforcing corporate regulations.
Gutted the safety net so that we could stop taxing corporations.
And yet after corporations got everything they wanted, wages still aren't going up.
That's not what the corporations said would happen. It's almost as if they lied.
It sure is a mystery. Even economists, the same ones who created the bullsh*t unemployment numbers, are stumped.
It must be the fault of the stupid and lazy workers. Many of whom inexplicably voted for a guy who told them that America was in collapse, rather than the candidate who told them how great everything was.