The #1 risk factor for dying of COVID: Poverty
Submitted by gjohnsit on Wed, 09/01/2021 - 10:10pm
Everyone has got it wrong!
Forget race, forget age, forget even vaccine status. Just forget all of the culture war BS that the media has been feeding you for 18 months.
If you really want to know the leading cause of death by COVID, just look in your wallet. If it's empty, then you are 'high-risk'. Simple as that. No, I'm not exaggerating.

The team had a hunch going in. They expected that the percentage of the population over 65 in a given region would best predict its number of COVID deaths per million. They also suspected that GDP per capita would be a factor, and that high-income regions would have lower mortality rates. Other variables they thought might be in play included the share of doctors per 1,000 people, the size of the average household, the proportion of urban to rural areas, and perhaps even the average temperature, since colder climates may be more conducive to the virus's spread.

As it turned out, none of these variables emerged as good predictors of COVID deaths. But another variable did: a country's level of pre-COVID income inequality was by far the best predictor of the COVID death rate. The same finding emerged when the researchers studied variations in COVID death rates across U.S. states: higher death rates tend to occur is U.S. states with higher pre-COVID income inequality.

"That is a striking, unexpected finding," Rebelo says. "All those other variables didn't really matter when pre-COVID income inequality was included."
Boom! Let that bombshell sink in for a moment. Are you a liberal who blames Trump and the unvaccinated for why the pandemic in the United States was so much worse than almost everywhere else? You are wrong!
Are you a conservative that blames immigrants and liberals for not letting you take ivermectin? You are wrong!
Are you old and blame the kids for partying on a beach? You are wrong!

Here, the model offers some strong implications: it shows that the death rate among low-income Americans would have been a staggering 30 percent lower if this group had the same COVID case-fatality rate as high-income people.
...Even when the case-fatality rate is modified to be the same for both groups, the model predicts that the COVID death rate still would have been 23 percent higher for low-income people than for high-income earners. This is because low-income people are much more likely to be exposed to COVID on the job.
OK. You might be thinking "This is just one study."
Well, guess what? There are other studies that show the same thing. This one only studied New York.

Being old, of course, is a major risk factor no matter your ethnicity, place of origin, or income.
But income alone, a key indicator of class, was the most influential characteristic. Lower-income neighborhoods saw an addition of nearly 28 deaths per 100,000, increasing the average death rate by more than 10 percent, from 201 deaths per 100,000 to 229. Again, these factors are independent of each other.
These data also confirm what we already knew was true. We are NOT all in this together. The richer you are, the easier it is to protect yourself. If you have enough money, you don't have to work in a meatpacking factory or a warehouse or an assembly line or a nursing home. If you are rich enough, you can buy isolation, instead of being forced into the fray.
Gosh, you'd think the media would at least mention the leading cause of death by COVID, wouldn't you? Nope. What we get is a never-ending list of reasons to blame the person next to you as opposed to looking at the systemic problems that existed even before COVID.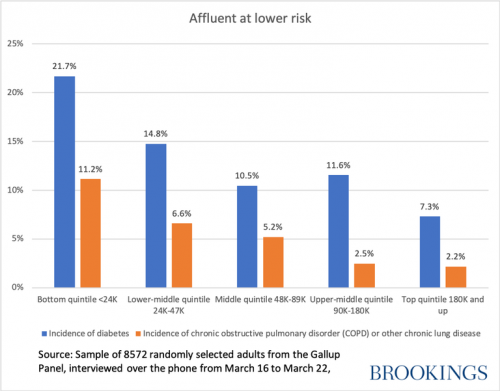 So what are the reasons why inequality is such an overwhelming cause of death?
It started at word 'go', when the rich got tested for COVID and the poor didn't.
Then there is the even more obvious reasons.

Uninsured individuals have worse self-reported health and may be more vulnerable to COVID-19. In addition, lack of insurance limits access to health care and other hospital facilities, and can increase exposure and vulnerability to this disease. Finally, ICU resources are essential for treating severe cases of COVID-19. Timely access to ICU services and medical facilities can reduce death rates. Better treatment and cures due to access to health resources can also control the spread of the disease and hence reduce case rates.
Almost everything here can be fixed with Medicare For All.
One last point that needs to be mentioned, you might be one of those that wants to discount and dismiss the huge number of people who've died of COVID.
You are probably wrong too.

A new study estimates that the number of people who have died of COVID-19 in the U.S. is more than 900,000, a number 57% higher than official figures.
...
The analysis comes from researchers at the University of Washington's Institute for Health Metrics and Evaluation, who looked at excess mortality from March 2020 through May 3, 2021, compared it with what would be expected in a typical nonpandemic year, then adjusted those figures to account for a handful of other pandemic-related factors.
Why would they undercount deaths? Because they are poor.
OK. I hate to have to repeat myself, but it looks like I must do it again.
If the media wants you to hate other poor people, they are lying to you. If one political party is pushing a conspiracy that involves poor people, they are lying to you.
If you want to know if something is important, the rule of thumb is a) if the media is talking about it, then it isn't important, b) if the media is ignoring something, then it might be important.