The Beginning of the End of the Monroe Doctrine?
Submitted by gjohnsit on Sun, 09/19/2021 - 5:50pm
Mexican President Andres Manuel Lopez Obrador is hosting a summit this week. A summit that the United States isn't invited to.

The presidents of Argentina, Bolivia, Cuba, Peru among others will meet on Saturday at the summit of the Community of Latin American and Caribbean States (CELAC), for a gathering that will convene recently elected members of a "pink tide" of leftist leaders.

Mexico is set to host the fourth summit of the regional body, and 16 leaders have confirmed their attendance, Mexico's Foreign Minister Marcelo Ebrard said on Friday.
Latin America's left made its greatest strides with the first "pink tide" of socialist leaders in the early 2000s.
Big deal, amirite? Hold on, because this could be significant.

Mexico's president suggested Latin American and Caribbean nations form a bloc similar to the European Union.

While at the Community of Latin American and Caribbean States (CELAC) summit in Mexico City on Saturday, host President Andres Manuel Lopez Obrador said regional powers should consolidate.
...
Leftist leaders in the region gathered at the invitation of Lopez Obrador with the stated aim of weakening the Washington-based Organization of American States (OAS).
Notably in attendance was Venezeula's Nicolas Maduro, Peru's new president, Pedro Castillo, and Cuba's Miguel Diaz-Canel.
This summit could end up being the start of the United States losing it's malign power over Latin America. Recall that the U.S. was quoting the Monroe Doctrine as recently as the Trump Administration.
Whether this happens depends on the success of Latin America's Pink Tide 2.0. Because let's face it, every right-wing leader in Latin America is perfectly fine with American imperialism.
Pink Tide 1.0 peaked in 2009, with the right-wing coup in Honduras. While it's decline ended with the failure of the recent Bolivian coup.
Pink Tide circa 2011

Pink Tide 2.0? circa 2021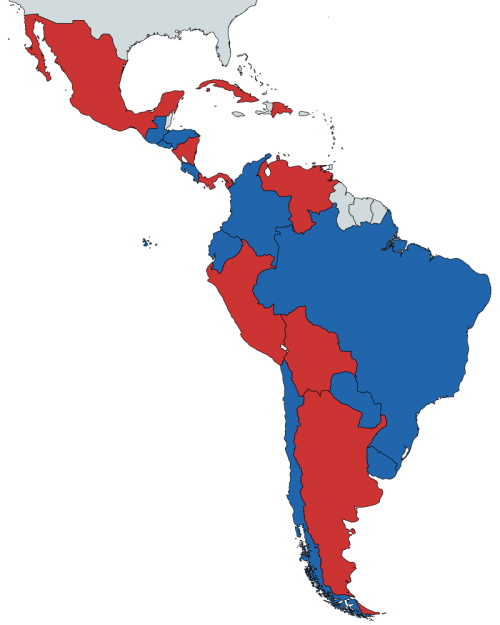 Whether there will be Pink Tide 2.0 depends on the coming election in Chile, and next year's election in Brazil and Colombia.
In Chile, the left-wing candidate, Gabriel Boric is pulling out to a significant lead with just two months to go.
In Brazil there is still very early, but Lula has held a huge lead in every poll.
In Colombia, where I don't believe that a leftist has ever won, and there are fewer reliable polls, the current right-wing president is about as unpopular as any politician has ever been in history. The few polls that we have show left-wing opposition Senator Gustavo Petro with a big lead.
If those three elections go the direction that the polls indicate, then Pink Tide 2.0 will become a reality.