Facts don't matter when it comes to crime
Submitted by gjohnsit on Thu, 08/05/2021 - 3:45pm
Conservatives love to tell people on the left "F*ck your feelings", but when it comes to crime, feelings are the only thing that counts. Even the police recognize this fact.

When it comes to crime and politics, statistics don't really matter. Feelings do.
Just ask San Francisco Police Chief Bill Scott. Violent crimes such as homicides are up across California, but most other crimes are down.

"Statistics — I'm glad we track them, I'm glad we have them," Scott told me. "I can tell people all day long that crime is down. But if you don't think so and you don't feel safe, then that has to matter to us."
The crime rate and people's perception of the crime rate have been going in opposite directions for decades now. When it comes to crime, facts and feelings are completely detached from one another.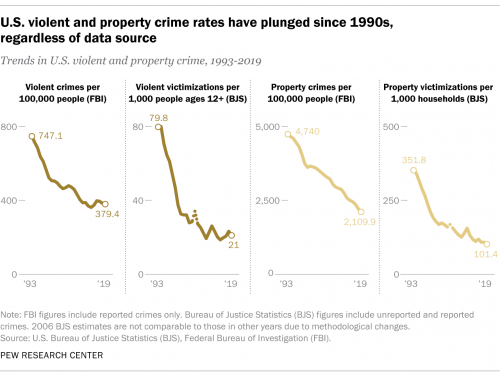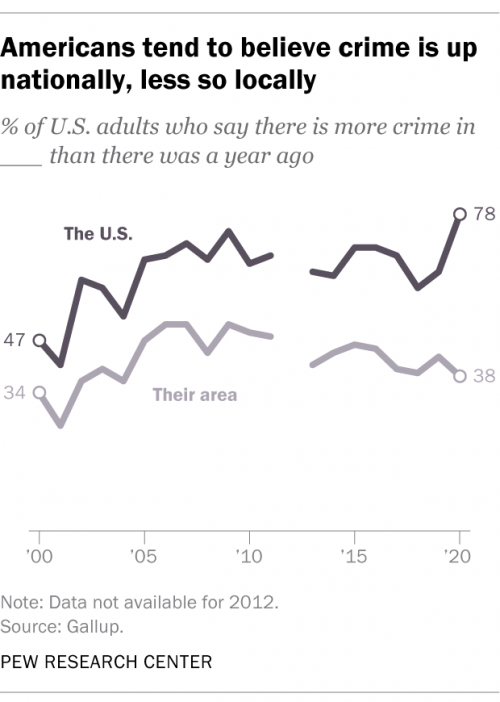 The giveaway is how people's perception of crime in their own neighborhoods, where reality is more likely to intrude, doesn't match their overall perceptions.

In a Washington Post/ABC News poll, 59 percent of respondents saw crime as a serious problem nationally, but only 17 percent felt the same way about their own area.
There are several reasons for this. The most obvious being the media's long-time philosophy: "If it bleeds, it leads." This tendency is bipartisan and has distorted people's perceptions since long before I was born.
But there is also a more naked, in-your-face partisan strategy as well.
Republicans in California — as they are nationally — are trying to make crime a top issue by triggering pandemic-stoked anxieties. Or as San Diego County GOP state Sen. Brian Jones titled an online video to constituents last week, "Democrat leaders abandon law-abiding families."
Make no mistake about this. If you buy into the fear hype, and it is reflected in your voting, then we are looking for a return mass incarceration and an even more militarized police force.
That is what the Republicans are selling. They aren't being subtle about it.
The real kicker is that the Republican "solution" won't solve anything.
All you have to do is to dig down into numbers to figure that out.
There is one type of crime that is indeed increasing dramatically.

It's important to be clear about what types of crime are on the rise. Several forms of property crime, including robberies, residential burglaries and larceny declined in 2020 and continued to go down in the first quarter of 2021, according to a report from the National Commission on Covid-19 and Criminal Justice (NCCCJ), continuing a multi-year downward trend.
According to the FBI's preliminary 2020 findings, violent crime rose by 3% across the country last year. But the number of murders rose by 25% between 2019 and 2020 — the largest jump recorded in the US in a one-year period since the FBI began releasing annual figures in the 1960s.
Murders are waayyy up and that's a big deal. No one should downplay that.
However, you need to dig one level deeper to get the whole story.
First of all, it wasn't a blue/red thing.

"The political affiliation of the mayor of a city had nothing to do with the increase in homicide," said Richard Rosenfeld, a criminologist at the University of Missouri St. Louis who co-authored the NCCCJ's most recent report. "Cities with Republican mayors, cities with Democratic mayors, if they were reasonably large cities, they probably saw an increase."
So switching political parties won't have any real effect on the crime rate. But if you look even deeper you'll see something important.
So yeah. The cause of the spike in murders has to do with our country being awash in guns. Which is not something conservatives have any intention of doing something about.
I'm a gun owner, but even I recognize that there are too many damn guns in this country and they are too easy to obtain.
Just to give you an idea of the scale of this issue, Mexico is suing American gun manufacturers.

For years, Mexican officials have complained that lax U.S. gun control was responsible for devastating bloodshed in Mexico. On Wednesday, they moved their campaign into American courts, filing a lawsuit against 10 gun companies.

The lawsuit, filed in federal court in Massachusetts, was the first time that a national government has sued gun makers in the United States, officials said. The suit accuses the companies of actively facilitating the flow of weapons to powerful drug cartels, and fueling a traffic in which 70 percent of guns traced in Mexico are found to have come from the United States.
I realize that if you want to be scared, someone telling you not to be scared does absolutely nothing to change your mind. When it comes to crime, facts mean almost nothing to those that are terrified.
But buying into the manufactured narrative has consequences.