The nationwide campaign to stop progressive reforms of the justice system
Submitted by gjohnsit on Wed, 07/28/2021 - 11:42pm
When most people think of reforming the justice system it almost always starts and ends with BLM and Defund the Police.
But in fact there is a much more tangible effort being made by electing progressive district attorneys. That started with Philadelphia District Attorney Larry Krasner in 2017, and continues with newly elected Los Angeles DA George Gascón.
However, the biggest target is San Francisco District Attorney Chesa Boudin. The strategy being used to thwart this trend is hyping a crime wave that doesn't really exist. The method being used are recall elections.
I live in San Francisco. I see paid petition gatherers almost every single day. So there is very Big Money behind this effort. What I don't see is a crime wave.

One of the two recall efforts seeking to oust San Francisco District Attorney Chesa Boudin reported nearly $650,000 in donations in recent months, thanks largely to a single, deep-pocketed political action committee, according to recent campaign finance filings....
The two recall groups have collected a combined total of $921,000, while two anti-recall campaigns supporting Boudin have picked up $485,000.
Bankrolling $400,000 — nearly two-thirds — of the second recall campaign's war chest is a PAC called Neighbors for a Better San Francisco, according to the most recent campaign finance filings. The two biggest contributors to that PAC were investment banker Steven Merrill of Marco Ventures and William Oberndorf, a hedge fund investor.

A few viral videos have been hyped to the extreme, and the creator of one of the videos has gone all in.

In a statement to Newsweek on Wednesday, Instagram user sfstreets415 said: "Crime is basically legal in San Francisco thanks to the policies and ideology created by Chesa Boudin and backed and fully supported by most of the members of our Board of supervisors.
"Crimes are allowed and tolerated in the city and residents and criminals all know it," they said.

"Criminals are emboldened by the DA's policies and have no fear of the police since there's no consequences or repercussions. They know Boudin is soft on crime and has their back," they added.
This is all bullsh*t.
The actual truth is totally different.
San Francisco's rate of property crimes – including shoplifting (Figure 1) – has plummeted to its lowest level since reliable crime statistics were first compiled 45 years ago. That's a cause for celebration, right?

Apparently not. Ignoring these clear trends, the May 21, 2021, "California Today" column by the New York Times' San Francisco Bureau Chief Thomas Fuller declared in alarming tones: "The mundane crime of shoplifting has spun out of control in San Francisco, forcing some chain stores to close."

Fuller's evidence? Anecdotes, quips, and claims from spokespersons for Walgreens that thefts from its stores in San Francisco are "four times the chain's national average, and that it had closed 17 stores, largely because the scale of thefts had made business untenable," and from CVS branding the city "one of the epicenters of organized retail crime." In fact, Walgreens is closing hundreds of stores nationwide in a cost-cutting measure, and the trend toward fewer but larger retail thefts is occurring statewide, not just in San Francisco. Since 2016, thefts valued at $400 or more have risen by 19 percent, while thefts valued at under $50 have fallen by 21 percent.
It isn't just the NY Times that is smearing him. So is the WashPost.

Last week, Boudin was part of a national news story after Washington Post opinion writer Radley Balko alleged that a KGO (ABC7) report on Boudin's handling of a carjacking incident contained inaccurate information, and that the reporter's news-gathering process was questionable. (KGO has since updated the story, albeit after a long delay. For more on that odd saga, click here.)

In the article, Balko, a criminal justice reform advocate himself, defended Boudin's record by highlighting a handful of statistics regarding crime in San Francisco. In the days after publication, Balko noted the unusually vitriolic nature of Chesa Boudin discourse, tweeting, "Don't recall ever getting this fanatical a response over a local politician."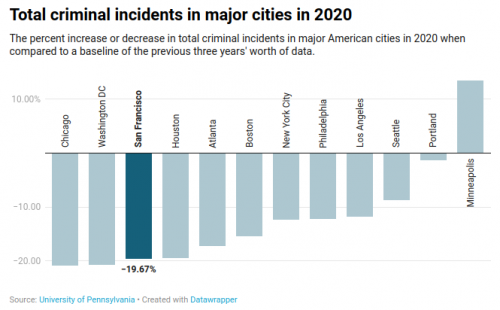 Why all of this hate for Chesa Boudin?
Let's not overthink it.
Cops want to stop progressive reforms of the justice system because they don't want to be accountable for their abuses of power.
The partisan right-wing wants to use this invented crime wave to push a partisan agenda.
And finally there are the wealthy: Boudin has made an effort to prosecute white collar crimes.
If they take down Boudin, George Gascón in LA will be next.