Just 10 days from an economic disaster
Submitted by gjohnsit on Sun, 06/20/2021 - 9:11pm
The Centers for Disease Control and Prevention's eviction moratorium endss on June 30.
How many people will be evicted in the coming months is hard to say exactly, but it will be in the millions.

More than 10 million Americans, or 14% of U.S. renters, say they aren't caught up with their housing payments, meaning many could be at risk when the national moratorium on evictions expires in under a month.

That finding comes from data collected by the Census Bureau between May 12 and 24 and analyzed by The Center on Budget and Policy Priorities. The CBPP also found that more than 26% of Americans continue to have trouble meeting their usual expenses, and around 9% couldn't afford enough food.
The good news is that not every renter who's far behind on their rent will be evicted. This Harvard study says "only" 6 million will likely be evicted.
The bad news is that 2 million homeowners are in danger of losing their homes as well.
Now lot's of people may sympathize with the landlord, instead of the countless families about to be homeless. But at this point it's important to remember that this isn't the 1950's. The landlord may not be who you think.

Law enforcement agencies received some 450 eviction orders to carry out at Siegel Suites and Siegel Select properties last year...
Meanwhile, Siegel Suites collected over $2 million in federal rental assistance from Clark County, one of the largest amounts received by any landlord in the program's first round of allocations. Las Vegas-based real estate firm The Siegel Group, which operates Siegel Suites, also received more than $3 million in federal Paycheck Protection Program loans.
Increasingly America's landlords are major corporations, who are getting government handouts, while kicking poor people into the streets.
In the midst of this catastrophe, Republican dominated states are rushing, months ahead of schedule, to cut off enhanced unemployment benefits.

Nine states will be ending their enhanced unemployment benefits on Saturday, cutting off aid to more than 440,000 out-of-work adults, according to an estimate from the left-leaning Century Foundation. The Republican governors of the states argue that the benefits aren't necessary as the economy recovers, but workers and advocates say the loss of benefits will harm them.

The states that are ending extra jobless benefits on June 19 include Alabama, Alaska, Idaho, Indiana, Nebraska, New Hampshire, North Dakota, West Virginia and Wyoming. They follow three states that eliminated their enhanced benefits a week earlier: Iowa, Mississippi and Missouri. Over the course of the next month, an additional 14 states will join these others in ending extra jobless benefits early. In total, 26 states will cut off pandemic aid before federal funding expires in September. Just one, Louisiana, is run by a Democratic governor.
...
About 14.8 million workers continue to rely on some form of unemployment benefits as their main source of income, according to unemployment expert Andy Stettner at the Century Foundation. Slightly more than 6 million of those workers are on Pandemic Unemployment Assistance (PUA), the program that provides aid to gig workers.
Most of the states that are cutting off the enhanced benefits are also stopping PUA and terminating the Pandemic Emergency Unemployment Compensation program. This is being done because of the Chamber of Commerce fake news reports that people would rather sit on their couches for $300 a month than work for starvation wages.
At least in Republican states, federal money is being cut off for millions at exactly the same time that a tsunami of evictions will hit. Democratic states will only be a couple months later.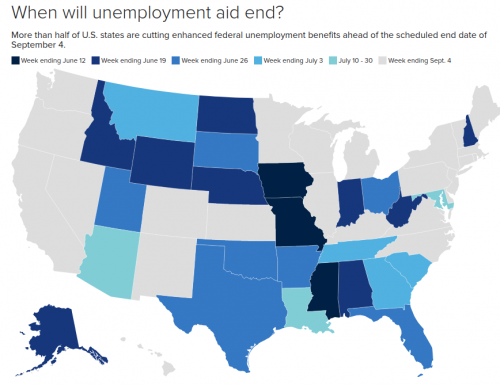 So while we are facing a future with tens of thousands of families living on the street, or in cars, consider the true state of housing in America.

The Census Bureau tracks the number of vacant homes in the U.S. on a quarterly basis and, as of October 2019, the number stands at about 17 million. That's roughly 3.1 million more than the meme suggests. The last time the number of vacant homes was 13.9 million was in 2001, according to the Federal Reserve of St. Louis.
Based on currently available numbers, there are about 31 vacant housing units for every homeless person in the U.S.
Many of the vacant housing units on the market are homes that have been foreclosed and are now owned by banks, according to Business Insider.
Just so we're clear: This country has chosen to see it's children homeless, rather than reduce just a little bit of the profits of the upper class.
That really pisses me off.