Bernie Ends In Extreme Failure
Submitted by snoopydawg on Sat, 07/11/2020 - 1:14pm
It came once he dropped out of the race, despite Biden's near-half century of high crimes, racism, and betrayal of the public trust.

- There is nothing in it against corporate coup d'etat trade deals. Nothing about reigning in Wall Street or war-profiteering. Nothing about universal healthcare.

-Nothing about ending endless wars of aggression. Nothing about rescinding police state repression.

- Nothing about holding killer cops accountable or putting people above privilege and profits.

This well-rehearsed, pre-scripted theater, masquerading as political debate like all others in the US, featured bombast, misinformation, and disinformation over substance, mostly by Biden — slogans and one-liners over solutions, and promises made to be broken if elected.

Government-provided healthcare shouldn't just be for the elderly or cover one illness that affects a small fraction of the population.

It should be for everyone at all times, covering all medical, dental, prescription drugs, and related healthcare expenses.

Americans indeed face crisis conditions. Ongoing for decades, it's at a fever pitch today because of COVID-19 fear-mongering.

It features a lack of confidence because government serves privileged interests at the expense of most others.

Biden represents a near-half century of dirty business as usual. The same goes for Sanders for around 30 years in Congress.

He pretends otherwise. Check his voting record, most often along party lines, supporting dirty business as usual while pretending otherwise.

Instead of going all-out for universal healthcare, he settled for Obamacare.

It made the US sickness industry more dysfunctional by rationing healthcare to enrich insurers, drug companies, and large hospital chains at the expense of Medicare for all, including prescription drugs and dental coverage.

Neither Sanders or Biden addressed the money-controlled US political system under one-party with two right wings.

Names and faces in high office change. The dirty system remains in place — unaltered except at times tinkered around the edges too inadequately to matter.

Popular revolution is the only solution, voting a waste of time when results turn out the same way every time.

Only the illusion of change happens when elections are held, never the real thing from inception to today.
Once again billions are being spent on another election horse race where people with money make sure that they get their sycophants elected so that they can make rules that will help those with money while screwing those who have none and are left to fend on their own. Or die.



"In a fully developed bureaucracy there is nobody left with whom one can argue, to whom one can present grievances, on whom the pressures of power can be exerted. Bureaucracy is the form of government in which everybody is deprived of political freedom, of the power to act; for the rule by Nobody is not no-rule, and where all are equally powerless, we have a tyranny without a tyrant."

- Hannah Arendt
I picked a few things from this article to make a point about what we have been witnessing since before 9/11, but then seeing it on steroids afterwards. And just like after the global economic crisis of 2007 the rich have gotten bailed out while close to 30-40 million of us are going to be kicked out of our homes and apartments because both parties are beholden to big business and are not going to give We the People our bailout to keep the USA from imploding. The power elite do not care how many of us are evicted from our homes during a global pandemic. Or how many of us become food challenged because we can't afford to buy food and we are still seeing millions of pounds of food thrown away because of the broken food supply chain that was first seen 3 months ago and Trump said that he was going to fix by getting the national guard involved. What we are witnessing from our government are crimes against humanity. When religious organizations are allowed to receive tax funded bailouts even though the don't pay taxes you know that the game is rigged against us.
For one brief moment in the wake of George Floyd's death, it seemed as if finally "we the people" might put aside our differences long enough to stand united in outrage over the government's brutality.

That sliver of unity didn't last.

Suddenly, no one seems to be talking about any of the egregious governmental abuses that are still wreaking havoc on our freedoms: police shootings of unarmed individuals, invasive surveillance, roadside blood draws, roadside strip searches, SWAT team raids gone awry, the military industrial complex's costly wars, pork barrel spending, pre-crime laws, civil asset forfeiture, fusion centers, militarization, armed drones, smart policing carried out by AI robots, courts that march in lockstep with the police state, schools that function as indoctrination centers, bureaucrats that keep the Deep State in power.

The more things change, the more they stay the same.

How do you persuade a populace to embrace totalitarianism, that goose-stepping form of tyranny in which the government has all of the power and "we the people" have none?

You persuade the people that the menace they face (imaginary or not) is so sinister, so overwhelming, so fearsome that the only way to surmount the danger is by empowering the government to take all necessary steps to quash it, even if that means allowing government jackboots to trample all over the Constitution.

This is how you use the politics of fear to persuade a freedom-endowed people to shackle themselves to a dictatorship.

The government's overblown, extended wars on terrorism, drugs, violence, illegal immigration, and so-called domestic extremism have been convenient ruses used to terrorize the populace into relinquishing more of their freedoms in exchange for elusive promises of security.

Strangely enough, in the face of outright corruption and incompetency on the part of our elected officials, Americans in general remain relatively gullible, eager to be persuaded that the government can solve the problems that plague us, whether it be terrorism, an economic depression, an environmental disaster, or a global pandemic.

The lesson is this: once a free people allows the government inroads into their freedoms or uses those same freedoms as bargaining chips for security, it quickly becomes a slippery slope to outright tyranny.

Nor does it seem to matter whether it's a Democrat or a Republican at the helm anymore. Indeed, the bureaucratic mindset on both sides of the aisle now seems to embody the same philosophy of authoritarian government, whose priorities are to milk "we the people" of our hard-earned money (by way of taxes, fines and fees) and remain in control and in power.

Modern government in general—ranging from the militarized police in SWAT team gear crashing through our doors to the rash of innocent citizens being gunned down by police to the invasive spying on everything we do—is acting illogically, even psychopathically. (The characteristics of a psychopath include a "lack of remorse and empathy, a sense of grandiosity, superficial charm, conning and manipulative behavior, and refusal to take responsibility for one's actions, among others.")

When our own government no longer sees us as human beings with dignity and worth but as things to be manipulated, maneuvered, mined for data, manhandled by police, conned into believing it has our best interests at heart, mistreated, and then jails us if we dare step out of line, punishes us unjustly without remorse, and refuses to own up to its failings, we are no longer operating under a constitutional republic. Instead, what we are experiencing is a pathocracy: tyranny at the hands of a psychopathic government, which "operates against the interests of its own people except for favoring certain groups."

So where does that leave us?

Having allowed the government to expand and exceed our reach, we find ourselves on the losing end of a tug-of-war over control of our country and our lives. And for as long as we let them, government officials will continue to trample on our rights, always justifying their actions as being for the good of the people.

Yet the government can only go as far as "we the people" allow. Therein lies the problem.

The pickle we find ourselves in speaks volumes about the nature of the government beast we have been saddled with and how it views the rights and sovereignty of "we the people."

Now you don't hear a lot about sovereignty anymore. Sovereignty is a dusty, antiquated term that harkens back to an age when kings and emperors ruled with absolute power over a populace that had no rights. Americans turned the idea of sovereignty on its head when they declared their independence from Great Britain and rejected the absolute authority of King George III. In doing so, Americans claimed for themselves the right to self-government and established themselves as the ultimate authority and power.

In other words, in America, "we the people"— sovereign citizens—call the shots.

So when the government acts, it is supposed to do so at our bidding and on our behalf, because we are the rulers.

That's not exactly how it turned out, though, is it?

In the 200-plus years since we boldly embarked on this experiment in self-government, we have been steadily losing ground to the government's brazen power grabs, foisted upon us in the so-called name of national security.

The government has knocked us off our rightful throne. It has usurped our rightful authority. It has staged the ultimate coup. Its agents no longer even pretend that they answer to "we the people." Worst of all, "we the people" have become desensitized to this constant undermining of our freedoms.

We are fast approaching a moment of reckoning where we will be forced to choose between the vision of what America was intended to be (a model for self-governance where power is vested in the people) and the reality of what it has become (a police state where power is vested in the government).

This slide into totalitarianism—helped along by overcriminalization, government surveillance, militarized police, neighbors turning in neighbors, privatized prisons, and forced labor camps, to name just a few similarities—is tracking very closely with what happened in Germany in the years leading up to Hitler's rise to power.

We are walking a dangerous path right now.

No matter who wins the presidential election come November, it's a sure bet that the losers will be the American people.

Despite what is taught in school and the propaganda that is peddled by the media, the 2020 presidential election is not a populist election for a representative. Rather, it's a gathering of shareholders to select the next CEO, a fact reinforced by the nation's archaic electoral college system.

Anyone who believes that this election will bring about any real change in how the American government does business is either incredibly naïve, woefully out-of-touch, or oblivious to the fact that as an in-depth Princeton University study shows, we now live in an oligarchy that is "of the rich, by the rich and for the rich."

When a country spends close to $10 billion on elections to select what is, for all intents and purposes, a glorified homecoming king or queen to occupy the White House and fill other government seats, while more than 40 million of its people live in poverty, more than 40 million Americans are on unemployment, more than 500,000 Americans are homeless, and analysts forecast it will take a decade to work our way out of the current COVID-induced recession, that's a country whose priorities are out of step with the needs of its people.

Be warned, however: the Establishment—the Deep State and its corporate partners that really run the show, pull the strings and dictate the policies, no matter who occupies the Oval Office—is not going to allow anyone to take office who will unravel their power structures. Those who have attempted to do so in the past have been effectively put out of commission.

Voting sustains the illusion that we have a democratic republic, but it is merely a dictatorship in disguise, or what political scientists Martin Gilens and Benjamin Page more accurately refer to as an "economic élite domination."

We have been saddled with a two-party system and fooled into believing that there's a difference between the Republicans and Democrats, when in fact, the two parties are exactly the same. As one commentator noted, both parties support endless war, engage in out-of-control spending, ignore the citizenry's basic rights, have no respect for the rule of law, are bought and paid for by Big Business, care most about their own power, and have a long record of expanding government and shrinking liberty

We're drowning under the weight of too much debt, too many wars, too much power in the hands of a centralized government run by a corporate elite, too many militarized police, too many laws, too many lobbyists, and generally too much bad news.
Trump has reportedly commuted Roger Stone's sentence.
Hard to imagine a more brazen abuse of power than letting off your own accomplice for deceiving investigators about your collusion with a hostile foreign power's attack on American democracy. https://t.co/zTb95nIVqC

— The Moscow Project (@moscow_project) July 10, 2020
I still do not understand how any conviction from the Mueller investigation can still stand after it was found out that the FBI lied to the FISA court to start investigating people in Trump's campaign. Anything found out from wiretaps that led to investigation should be on the fruit of the poisonous tree. The lie was that Carter Page was working with people in Russia to get help with the election when in fact Page was not working with anyone in Russia, but instead had been working with the CIA in numerous cases against people in Russia.
And this is a big fat lie. Wikileaks had already told the world that they would be releasing their information on the DNC, Hillary and Podesta's emails a month before Stone opened his mouth. Every aspect of Russia Gate has been debunked and by Mueller and CrowdStrike themselves and yet with help from people like Rachel Moscow the lie continues to this day. Look at any article on Stone's commutation and you will see them full of lies.
2nd tweet:
Here's a reminder of what Stone was convicted of: He lied to Congress and intimidated witnesses so it wouldn't come out that the Trump campaign directed him to set up a back channel to WikiLeaks. https://t.co/8RRVgNjSNN

— The Moscow Project (@moscow_project) July 11, 2020
The country is in an uproar over Trump commuting Roger Stone's sentence. I don't remember any uproar when Obama said that We would be looking forward on the crimes against the Bush/Cheney administration that include the biggest one according to the Nuremberg trials which was invading a country that hadn't threatened another and on false pretenses. Or for torture which is another crime against humanity. Nor when Bill Clinton wasn't prosecuted for perjury. Nor when Brennan and Clapper and numerous other powerful people lied to congress. When Eric Holder wasn't charged for contempt of congress. Nor when Obama said that the banks were to big to jail for deliberately crashing the global economy. Nor when countless other powerful people were found guilty and got off with a slap on the rich.
John Edwards told us that there are two justice systems in America. Of course we already knew that. When cops get off murdering us in cold blood while a guy that has too much marijuana is sentenced to decades in prison. Or one of the worst examples of the powerful getting off scoot free which was when Jeffrey Epstein was not charged with statutory rape and sex trafficking, but instead a charge of prosecution and only served 13 months in a minimum security prison and was allowed to leave for up to 12 hours a day to go to work. Or wherever the hell he wanted to. I think that denying millions health care is a crime against humanity. Same with evicting millions during an epidemic. Or watching millions and especially kids starve while fat cats get fatter. I am sure you can add to the list of Too.... to charge and jail examples.
This is a complete lie. Roger Stone committed a series of well-documented crimes that are not seriously contested. This is what despots do: wield the law like a weapon to attack political opponents and protect loyal cronies. It's a disgraceful, dark day for American democracy. https://t.co/Ja5Ty0VQyE

— Brian Klaas (@brianklaas) July 11, 2020
Was Obama a despot for protecting Bush/Cheney? Was Bush for protecting Clinton? Was Clinton for protecting Reagan? Was Ford for pardoning Nixon? Was every president that followed the one before them who committed war crimes a despot? I am not going to get upset that Stone doesn't when worse people have gotten away with murder and so much more. This march into fascism didn't start with Trump.
People say that Obama's presidency was scandal free: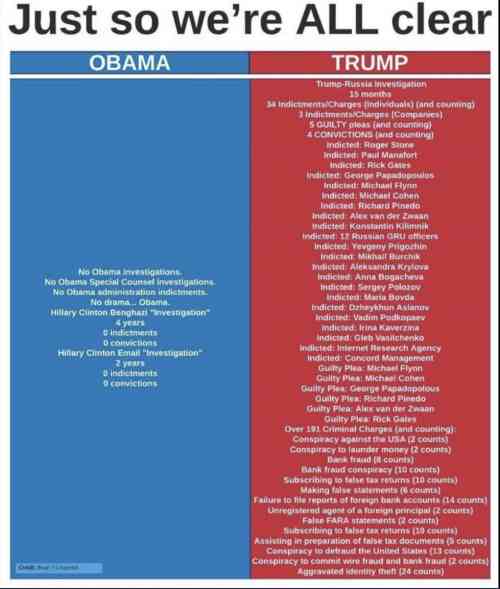 Phewy!