Latin America's Revolt Spreads
Submitted by gjohnsit on Mon, 10/21/2019 - 4:44pm
I wrote about the spreading Latin American protests bit more than a week ago.
In that short period of time there's been three crucial developments.


In Chile
The number of people killed in violent protests against rising living costs in Chile has risen to 11, Santiago Governor Karla Rubilar said on Monday.
The military and police used tear gas and water cannon against protesters and a curfew was imposed in major cities.

A state of emergency already in place in Santiago is to be extended to cities in the country's north and south.
...Mr Piñera - who took office in March 2018 after having served as president between 2010 and 2014 - has deployed soldiers and tanks for the first time since 1990, when Chile returned to democracy after the dictatorship of Augusto Pinochet.
The protesters/rioters are angry about the entire neoliberal system that Libertarians love to point to, and the government's rhetoric is alarming to say the least.

What began as protests against subway-fare increases quickly morphed into outpourings of discontent over income equality, pensions, health and education.

While Mr Pinera back-pedaled on the fare increase, his efforts to crack down on violence have merely intensified it. Late Sunday, he had a stark message for Chile: We are at war, choose sides and we will win.

"We are at war against a powerful, relentless enemy, who doesn't respect anyone, who is willing to use violence without any limits, even if it means the loss of human life," Mr Pinera said in a televised speech. The rioters "represent evil."
Meanwhile in Peru
The Peruvian government on Wednesday authorized the intervention of the armed forces and police to unblock access to one of the country's largest copper mines, after owner Chinese miner MMG Ltd said it may have to cease production at the site.

The decree, published in official newspaper El Peruano, declared a state of emergency for 30 days in an Andean area where residents have been blocking a road used by the mining company to transport concentrates for almost four weeks.
Some background in Peru
The situation in Peru turned almost Kafkaesque in early October, when embattled President Martin Vizcarra dissolved the opposition-controlled Congress following a prolonged conflict between the two institutions. The Congress in turn stripped Vizcarra of his post and named the vice president as the acting president, but within hours he had resigned and asked Vizcarra to hold early elections. The standoff has continued, as the matter has been referred to the country's Supreme Court. Peru has been rocked by instability since Vizcarra's predecessor, Pedro Pablo Kuczynski, resigned over a massive corruption scandal that has spread from Brazil to several other countries in the region.
Nothing has changed in Haiti and Honduras, where protesters are still battling corrupt U.S.-backed governments.
But in Ecuador the tide is turning.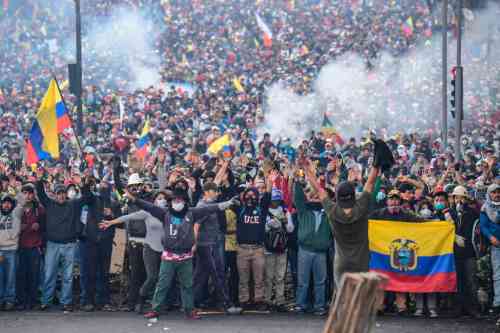 The deal, which included the Confederation of Indigenous Nationalities of Ecuador (CONAIE), is a retreat for the government of President Lenín Moreno and a victory for the protesters.

Jubilant crowds took to the streets, chanting in celebration. But the agreement doesn't resolve the underlying problems. Moreno is not likely to finish the remaining year and a half of his presidential term without a recurrence of serious unrest.
Besides stopping austerity, Moreno also agreed to raise taxes on the wealthy.
Moreno cut a deal after he deployed the military...and then the military came out for the protesters and against the police.
Moreno must have realized that he only had hours to go before being kicked out.