Currency wars and gold
Submitted by gjohnsit on Mon, 08/12/2019 - 6:18pm
Excessive sanctions tend to turn into trade wars.
Trade wars tend to turn into currency wars, and those get dangerous.

A trade war between China and the U.S. has become something bigger: a currency war. Beijing's weakening of the yuan prompted the Treasury Department to brand it a "currency manipulator." Central banks around the world, including Thailand, India and New Zealand, promptly followed China's lead nonetheless.

This isn't the first time that protectionism became entangled in exchange rates. In fact, what we're seeing has an eerie resemblance to a back-and-forth volley of currency devaluations and retaliatory tariffs that ripped apart the global economy in the 1930s. There's no reason something similar won't happen again.
Having a currency war with one of our biggest trading partners is not good.
It's especially bad when that trading partner is your largest creditor. They might decide not to send their extra trade surplus cash your way.

When Trump was elected in 2016, China FDI was a record smashing $46.5 billion, more than double the 2015 record breaking year of $15.3 billion. But after two and a half years with Trump in command, China investments here went from $29.7 billion in 2017 to $5.4 billion in 2018 to an estimated $3.5 billion this year, based on numbers from the Rhodium Group.
Let's not forget that China has a $1 Trillion economic nuclear weapon.
It's even worse when your budget deficits are exploding due to a bloated military budget.

The U.S. fiscal deficit has already exceeded the full-year figure for last year, as spending growth outpaces revenue.

The gap grew to $866.8 billion in the first 10 months of the fiscal year, up 27% from the same period a year earlier, the Treasury Department said in an emailed statement on Monday. That's wider than last fiscal year's shortfall of $779 billion -- which was the largest federal deficit since 2012.
So if the U.S. dollar is in danger from incompetent mismanagement in Washington, and you can't invest in the Yuan, where is safe?
The Pound is Brexit'ing, so that's a no go.
The Euro has a big problem with the Italians, plus negative interest rates.
The Yen has permanent QE plus negative interest rates.
Same with the Swiss and the Nordic countries.
That leaves only one notable option.

Investors should diversify away from the U.S. dollar and increase their exposure to other major currencies and gold, according to a report from JP Morgan.

In a recent market note, the bank stated that it sees the U.S. dollar losing its status as the world's dominant currency, and consequently depreciating in value.
Gold is expected to hit $1,600 before the end of the year, which is a conservative prediction.
Gold is currently at all-time highs in 83 currencies.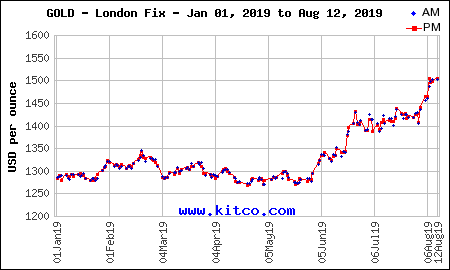 A lot of liberals have irrational hatred of gold because a few conmen on the right hustled gold a few years back.
You can't let that get in your way.
You know who else hates gold? The ruling elites.
They can't print gold, so banksters despise and fear it.
Just as importantly, because there is no debt attached to gold, they can't track it if it is used in a transaction. So the authoritarians hate and fear it.