Someone is getting a raise. It just isn't you
Submitted by gjohnsit on Fri, 05/03/2019 - 4:54pm
As is usual, the headline economic number is always the rosiest number.

Wages for production and nonsupervisory workers accelerated to a 3.4 percent annual pace, signaling gains for lower-paid employees.
That sounds pretty good. Except for the part where it is a lie.
For starters, it doesn't account for inflation.

Labor Department numbers released Wednesday show that real average hourly earnings, which compare the nominal rise in wages with the cost of living, rose 1.7 percent in January on a year-over-year basis.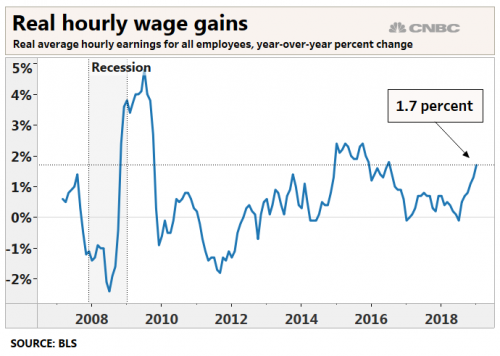 1.7% is a lot less than 3.4%.
While the financial news was bullish, the actual professionals took the news differently.

Wage inflation was also muted with average hourly earnings rising six cents, or 0.2% in April after rising by the same margin in March.
Average hourly earnings "were disappointing," said Ian Lyngen, head of U.S. rates strategy at BMO Capital Markets in New York.
Secondly, 1.7% is an average, not a median.
For instance, none of this applied to you if you are an older worker.

Weekly earnings for workers aged 55 to 64 were only 0.8% higher in the first quarter of 2019 than they were in the first quarter of 2007, after accounting for inflation, they found.
For comparison, earnings rose 4.7% during that same period for workers between the ages of 35 and 54.
On the other hand, if you worked for a bank your wages went up at a rate far above average. This goes double if you are in management.

Among the biggest standouts: commercial banks, which employ an estimated 1.3 million people in the U.S. Since Trump took office in January 2017, they have increased their average hourly wage at an annualized pace of almost 11 percent, compared with just 3.3 percent under Obama.
Finally, there is the reason for this incredibly small wage increase fo regular workers.
Hint: it wasn't because of capitalism and all the bullsh*t jobs it creates.
The tiny wage increase that the working class has seen is because of what the capitalists said was a terrible idea.

For Americans living in the 21 states where the federal minimum wage is binding, inflation means that the minimum wage has lost 16 percent of its purchasing power.

But elsewhere, many workers and employers are experiencing a minimum wage well above 2009 levels. That's because state capitols and, to an unprecedented degree, city halls have become far more active in setting their own minimum wages.
...
Averaging across all of these federal, state and local minimum wage laws, the effective minimum wage in the United States — the average minimum wage binding each hour of minimum wage work — will be $11.80 an hour in 2019. Adjusted for inflation, this is probably the highest minimum wage in American history.
The effective minimum wage has not only outpaced inflation in recent years, but it has also grown faster than typical wages. We can see this from the Kaitz index, which compares the minimum wage with median overall wages.
So if you are waiting for capitalism to trickle down on you, it's never going to happen.