Britain's Tory government may only have days to live
Submitted by

gjohnsit

on Sat, 01/12/2019 - 2:38am
All you have to do is scan the headlines of England to see just how close Britain is to having a real socialist as Prime Minister. The establishment is in FULL FREAKOUT!
Corbyn is betraying the working class
PMQs offered a glimpse of Corbyn's narcissism
With his trendy new spectacles, is Jeremy Corbyn trying to tell us something?
Jeremy Corbyn Has a Sordid Past. Now, He's Closer Than Ever to Leading Britain.
Brexit Gave Labour Party an Opening. Instead, It Has an Anti-Semitism Crisis.
My bad. The last two are American.
So why the new freakout? Because this was today's news.

Senior British ministers are said to be urging Theresa May to seek help from her arch rival -- socialist Jeremy Corbyn -- if Parliament kills her Brexit deal in a crunch vote next week.

A group of mainly pro-European ministers want May to invite the opposition Labour party leader to meet her for negotiations in the hope of agreeing a joint plan, according to people familiar with the matter.

May will ask Parliament to approve the divorce terms she's negotiated with the European Union on Jan. 15. The problem she faces is that her Conservative party has no overall majority in the House of Commons and scores of her own members hate the deal she's struck with the EU and have vowed to oppose it.
Corbyn has already said that a new election is what he wants, so it gives you an idea of how desperate the Tories are.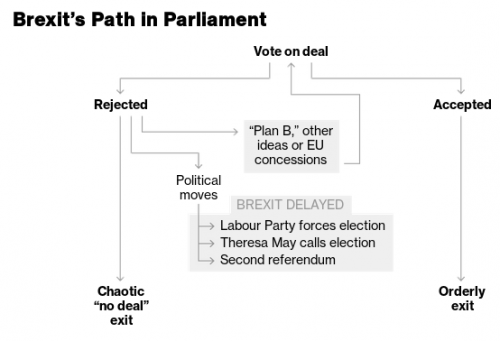 Parliament is going to vote on her Brexit deal Tuesday.
It's extremely unlikely to pass, given that May lost two dramatic parliamentary votes in as many days.
May has no Plan B.
With May's government circling the drain, the establishment has loads of advice for Corbyn.
Jeremy Corbyn risks votes disaster if he fails to fight Brexit, poll shows
Labour risks 'worst election result since 1930s' if party's MPs back Brexit, major poll finds
Tony Blair accuses Jeremy Corbyn of 'abject failure' over Brexit
Thanks for the advice.
There's just one problem with it: its bull.

The poll published on the Conservative Home website on Tuesday showed that some 45 percent of the Conservative Party's grassroots think that Corbyn will take the keys to No. 10 as part of a coalition government after the next general election.

The poll showed that the number of Tories who think their party will remain in power has decreased from the 73 percent recorded last month to 55 percent. That means a huge fall in the popularity of the current Conservative-led government of Prime Minister Theresa May.
When your own voters have given up...
Three years of non-stop smears have not diminished Corbyn because he's an authentic socialist, and the people are ready for socialism.