Santa Claus isn't coming to Wall Street this year
Submitted by gjohnsit on Fri, 12/21/2018 - 4:59pm
Every year since 2009, Santa Claus came to lower Manhattan and showered presents on all the good and bad, little boys and girls.
No trade was a bigger winner than to go long in December...until this year.
Stocks plunged again on Friday, bringing the Dow Jones Industrial Average's losses for the week to nearly 7 percent and ending its worst week since the financial crisis in 2008. The Nasdaq Composite Index fell into a bear market and the S&P 500 was on the brink of one itself, down nearly 18 percent from its record earlier this year.
Barron's titled their article The Stock Market Crash That Almost No One Heard.
That's a good headline, but an even better one is this:
Shades of 1987 and 2008 in Current Level of Stocks Getting Crushed

It can be seen in the percentage of stocks making new 52-week lows. Currently 38 percent of equities on the Nasdaq and New York Stock Exchange are trading below that level. Since 1984, there were only eight days when a bigger proportion of shares did so, according to Sundial Capital Research.

Two of them were in 1987 -- during the famous Black Monday crash, when the Dow Jones Industrial Average lost 23 percent in one day, and then again during the following session. The rest were in the aftermath of the collapse of Lehman Brothers in October and November 2008.

"There are more than hints of panic in the air today," Jason Goepfert, president of Sundial Capital Research, wrote in a note Thursday. "There is clear evidence of wholesale selling on a level we rarely see."
You probably didn't notice because The Richest 10% of Americans Now Own 84% of All Stocks.
That should be enough to catch your attention, but this month the damage spread to the risky side of the bond market, starting with junk bonds.

A gauge of high-yield bond performance was trading close to its lowest since early 2016 on Friday, a day after the riskiest U.S. corporate bonds suffered their biggest daily drop in nearly three years and in sync with a broad pullback from stocks and other risky assets.
The iShares Iboxx High Yield ETF was down around half a percent in early afternoon trading and has fallen 7.2 percent so far this quarter, putting it on pace for its poorest quarterly performance since 2011.
The $1.3 Trillion leveraged loan market has also taken a beating.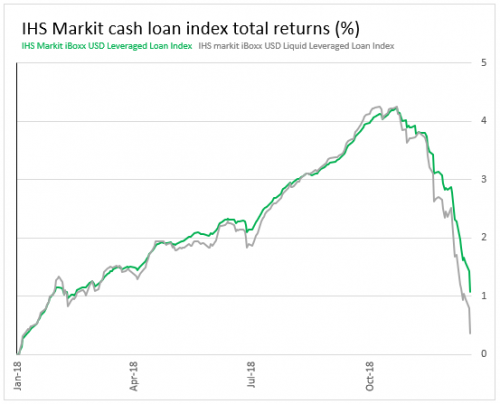 All in all, this adds up to, not just a bad year for financial assets, but a record bad year for financial assets.