Caitlin Has Been Banned From Twitter - Updated X 2
Submitted by

snoopydawg

on Fri, 08/17/2018 - 6:28pm
Caitlin posted this 40 minutes ago.
Twitter Shut Down My Account For "Abusing" John McCain

I'm back! Thanks for making such a huge, powerful noise everyone! The suspension was lifted just after I hit publish on this one, so I've put an update on the beginning, but here's what happened:https://t.co/sIYY1KJ27L

— Caitlin Johnstone (@caitoz) August 17, 2018
UPDATE 2: Shortly after restoring my account, Twitter locked me out from using it for twelve hours with the notification below. This happened immediately after I had tagged Twitter in a post saying that their restoration was a tacit admission of wrongful suspension, which means smaller accounts without a large audience to advocate for them are surely silenced on a regular basis. So good way to cover your asses I guess, guys.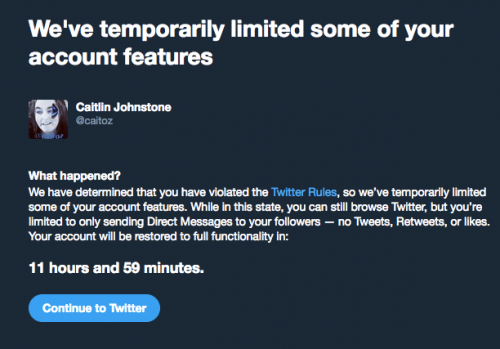 Original Essay
(I have updated this to add some more information and links. Best to read her essay because it shows how people reported her tweets)
Original post
Twitter Has Shut Down My Account For "Abusing" John McCain
Hello Caitlin Johnstone,

Your account, caitoz has been suspended for violating the Twitter Rules.
Specifically, for:

Violating our rules against abusive behavior.
You may not engage in the targeted harassment of someone, or incite other people to do so. We consider abusive behavior an attempt to harass, intimidate, or silence someone else's voice.

Note that if you attempt to evade a permanent suspension by creating new accounts, we will suspend your new accounts. If you wish to appeal this suspension, please contact our support team.

They're calling it a "suspension", but nobody can view my page and I can't perform any activities on it, and it appears to be permanent unless I succeed in going through the anonymous and unaccountable appeals process. Now when people try to access my account, they get a screen that looks something like this depending on what device they're using

I haven't abused anybody, and I've been observing extreme caution with my language for the last few days ever since I made a political tweet about John McCain which drew the wrath of #Resistance Twitter. The offending tweet reads as follows: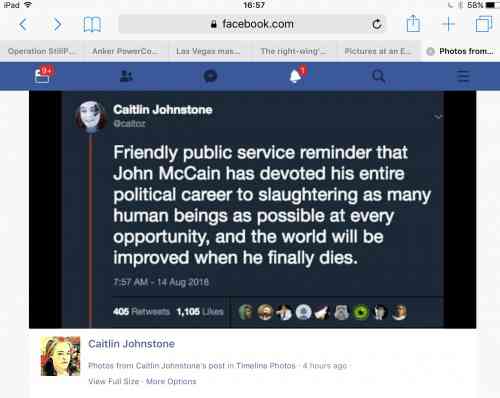 I posted this four days ago when John McCain was trending because Donald Trump didn't pay him any respect when signing the bloated NDAA military spending bill that was (appropriately) named after him. My reason for doing so was simple: the establishment pundits responsible for manipulating the way Americans think and vote have been aggressively promulgating the narrative that McCain is a hero and a saint, and I think it's very important to disrupt that narrative.
....
Interestingly, I've been saying this exact same thing repeatedly for over a year. An article I wrote about McCain in July of last year titled "Please Just Fucking Die Already" received a far more widespread backlash than this one, with articles published about it by outlets like CNN, USA Today and the Washington Post. Whoopi Goldberg and Joy Behar talked about me on The View. I was never once suspended or warned by any social media outlet or blogging platform at that time; it was treated as the political speech about a public figure that it clearly and undeniably is. The only thing that has changed since that time is the climate of internet censorship.
Caitlin posts some of her other tweets and the responses to them.
Here's an article I wrote about how good it would be if John McCain died.https://t.co/bsYXCOk5xN

— Caitlin Johnstone (@caitoz) August 16, 2018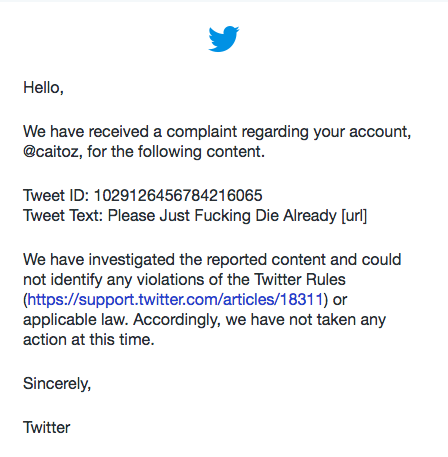 Then a popular #Resist account condemned my post and was retweeted by Caroline Orr, a popular pundit with hundreds of thousands of followers who works with the David Brock propaganda firm Shareblue. Instantly, my Twitter notifications began filling up with comments like these:
So it looks like anyone who voices a political opinion that is deemed sufficiently offensive to Centrist Twitter can be purged in this way now. If you can get enough people reporting the same thing over and over again for a few days, one of those reports will eventually land in the lap of an admin whose personal bias allows them to squint just right at political speech about a public figure and see a violation of Twitter policy.
Whoever controls the narrative controls the world. The only cracks in plutocratic narrative control have come in the form of alternative media outlets and social media, the access to which is unfortunately guarded by plutocrats with well-documented ties to secretive and unaccountable government agencies. The plutocratic alliance has successfully funneled online audiences into platforms that can be easily regulated, and now they are censoring those platforms.
Who else has Caitlin been talking about?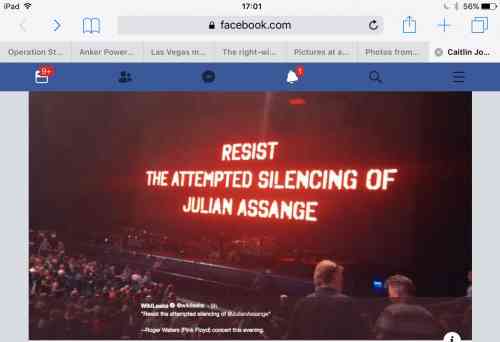 As Long As Assange Is Silenced, Claims Against Him Are Illegitimate
Caitlin has written many other essays about Assange since he was silenced.
Who's Next?
h/t moneysmith
edited