Congress Passes NDAA 2017
Submitted by Big Al on Sun, 12/04/2016 - 11:56pm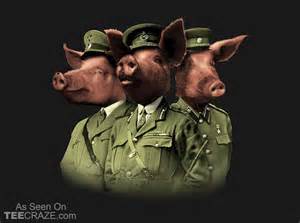 The House has passed, 375-34 in the Republican controlled Congress, the National Defense Authorization Act (NDAA) of
2017, the annual military spending bill and associated directives. The bill to taxpayers is a bargain at $611 billion. But never fear, Trump has promised to drastically increase military spending to upgrade the military after 15 straight years of war, so they aren't done with 2017 yet.
"The bill includes bans on any closure of any military bases by the Pentagon, once again rejecting calls by the military leadership to get rid of costly, unwanted bases, and also forbids the closure of the detention center at Guantanamo Bay. It also forbids the Pentagon from going through with a plan to reduce the number of active duty soldiers."
http://news.antiwar.com/2016/12/02/house-passes-massive-611-billion-new-...
What is total U.S. defense spending?
"In FY 2017, total US government spending for defense (including military defense, veterans affairs, and foreign policy) is budgeted to be $853.6 billion. Military spending is budgeted at $617.0 billion, Veterans spending is budgeted at $180.8 billion, and foreign policy and foreign aid spending is budgeted at $55.8 billion."
http://www.usgovernmentspending.com/defense_spending
If you look at defense spending after G..W. Bush and the Neocons took over with their mandate to "Rebuild America's Defenses" because they got their "New Pearl Harbor", you see a significant trajectory for a decade, exactly what the Project for a New American Century neocons called for in their seminal traitorese., "Project for a New American Century, Rebuilding America's Defenses".
If Trump and the republican controlled Congress and Senate (not that it matters regarding imperialism spending) try to replicate the PNAC plan of increased military spending for five to ten years, we could approach one trillion in defense spending per year. For that, they'll need to turn up the war propaganda and perhaps hope for another "new Pearl Harbor". Hey China, Russia, Iran, North Korea, Venezuela, get ready. The Military Industrial Complex is insatiable.
Even at that, when you include the budgets of the CIA, NSA, DHS, Dept of Energy programs, all defense, intelligence, and security type programs, the total spent out of the discretionary budget easily tops one trillion per year now.
We're going to see spending cuts in other areas, attempts at reducing costs of Medicare and Social Security, reduced spending on social programs, tax cuts for the rich and corporations, while our government, the government of the United States of America, continues to build a killing machine for global supremacy.
This is insane.