The U.S. troop surge in Somalia
Submitted by

gjohnsit

on Sun, 11/19/2017 - 11:39am
The few Americans that pay attention know that we've had another troop surge in Afghanistan, but did you know we've deployed hundreds of soldiers to Somalia too?

The Pentagon announced in a statement Thursday there are now "more than" 500 US troops on the ground in Somalia.
A significant increase from early 2014 when roughly two dozen troops arrived for the first time since 1993 and the Black Hawk Down incident.
US Africa Command says there have been 28 airstrikes this year, mostly from drones against al-Shabaab, long considered the greatest terror threat in Africa.
At a press conference Thursday at the Pentagon, a top defense official denied any "ramp-up."
"I do not believe necessarily there's a ramp-up," said Lt. Gen. Kenneth F. McKenzie, Jr., director of the Pentagon's Joint Staff when asked about the spike in airstrikes in Somalia.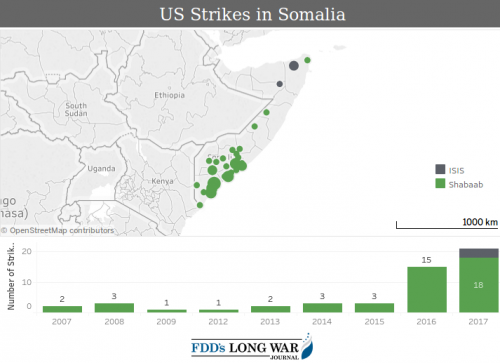 Hundreds of additional troops and dozens of airstrikes, but 'no buildup'?
The Pentagon has used the Niger ambush to bolster Africom.
A Navy Seal was killed in a firefight in Somalia in May.
This morning I wondered where US airstrikes were falling in Somalia this year.
So I took a look — https://t.co/vPSpjVD0nS — with the help of data from @USAfricaCommand, @criticalthreats, and @MicahZenko to find a sharp escalation since August, particularly in the Bay Region: pic.twitter.com/miyHRroVXc

— Ben Watson (@natsecwatson) November 15, 2017
We've been messing with Somalia non-stop since mid-2006, when they had the temerity to kick out our warlords.
Eventually, late in 2006, we underwrote the invasion of Muslim Somalia by Christian Ethiopia that killed tens of thousands of Somalians.
In 2011 it was revealed that the CIA had a secret torture prison in Somalia.
The U.S. military invasion of the African continent is expanding faster than anywhere outside of the Middle East even before the buildups in Somalia and Libya.

"At any given time, you will find SOCAFRICA conducting approximately 96 activities in 20 countries," Donald Bolduc, the U.S. Army general who runs the special operations command in Africa (SOCAFRICA), wrote in an October 2016 strategic planning guidance report....
Bolduc indicated his solution was the "acceleration of SOF [special operations forces] missions [filling] a strategic gap as the military adjusts force structure now and in the future." Translation: U.S. commandos "in more places, doing more" in Africa going forward.
At the same time, Bolduc says the U.S. is not at war in Africa....
The 2016 SOCAFRICA report lists seven terror groups by name - al-Qaida in the Lands of the Islamic Magreb, ISIS, Ansar al-Sharia, al-Murabitun, Boko Haram, the Lord's Resistance Army, and al-Shabaab.
Four of these groups do not operate in Libya or Somalia.
That isn't the only problematic scenario.

In the State Department's Human Rights reports that they put out every year, if you look at Chad, the country is cited every year for various forms of human rights abuses carried out by security forces: extrajudicial killings, torture, assault. Also United Nations reports, Amnesty International, Human Rights Watch, they've all cited Chad for military crimes outside of its borders. This is the force that the United States is hanging its hat on.
Chad's forces just a few years ago were involved in a report from Amnesty International about a massive recruitment of child soldiers. So this is one of the U.S.'s main proxy forces and it institutes them.
Just three months ago I posted this: It's only a matter of time before our forces in Africa get ambushed, and the reaction to the news of dead American soldiers in a strange country will be, "Did you even know we had troops there? WTF is going on?"