U.S. promises to meddle in British election
Submitted by gjohnsit on Mon, 06/10/2019 - 12:33pm
We are told that American elections are "sacred". Everyone else can go suck it. US secretary of state Mike Pompeo made that clear the other day.

Labour has accused Donald Trump's top official, Mike Pompeo, of trying to stop Jeremy Corbyn becoming prime minister, after he was caught on tape telling Jewish leaders that he would "push back" against the party's leadership.

In a recording leaked to the Washington Post, the US secretary of state was asked what he would do if Corbyn were to be elected as prime minister, after sustained criticism over Labour's handling of accusations of antisemitism within the party.
...
"It could be that Mr Corbyn manages to run the gauntlet and get elected," he said on the recording. "It's possible. You should know, we won't wait for him to do those things to begin to push back. We will do our level best. It's too risky and too important and too hard once it's already happened."

A Labour spokesman said: "President Trump and his officials' attempts to decide who will be Britain's next prime minister are an entirely unacceptable interference in the UK's democracy." He added that the party was "fully committed to the support, defence and celebration of the Jewish community and is implacably opposed to antisemitism in any form".
If we get to decide who the leaders are of Venezuela, why not Britain? And if we get to decide for Britain, why not everyone else?
"I don't see why we need to stand by and watch a country go communist due to the irresponsibility of its own people. The issues are much too important for the Chilean voters to be left to decide for themselves."
- Henry Kissinger at a June 1970 meeting of the CIA's 40 Committee
One thing is for certain: the Trump Administration, which is extremely unpopular in Britain, just gave Jeremy Corbyn a big boost.
Pompeo's comments emerged after Trump turned down Corbyn's request for a meeting during his state visit to the UK last week, saying the leader was "somewhat of a negative force". Corbyn joined protests outside Trump's press conference with Theresa May, where he pledged to oppose the US president's drive for greater access for US health companies to NHS contracts.
Trump really couldn't do more for U.K. Labour if he tried.
And to think, just a week ago the right-wing media is Britain was declaring the End Of Corbyn.

The polls all showed how the new Brexit Party was about to knock off Labour in Peterborough, eventhough the Brexit Party candidate had a largely policy free platform.
The Brexit Party isn't exactly a real political party.
Don't believe me? Look at this.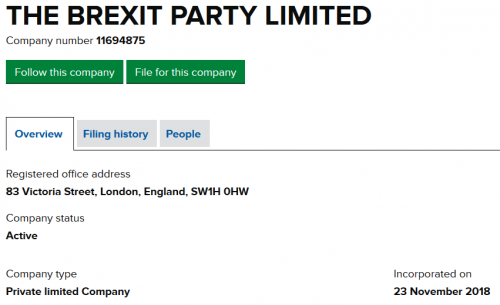 The Brexit Party is largely a scam, while the Tories have generally abandoned and betrayed their own voters.
If the unpopular Boris Johnson is elected Tory leader, then there is nothing to stop Labour from winning the next election.

The Conservative candidate did badly, losing more than half of the party's share of the vote at the general election, when the seat was closely fought against Labour. Nigel Farage's Brexit Party did well, reflecting the failure of the government to take Britain out of the EU. And the Labour Party did badly, but not as badly as the Tories, and just enough to hold the seat.

That could be the next general election in microcosm. As long as Brexit remains undelivered, the Brexit Party will steal most of the Tory party's votes. But the residual loyalty of the core Tory vote, and the single-issue obsession of the Farageists, will prevent the Brexit Party from wholly replacing the Conservatives.
The Blairites predicted that the pro-EU Liberal Democrats would undermine Labour. But in Peterborough the Lib Dems were in fourth place. Labour tends to win on the NHS, schools, housing and crime.
Corbyn is a multi-layered problem for the establishment.
Not only does he want to renationalize industries like the railroads and utilities, but he also opposes imperialist wars.

Labour promises a new world order. More likely it would turn Britain into an NGO with nukes
...
Just as Labour has plans to overhaul Britain's economy, so too does it promise to upend the country's relationship with the world. It says that under Mr Corbyn Britain would lead the fight on climate change, force big companies to behave themselves in developing countries and, through some diplomatic ju-jitsu, bring about an end to unilateral military action.
Imagine that. Corbyn believes that you can stop doing wars of choice.
It's crazy to think that Britain can stop killing people in other nations in imperialist wars. You may as well believe in Santa Claus, amirite?
What else is Britain going to do with all those tanks and guns?