Trying to better myself - school and work in my 50s
Submitted by bodysurfer on Fri, 03/18/2016 - 2:47pm
So, what do I do besides bodysurfing? (Perhaps I will do a diary on b-surfing, "The Anti-Capitalist Wave-riding (tm)," if anyone is interested.
I live in a room in a big house 20-30 miles from the ocean (*sigh*) in San Diego County. I live here rent free because I take care of a quadriplegic man, getting him up in the morning and down at night, while his wife takes care of the rest. This allows me to work in a call center and go to school, the later of which is awkward since I'm 3 times the age of the other students there.
The call center is nice as far as those go -- sales and service for a gift company. The founders of this company placed great customer service above all else. That was then. Now we've been assimilated by a big corp in the midwest that doesn't give a single F about the customers of us, and is increasingly using outsourcers in Manila and Guyana. Our days are numbered, for sure. The minimum wage in Manila is $7 - - - per day! Customers are treated to "Supervisor eating now, what you want?" I'm not making this up.
I'm studying for my 4th career in the Medical Industry, plan A is getting an AS and certified at a Physical Therapy Assistant. Two years of study, then I'm okay. They can't outsource personal hands-on care. The thing is, there is a lottery to get into the program, and there were 174 applicants for 26 seats. Better odds than the Hunger Games, but still. Plan B is a one-year cert as a Medical Assistant. Less pay but better than wearing a head set.
I'm poor enough that the Board or Governors for the school waives my tuition, but there is still texts books (a total scam), and other expenses. I'm able to pay out-of-pocket. When clinicals come along for either program, I don't know what I will do.
You see, I'm not eligible for Federal financial aid, because I already have a "viable bachelor's degree." Yeah, how far do you think in BA in Environmental Studies, earned in the mid-80's, will get you now? It was great right after the Exxon Valdez Oil Spill in '89, but not so much now. Besides, we all learned out lessons and a big spill never happened again. Oh, wait. Besides, I haven't worked in the field since '94.
What about job retraining money offered by the State? Inexplicably, the Community College I'm attending is not listed as certified training provider. WTF? The school has to apply for certification, but they already have so many students and funding sources they are like, why bother with the paperwork?
So, that is where I'm at. I hate living way in East County in the hot desert hills, I hate having a nightly curfew because my wheelchair dude needs to go to bed, and 6:30-7 wake-up call every single morning. No sleeping in, no "Dawn Patrol" surfing.
Okay, admittedly this is like, "Oh, waaaahhhhh." I'm not in so bad a shape. My own brother, 4 years younger than me, is living in his car and working odd temp jobs, with no prayer at the moment of getting a roof. If I lost this wheelchair gig, I might be parked right next to him. Actually, before I got this gig, I was couch surfing and staying the the back of a martial arts studio right in downtown, with a quarter inch of glass between me and the on-the-street homeless outside.
My point is, "Why does it have to be this goddamn hard?" I have all the privileges of color and education. I'm even tall. My brother and I don't need much. When we were kids, if you weren't ambitious, you could at least work a shit job, drive a jalopy, live in a crappy apartment and still try to be happy. You could have housemates, unstable as that is - not only your own set backs but those of your housemates can put you right back on the street. Same with a relationship, having the added stress of that fact that if it doesn't work out, you're on the street again.
My dad, may he rest in peace, was also a bodysurfer. He was a Machinist, and did okay back when America made things besides weapons and financial instruments. Late in his career, he was working for defense contractors. He didn't like it much, but had a family to feed and house. Mom worked a little, but mostly ran the house. We hardly knew what a TV dinner was growing up.
I was four years old when my folks took me to anti-Vietnam protests and also to see Bobby Kennedy one his campaign swings through SoCal. I was on my dad's shoulders when he shook Bobby's hand and said, "Good Luck, Senator!"
Bobby stopped, looked Dad in the eye, and said, "Thanks, I'll need it." I've heard that story so many times that it's like I remember it. Of course I don't. Bobby was murdered not long after that, so I hear. I don't remember the sadness, either. My brother's middle name is "Robert."
So, here we are. Thanks for reading.
Samples of suggested memes include, "Old Economy Steve,"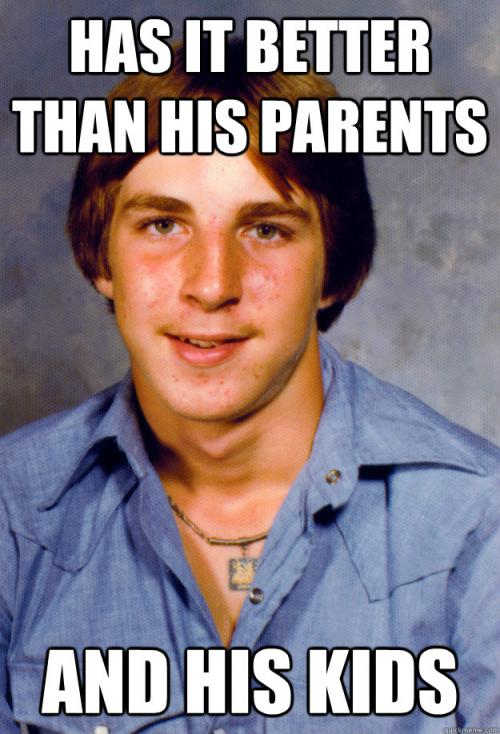 and "Boomer Dad."