Time for the tech bubble to burst?
Submitted by

gjohnsit

on Sun, 05/20/2018 - 12:51pm
Forget 2008. What is happening today is much more like 2000.
For example, consider WeWork.

In documents for a bond offering seen by Bloomberg and the Financial Times, one unusual performance metric stood out. It was "community-adjusted EBITDA," which Edwards described as "an entirely new, nonsense valuation metric."

Normally, companies subtract only interest, taxes, depreciation, and amortization to derive EBITDA, an alternative gauge of their performance that strips out the effects of tax and accounting decisions.

WeWork, however, also excluded elemental expenses like admin and marketing costs to derive a community-adjusted EBITDA of $233 million last year, even though its losses doubled to $933 million and its revenue also doubled to $866 million, according to The Wall Street Journal.

"For those with long memories this is surely be [sic] reminiscent of that series of spurious valuation metric such as price/eyeballs ratios that we saw at the peak of the 2000 tech bubble," Edwards said.
Nonsense valuations is one way to note how crazy things have gotten on NASDAQ, but it's not the only way.
The most obvious indicator is the profitless IPO.

Dropbox Inc. and Spotify Technology SA are poised to join a growing list of newly public companies that aren't making money, signaling an increasing tolerance for loss-makers when investors believe there's potential.

More than three-quarters of the 108 companies that completed IPOs in 2017 reported per-share losses in the 12 months leading up to their debuts, according to data tracked by Jay Ritter, a finance professor at the University of Florida.

The share of loss-makers in the IPO market has been rising. Last year, it reached the highest percentage since the peak of the dot-com boom in 2000. By contrast, data spanning nearly four decades shows 38% of companies are typically unprofitable when they go public.

That's particularly true in the tech sector, where 17% were profitable last year, barely higher than 14% in 2000.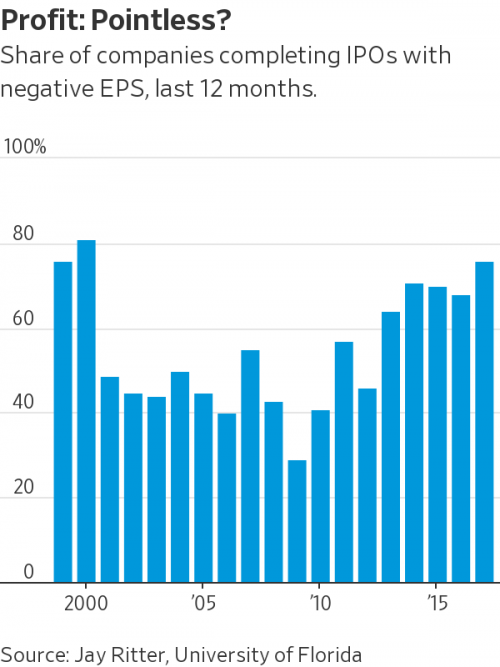 Of the 15 technology companies that have gone public so far in 2018, only three had positive earnings per share in the preceding year.
Some of these companies are losing absolutely massive amounts of money, yet still plan to go public.
Uber, which is expected to go public next year, reportedly lost $4.5 billion last year as it sought to expand internationally and fought price wars with competitors including Lyft. Snap lost $3.4 billion last year, its first as a public company. Airbnb just had its first profitable year after a decade of investor-backed losses.

But the smell of burning cash has spread beyond Silicon Valley. Spotify, the popular music streaming service based in Sweden, lost $1.5 billion last year, even as it continued to add millions of users. New York-based Blue Apron, the meal-kit delivery service that conducted one of last year's most-watched initial public offerings, has not yet had a profitable quarter. ADT, the home-security company based in Boca Raton, Fla. that went public this year, posted a $157 million loss last quarter.
Snapchat, for example, is valued at $34 Billion, despite losing ever more money.

Now there are those that will say that they will eventually make money, but that's what they said in 2000 too.
Not everyone believes this story.

In a recent article entitled "Netflix and Deal," I illustrated that Netflix (NFLX), Tesla (TSLA), and some additional tech heavyweights are among the companies with the highest market capitalizations in the Bloomberg Barclays U.S. Corporate High Yield Index (HYG, JNK). Equity markets are giving these companies large valuations, but rating agencies rate their debt as junk and investors assign meaningful credit risk premia to their bonds. In Tesla's CDS, I extrapolated this credit default swap premium into a healthy probability of default for the topical Silicon Valley automaker.
Perhaps the leading edge of this tech bubble is Bitcoin.