Soon-to-be Prime Minister Jeremy Corbyn
Submitted by

gjohnsit

on Sat, 10/07/2017 - 12:26pm
My, oh my, how things have changed.
Just to give you an idea, here's an example of some headlines from earlier this year.
April 19: Jeremy Corbyn 'likely to stay on' even if Labour suffers crushing election defeat
April 24: Is it too late to replace Jeremy Corbyn as Labour leader before the general election?
May 7: Stephen Hawking says Jeremy Corbyn 'a disaster for Labour' and should step down
Now consider yesterday's NY Times headline: Get Ready for Prime Minister Jeremy Corbyn

If you wanted to write a spoof of Britain's Conservatives, you'd struggle to do a better job than the real version at the party's half-empty annual conference this week in Manchester.
Things hit such train-wreck levels that even the stage fell apart — during a speech by Prime Minister Theresa May, the Conservatives' leader, letters fell off the party's latest lackluster slogan behind her. That was just the final slapstick touch to a disastrous address, during which Mrs. May struggled with a fading voice and a spluttering cough, and was pranked by a comedian who handed her a fake P45 — a termination of employment notice.
It was a fitting close to a conference that highlighted the extent to which the Conservatives are in free-fall, and the degree to which Mrs. May's days as party leader are numbered.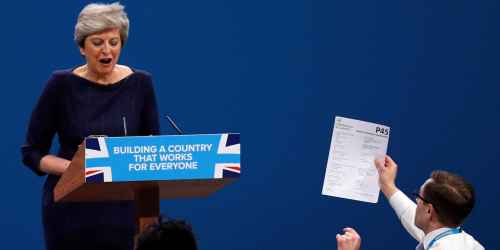 It's one thing to be dismissed and mocked, but it's something else to be pitied.

By the end, you half expected someone to rush on and wrap her in a silver foil blanket, like a marathon runner half-dead with exhaustion. But at least May made the finish line, when at times during this extraordinary performance one wondered if she even could.
... The audience attempted to support her – bursting into unconvincing applause whenever they sensed she needed a moment to clear her throat – but no party wants to be pitied. When even your political opponents are rooting for you to pull yourself together, because it's just too agonising to watch, it's game over.
As if things weren't bad enough for Theresa May, the sign behind her started falling down https://t.co/wLnZPrd2wp pic.twitter.com/nbaJPrDBcF

— Bloomberg Politics (@bpolitics) October 4, 2017
Wow. If this was a boxing match someone would be throwing a towel by now.
Tories were already in trouble in the polls, but the real clincher is how the rest of the world is already preparing for Corbyn's ascendency.

The EU is holding private talks with Jeremy Corbyn amid fears Theresa May's government could crumble at any minute, according to The Daily Telegraph.
Sources told the newspaper that there has been a "significant change in tone" in Europe's dealings with Labour amid fears that a collapse of the British government could take Brexit talks back to square one.
The Telegraph said Labour leader Corbyn and shadow Brexit Secretary Keir Starmer have held more than one meeting with Michel Barnier, the EU's chief Brexit negotiator, and Frans Timmermans, the first vice president of the European Commission.
Obviously this cannot continue. May cannot appear to be a leader if the rest of the world is negotiating with Corbyn instead.
Meanwhile, Tories are in open rebellion.
Which brings up the question of how Corbyn has managed this stunning turn-around.
The answer can be summed up in one word: socialism.

The Legatum Institute, a thinktank, and Populus have found levels of support for nationalising large parts of the economy that would have been hard to believe a few years ago.
The big four industries in the sights of Labour's Jeremy Corbyn and John McDonnell should all return to public ownership, according to a strong majority of respondents. Water topped the poll (83%), followed by electricity (77%), gas (77%) and the railways (76%).
Nationalisation fever also appears to be infectious. Royal Bank of Scotland, you might assume, is not a powerful advert for the delights of state ownership but the country is apparently evenly split on whether all banks should be nationalised.
Labour only has a small lead on the Tories in the polls, but that's all they need. Labour has natural coalition allies, such as SNP and Green.