Short-term US outlook for Covid-19
Submitted by ScienceTeacher on Tue, 04/14/2020 - 11:13am
WARNING: THIS IS ABOUT PROBABLE OUTCOMES FOR THE CORONAVIRUS EPIDEMIC AND ANYONE WHO IS ALREADY ESPECIALLY STRESSED MAY WANT TO SKIP THIS ESSAY.
Although there is not much that can change outcomes for people who are already infected with the coronavirus, a community effort to slow the spread of the disease can make a big difference. Isolating ourselves as much as possible, wearing cloth or paper masks when it is essential to leave home, and washing our hands properly can make a real difference.
I have great sympathy for the protesters in Ohio, but the epidemic really is serious. A partial quarantine causes the economic problems we are seeing but will not stop the epidemic. Trying to restart the economy without getting control of the epidemic will not work. About 20% of the people with confirmed cases became seriously ill. If a large proportion of the population is ill or caring for the sick the economy will not be able to restart anyway.
The government statements about the seriousness of this epidemic keep changing, but they seem to have accepted that we will lose 100,000 to 250,000 citizens. This is probably optimistic.
Johns Hopkins has a website that gives raw numbers on the progress of the Covid-19 epidemic. It provides daily updates. At 6:32 am EDT on April 14 they reported about 25,000 new cases in the last day and a total of about 550,000 confirmed cases in the US. They also reported 21,662 confirmed deaths and reported 32,998 people to be recovered. These numbers are based on the availability of testing. Some of the numbers are probably based on the people who were ill enough to have chest X-rays. They are certainly an underestimate of the actual cases, but do give some idea of the situation.
https://coronavirus.jhu.edu/data/mortality
The team at Johns Hopkins noted that:
Differences in mortality numbers can be caused by:
Differences in the number of people tested: With more testing, more people with milder cases are identified. This lowers the case-fatality ratio.
Demographics: For example, mortality tends to be higher in older populations.
Characteristics of the healthcare system: For example, mortality may rise as hospitals become overwhelmed and have fewer resources.
Other factors, many of which remain unknown.
Elsewhere it has been reported that New York City does not count people as Covid-19 cases if they do not arrive at the hospital alive. There is a reasonable reluctance to waste limited testing resources on people who can no longer receive medical help and who will not pose a risk to staff or other patients. Other Covid-19 victims, including people in nursing homes, may not be included if they were not tested. There does not seem to be a significant effort to trace contacts of people who have been infected.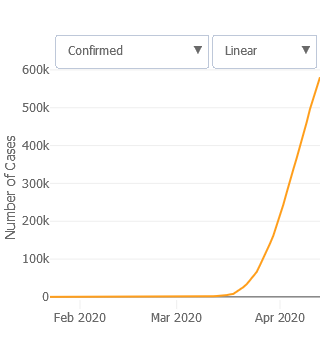 https://coronavirus.jhu.edu/data/mortality
The case fatality rate is reported to be 4.1% in the US. The actual fatality rate is probably about 1% but people with mild cases are not nearly as likely to be tested as long as there is a shortage of testing supplies. About 80% of the people with symptoms will just have mild symptoms or feel like they have a bad cold. Quite a few people do not even have noticeable symptoms.
There are more than 500,000 people who currently have confirmed cases of Covid-19. Assuming a 4% mortality rate we can expect to lose about 20,000 of them.
On the average each infected person probably passes the virus on to 2-3 other people. This means that the 500,000 people known to be infected with Covid-19 have probably passed the virus on to about 1,000,000 others. This is likely to cause 40,000 more deaths.
21,662 confirmed deaths
20,000 probable deaths due to confirmed cases
40,000 probable deaths due to currently asymptomatic infections
_______
80,000 probable deaths
Even if warmer weather and the Easter miracle predicted by President Trump completely stopped any further transmission of the virus we could still expect to see 80,000 deaths. Seasonal flu generally causes 25,000 to 60,000 fatalities.
I sincerely hope their estimates of 100,000 to 250,000 fatalities is correct but do not have much confidence in their competence.
********************
This is a revised version of my coffee-filter mask essay from a couple of weeks ago:
Everyone who cooks, delivers or hands food out through a takeout window should be wearing a mask. All store clerks should be wearing masks both for their protection and the protection of the customers. Everyone going to a pharmacy or to get medical care should certainly be wearing a mask. Since there are not enough surgical masks and other protective equipment for medical personnel the rest of us need to improvise. Fabric masks and other types of masks can at least decrease exposure to airborne droplets containing infectious viruses. These are directions for mask made of coffee filters. They are not nearly as good as a surgical mask, but are better than nothing.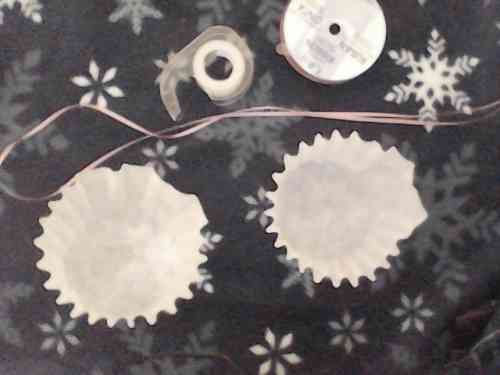 COFFEE-FILTER FACE MASK
What you need:
Two coffee filters
Two to three feet of craft ribbon or string
Tape
Keep the coffee filters nested. Place them with the cup side down.
Fold the bottom edges of the mask up about an inch (approximately 2-3 cm). Fold the top edge about a half inch (or about 1 cm).
Then fold the top over another half inch. This will make the top part of the mask slightly stiffer so it will hold the bend over your nose better.
Place the ribbon in the top and bottom troughs formed by the folded edges of the coffee filters. Tape the folded edges of the filters down to hold the ribbon in place.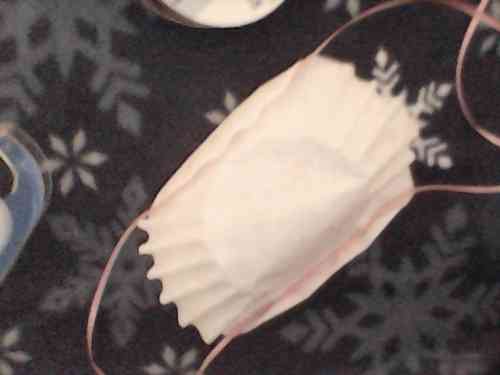 Loop the ribbon over one ear and tie the free ends of the ribbon over the other ear to hold the mask in place over your face. Use a vertical piece of tape on the mask over each cheek to fit the mask to your face once you have put it on.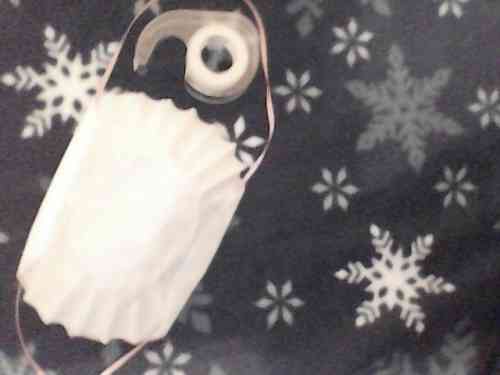 This mask will not stop lone viruses from getting through because the coffee filter is too porous. It will tend to block large droplets from coughing or sneezing. Droplets can contain huge numbers of viruses and be very infectious.
This mask is not nearly as good as a surgical mask, but better than nothing. It is much easier to wear a mask like this than to walk around holding a tissue in front of your face.
I found that I am sensitive to the odor of cheap masking tape but the cellophane tape was OK for me. Masks should be tested at home for comfort and allergens before trying to use them.
The coffee filters should be thrown away after the mask in used. Washing hands with soap and warm water will destroy the virus, so it is important to wash your hands after handling used masks. The roll of ribbon was 47 cents so this is not too expensive, but I plan on removing the ribbons and washing them in hot, soapy water to use again.
These coffee filter masks are easy to make, fit fairly comfortably and do not require sewing skills. Paper towels could probably be used to make masks but I do not use paper towels and am not about to brave the stores to wrestle other customers for the last roll. This virus can be destroyed by soap and water, acid and/or heat. It generally only survives a day or two on paper. If you cannot get enough coffee filters, leaving the mask in a hot car for a day should kill this virus. The hot-car treatment would not necessarily kill other germs that might be on the mask though.