Landlord Nation
Submitted by

gjohnsit

on Fri, 05/25/2018 - 5:04pm
There were two news items this week that looked weird when directly compared, but they actually say a lot about America's real estate problem.
#1) Home values are skyrocketing at the fastest pace since 2006
#2) US home sales fall 2.5% in April, Mortgage rates hit 7-year high
Separately the two items make sense, but together they contradict each other.
At least until you factor in everything.
The excuse for sky-high home prices is always "supply shortage". The answer to every question is "build more".
The real reasons are more complex.
For starters, there is already plenty of empty homes out there.

ATTOM Data Solutions, curator of the nation's largest multi-sourced property database, today released its 2017 U.S. Residential Vacant Property and Zombie Foreclosure Report, which shows nearly 1.4 million (1,367,793) U.S. residential properties (1 to 4 units) were vacant as of the end of the third quarter of 2017 — representing 1.58 percent of all U.S. residential properties.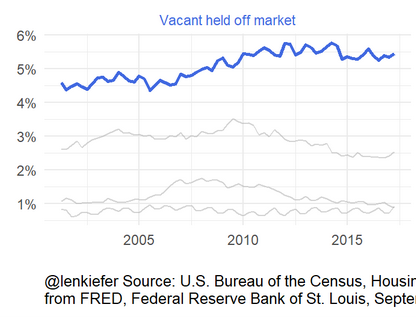 Homes that were abandoned increased by 2.1 million units nationally, from 3.7 million in 2005 to 5.8 million in 2016.
Another factor is how the Obama Administration in 2015 made it easier for wealthy foreigners to purchase American real estate.

the real motivation behind the change in the Act back in December is a tax exemption that makes it easier (and cheaper) for foreign stock funds and REITs to buy American real estate. This also opens the door for institutional investors, particularly those in Europe, who are dealing with zero yield and negative interest rates and don't have attractive options for capital preservation long term.
Instead of attracting wealthy European housebuyers, it attracted wealthy Chinese real estate speculators, and in immense quantities.

New data this week from the National Association of Realtors estimates that foreigners, led by the Chinese, invested $153 billion in housing in the United States in the year that ended in March, up a remarkable 49 percent from the previous year. Nonresident foreigners were responsible for half that total.
That is the largest sum since the organization began tracking foreign investment in 2009, and those purchases amounted to 10 percent of the dollar value of all existing-home sales in the United States last year. Nearly half of that money went into just three states: California, Florida and Texas.
Just between April 2016 and March 2017, Chinese buyers purchased more than 40,500 housing units.

Wealthy buyers have even shelled out millions for a home (or multiple homes, many of which were bought for investment purposes and sit empty), sometimes paying as much as 40 to 60 percent above the asking price—and often in cash. In fact, according to the NAR report, more than two thirds of sales made by Chinese buyers were paid in cash. That spells big business for smaller cities where a $200,000 home is on the higher end of the market—but bad news for American homebuyers.
Working class homebuyers simply can't compete with that.
What's more, the returns on this investment can pay off in more than just price appreciation.

Single-family homes in large U.S. cities have generated returns of about 9% annually on average, according to the study, which examined results from 1986 to 2014.
That would make rental homes almost as potentially lucrative as stocks and considerably more so than bonds, deposit accounts and other conservative instruments.
It's a wealthy, foreign landlord's dream come true.
Homebuilders have noticed, and have been building luxury apartments as fast as they can get permits.

Of course there is a dark other side to this story as well.
The price of a necessity going up will always punish the poor first.

it wasn't easy for poor families to find an apartment they could afford in 2010 – in fact, only 11.2 percent of unsubsidized apartments were affordable to very low income households – and matters have gotten worse. In 2016, only 4.3 percent of units still met that standard.

If you break down these numbers further you will see a political trend - the cost burdened renters are the exact same demographics that the Democratic Party claims to represent.

More households are renting than ever before in modern history—particularly the key members of the progressive coalition. Fifty-eight percent of black households and 54 percent of Latino households rent their homes. Two-thirds of Americans under age 30 rent. Unmarried women are twice as likely to rent than own.
This is the reason why Democratic politicians go on and on, endlessly talking about how their voters are having trouble keeping a roof over their heads, and how those same politicians are going to fix it.
Oh wait. I meant the opposite - Democrats are completely mute on the subject.

Barack Obama favored the interests of bankers over homeowners at the behest of centrist advisers like Timothy Geithner. Powerful banks, which in general became even larger and more powerful after the financial crisis they caused, bought up houses on the cheap and then offered them for rent.....elected leaders have paid little attention to housing, and even less to renters. That's been horrendous policy—and also terrible politics.
... In the richest country in the world, a full one-third of American households are cost-burdened, including nearly half of the 111 million Americans living in rental housing. A full 60 percent of middle- and working-class renters with annual incomes under $75,000 experience cost burdens.

Across most income brackets, many millions of Americans are at the edge of a personal financial crisis thanks to their crushing rent payments. When a massive chunk of a person's pay–a third, half, even more–goes to simply providing shelter, they often struggle to adequately feed and clothe themselves and their families.

Much like the mountains of cash we are wasting on pointless wars, the housing/rental affordability crisis is a critical story that gets virtually no media/political attention at all.
Instead of the government helping people get shelter, the government is heartlessly slashing assistance for the poor.
The last point here is that the free market will not provide a solution. At least it won't provide a solution that doesn't involve tens of thousands of poor families living on the streets, and the working poor living in financial precarity, always just one instance of bad luck away from disaster.
What needs to be done is recognizing the real problem.

It's speculation in the property market that is fuelling stratospheric house price rises, not shortage of supply. When the "fuel" of private capital, mortgage credit and cash from the bank of mum and dad is supplemented by government subsidies and tax breaks, house prices rise...
So, rather counterintuitively, building more houses is not the right prescription. House prices won't fall until the tide of cash flowing into the market abates, for example by tightening mortgage credit, or shrinking the pool of buy-to-let investors...
the government pretends the real cause of unaffordable housing is a shortage of new builds. It uses this argument to provide cover for further taxpayer-funded subsidies and tax breaks that benefit its property-owning core voters, its close allies in the construction industry and property market
If this is hard to understand, imagine that the government and Wall Street heavily subsidized food prices, to the point that food prices were so high that the poor couldn't afford to buy food.
Do you think people would be happy when the poor starved? Then why are people satisfied when the poor are made homeless?