Green Acres - Part II
Submitted by RantingRooster on Sun, 04/04/2021 - 9:15am
Good morning everyone, and again, thank you all for your support.
I've having a hard time with words, ie not using expletives, with how I'm feeling. It's F-King wonderful! I haven't had a flair up of my normal neuropathy in a week and one day, I can hardly believe it. The lack of extreme stress and a heck of a lot better diet I'm sure has a lot to do with it.
I've moved to this place called Alchemy Alcove. One of the permanent residents calls it, "The land of misfit toys".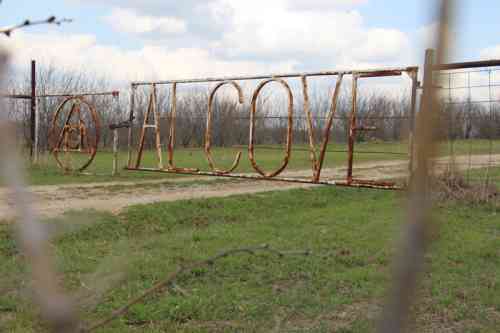 I do feel a deep sense of gratitude to these people. One must come highly recommended, and then voted by the owner and the other permanent residents to be accepted into the community.
I've never lived on a county road before.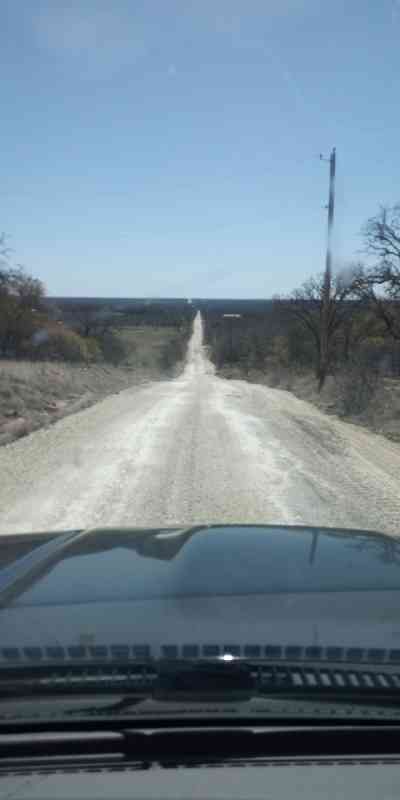 Gigi had fun on the way out sight seeing. She had never been in a car longer than 20-30 minutes, and only a ride to the vet. So her memories of riding in a car, were not that favorable. lol.
I set up her kitty liter box in the back, and food and water on the floorboard behind the front passenger seat. The only place she was not allowed to go was under my feet while I was driving. I just couldn't keep her in the kitty carrier for over 2 hrs, it seemed like it would be cruel.
Plus she cries like she's being tortured when ever I have put her in it. (I'm such a wimp for cats).

I think the lady that owns this place is from Alaska. She and others have been working the land, building the community over a decade. She lived in Hawaii for 3 years in a fricking tent. She is one resilient person. But she has that kind of attitude, "the world is round, we'll get there eventually". If we don't get it finished today, we'll chip away at it tomorrow.
After cleaning out this place, I was worn out. It was about 6 inches deep with leaves.


We take the left over foods, that the dogs don't eat and place it on top and let the chickens finish it off. Anything left we take to the compost pile(s). There's a couple.
Everything get's recycled or reused.
Every place out here has a "story" behind it. The little cabin I'm living in was built for the owner's two sons when they lived out here. Its "The Boys Cabin". She spent last winter making wood signs, using one of those word burning tools to engrave the titles of each location, cabin, trailer, designated area.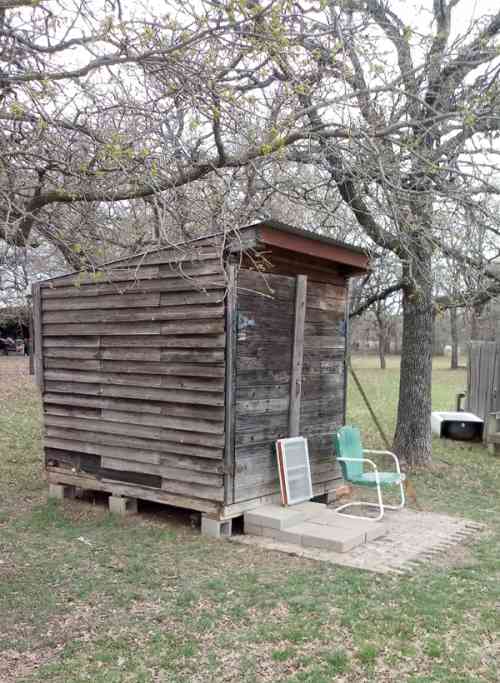 That structure on the right side in the image above is called the "Cordwood Outhouse". I think there is a 3-5000 gallon septic tank, and of course the water is well water.

I'm still learning all the names and stories behind all the structures and designated locations.
The weather has been quite mild. A bit windy at times, but that just makes the wind generator generate more electricity, which keeps the batteries nice and full.
We use a combination of solar, wind and diesel generator to generate electricity for our "luxury camping" as the owner describes it, and propane for cooking and heating. Of course the diesel generator needs it's repaired gas tank re-installed.

We'll have to install that next week I reckon.
It got a bit nippy the other night, down into the high 30's, low 40's, so I learned how to install the propane tank, route the hose through the side of my cabin and hook it up to a little space heater, so Gigi and I didn't freeze.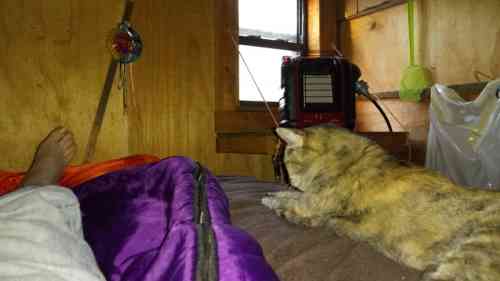 I can't believe it, my truck passed inspection out here. Heck, if I had known all I had to do was get a few hours outside Dallas, where the counties can pretty much do what ever they want, oh man, the years of always being on the look out for cops. The "weariness" of worrying about it all the time, zaps you!
The local town near by is definitely Trump country. When I was getting my truck inspected, the sign on the front door said, "No masks needed or required". Even though at the Dollar General store the sign said "Masks required for Entry", there was me, the store clerk and maybe one other person wearing a mask. What is life without a risk of COVID?
I forgot all about the holidays, Easter and such, so everyone in town and in the county are praying it up at the smorgasbord of local churches. There like 10 or more for a town of less than 3900. I was hoping to get my truck registered here in the county so I can get new inspection & registration tags tomorrow, but I'm not sure anything will be open, well at the county level.
Oh, I think SnoopDawg mentioned something about a rooster in a comment in my previous post. Well, funny story. They had a big black and red rooster out here, but it was old and cranky, and kept attacking some of the ladies that were staying out here last weekend, and one of them killed it, cut it up and cooked that fucker for dinner! I could have sworn it was chicken... It tasted good...
We have wild plum trees out here.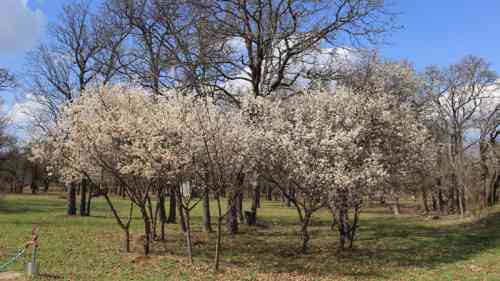 I don't know all the horticulture terms for things yet, but I think this is a wild plum flower?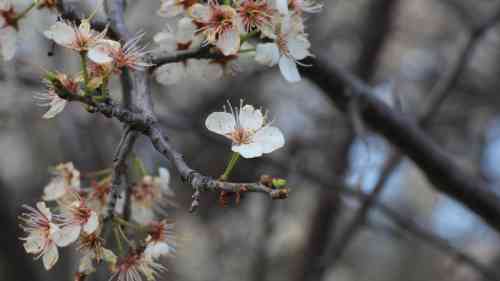 Of course we have the neighborhood tom cat, Link. He is aggressively, affectionate. I've already tripped over him like 5 times, because he will try to walk between your legs while walking. And of course he knows Gigi is here and wants to meet her...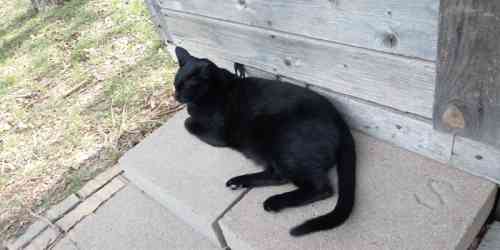 He is about 15-20lbs and it's pure muscle. He's is a doll. He'll get in your lap and just nuzzle the heck out of you. He wants to be scratched. Head, ears, chin, neck, he loves it.
I took Gigi out when I first got here and all she wanted to do was lay in the sun light.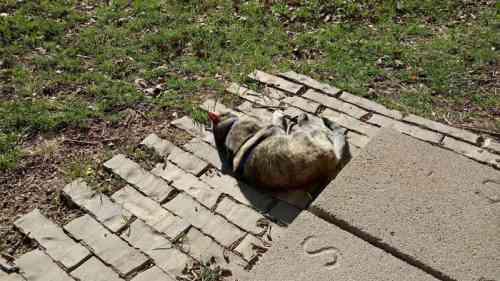 We've been exploring 2-3 times a day, but we never venture very far from the cabin. Sometimes we just sit and listen.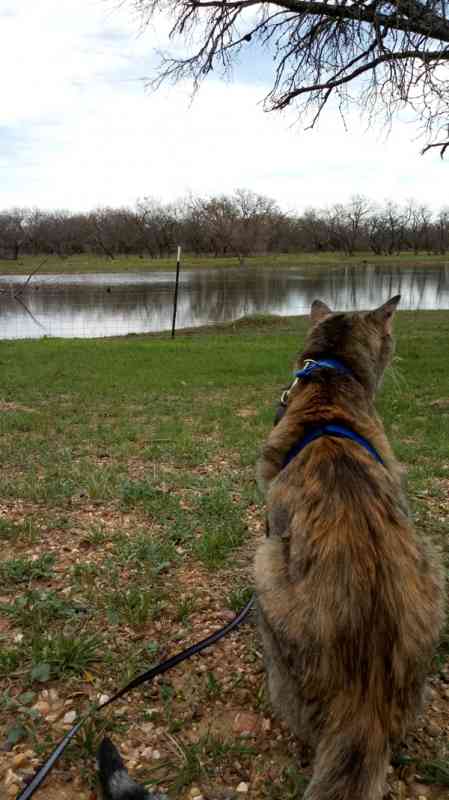 For me, I'm enjoying the peace and quite. For her, she's learning all the new sounds of this country living (luxury camping) life style.