Fish Are Rising Up Like Birds
Submitted by

hecate

on Fri, 02/09/2018 - 9:04pm
faring thee well now
let your life proceed by its own design
nothing to tell now
let the words be yours i'm done with mine
—John Barlow
John Barlow has moved on. His health had been shot to shit over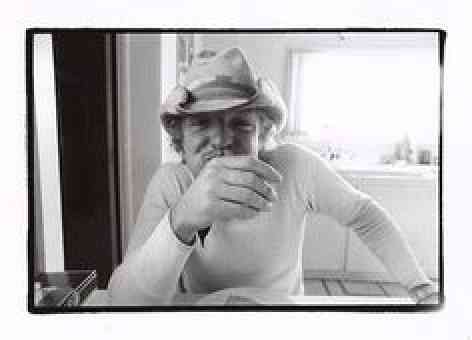 the past several years, and Wednesday he at last vacated the corporeal container.
Barlow spanned worlds from Neal Cassady to Aaron Swartz. He was born into a wealthy Republican Mormon Wyoming cattle-ranching family; it took all of his life to shake off that imprinting, but in the end he managed all of it. A key moment came when, in conversation with Mardy Murie, he understood that money is an illusion, while the planet is very Real indeed. "Environmentalists can be a pain in the ass," Murie told him. "But they make great ancestors." Barlow decided: "I want to be a good ancestor."
Cyberpioneer, co-founder of EFF, Barlow was forever a fierce defender of free and open tubes, but recognized they are too often a form of onanism:
I'm discouraged with the role of the Internet in the antiwar movement. Because so far what I see happening is that cyberspace is a great place for everybody to declaim. There are a million virtual streetcorners with a million lonely pamphleteers on them, all of them decrying the war and not actually coming together in any organized fashion to oppose it. And so right at the moment it would strike me that the Internet is counterproductive to peace. You vent online and then you dust your hands off in satisfaction and that's the last you do.
When Robert Hunter could no longer write songs with Bob Weir, because what Weir did to his lyrics made Hunter want to stab and shoot, Weir was passed on to Barlow.
It is true that Barlow sometimes fondled weapons while writing with Weir, but no damage was done, because their collaborations most often occurred over the phone, their physical bodies thousands of miles apart. For Weir, Barlow turned many a fine phrase. A favorite is his succinct summation of the relationship between North and South America.
shipping powders back and forth
black goes south and white comes north
He also wrote love songs, before ever he was in love. This is what he says about "Looks Like Rain."
When I wrote "Looks Like Rain," I had never fallen in love. I had certainly heard a lot of love songs. I was not unfamiliar with the huge literature of amorous helplessness. But I remained skeptical. I secretly believed that "falling in love" was a conceit that people had made up in order to make themselves even more miserable for their perceived insufficiencies. People do stuff like that. Nevertheless, there this song was on a winter day in Wyoming, and I didn't try to stop it from coming into existence merely because it trafficked in emotions I hadn't quite experienced. I didn't know who these people in the song were or, really, what they were experiencing, but as it arrived, it seemed as genuine as any other love song.

That was in 1972. Twenty-one years later, I fell in love for the first time in my life. I looked across a crowded room and saw somebody's back and knew. Don't ask me how I knew. Don't even ask me what it was that I knew.

Now, mind you, this was after I'd had about two hundred people come up to me in various contexts and tell me that "Looks Like Rain" was the song they fell in love to, or was the song that was played at their wedding, or was the song that changed their lives and helped them feel like one person. I would nod and smile as if I knew what they were talking about.

In any event, I was instantaneously in love with some person whose face I hadn't seen yet. She turned around and fell in love with me.

After we'd been together almost a year, enjoying a relationship so radiant that others would gather around it like cats to a fireplace, we were at a Dead concert in Nassau Coliseum (of all grim places). Bobby started to sing "Looks Like Rain," and I started singing it to her myself so that she would get all the words. About halfway through, I realized that I was getting all the words for the first time. I finally knew what the song was about. I finally meant it. Or perhaps one could say more accurately that it finally meant me.
The Nassau "Looks Like Rain," where Barlow finally understood what it was he had channeled, can be heard here.
Faring thee well, John.