Democrats AWOL during the economic crisis
Submitted by snoopydawg on Sat, 03/21/2020 - 2:20pm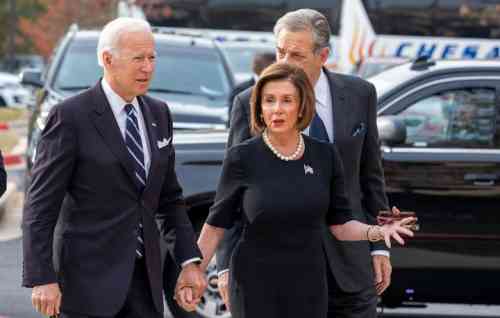 Biden and Nancy have not stepped up in this time of need
In the Democratic Party, it registers as widespread loyalty to a leadership that is increasingly obviously unfit for the emergency at hand. We face not only a crisis of leadership, but a crisis of democracy in which members of both parties accept calamitous government as normal and inevitable.

What does the Democratic Party even stand for?

An endless parade of centrists vied for the 2020 Democratic nomination not by talking about ideas, but by talking about competence, leadership and other intangibles while warning that candidates that did talk about ideas were too dangerous and scary.

One of those centrists, Biden, has now all but sewn up the nomination — and made himself all but invisible as the worst economic and public health crisis in generations has blossomed. Meeting the other guy halfway is a nice idea, but to do it, you have to start from somewhere yourself. A party that doesn't really believe in anything will have a hard time putting up serious proposals in a crisis.
Of course the republicans aren't doing any better:
An Utter Disgrace': GOP Stimulus Plan Would Cut Taxes for Corporations While Denying Benefits to Poorest
"Heartless," "cruel," and "appalling" were just some of the adjectives progressive critics and analysts used late Thursday to describe the Senate GOP's newly unveiled trillion-dollar economic stimulus package which—by design—would completely deny direct cash payments to the poorest Americans while cutting taxes for corporations, dishing out tens of billions in bailout funds to major industries, and restricting paid leave benefits that were just signed into law this week.

"The Senate GOP package is an utter disgrace," tweeted Richard Trumka, president of the AFL-CIO. "It gives free money to corporations, ignores the health crisis, and does nothing to keep people working or help the unemployed. The labor movement will oppose this Main St. bailout of Wall St. with everything we have."

The Republican plan, released as the economic fallout from the coronavirus outbreak continues to worsen, would provide means-tested cash payments of up to $1,200 per adult and $500 per child, with the precise amount dependent upon 2018 tax filings.

"Taxpayers with little or no income tax liability, but at least $2,500 of qualifying income, would be eligible for a minimum rebate check of $600 ($1,200 married)," the Republican proposal states. "Qualifying income includes earned income, as well as Social Security retirement benefits and certain compensation and pension benefits paid to veterans."
Unfortunately Jimmy is falling for what he is hearing and not see how congress has blocked most of the things he is talking about.
I have been talking about Trump wanting cut payroll taxes and some folks here say he isn't going to do that. This is exactly what corporations are asking for. Not having to pay for social security, medicare and unemployment taxes. But with millions not working right now and none of those taxes are being paid what do you think congress will eventually with this crisis that Rahm says should never go to waste?
Bernie is still trying to get us help:
Bernie Sanders' campaign says it raised $2 million in two days for Meals on Wheels, Restaurant Workers' Community Foundation's relied fund and other charities amid the coronavirus pandemic.

— Holly Otterbein (@hollyotterbein) March 21, 2020
'Not Done Yet': Bernie Sanders Campaign Mobilizes Donors for Coronavirus Relief and Raises $2 Million
hey has anyone seen joe since tuesday
Here is a great idea:
This includes the Treasury using its legal authority to create a new mint program to fund:

Direct payments via preloaded $2,000 cash cards to everyone.
Recharging with $1,000/month until a year after the economy recovers.

Read all about it here: https://t.co/JJI0z2bNFy

— Congresswoman Rashida Tlaib (@RepRashida) March 21, 2020
Tlaib's "Automatic BOOST Act" calls for a universal payout of $2,000 to everyone in the U.S. and $1,000 a month after that.

But of course there is always money for war and killing people. Redundant I know, but I am pissed at this:
Lockheed Martin has surely gotten to these Congrescritters. Boeing is on the ropes, the economy is going to sh--. So buying 19 *extra* F-35s is a massive stimulus/bailout trying to sneak past as a defense appropriation.

— Resolve.Action.Love (@Snowman55403) March 21, 2020
According to Politico, the request for more F-35s came from Democrats and Republicans alike:

"It is essential that we continue to increase production of our nation's only 5th generation stealth fighter in order to ensure the United States maintains air dominance and to further reduce overall program costs," the lawmakers wrote in a letter to the chairmen and top Republicans of the House Armed Services Committee and Defense Appropriations panel.

The letter was spearheaded by the co-chairs of the Congressional Joint Strike Fighter Caucus — Reps. John Larson (D-Conn.), Marc Veasey (D-Texas), Martha Roby (R-Ala.) and Mike Turner (R-Ohio).
What if we gave a war but there were no humans left to fight? None left to fly these planes. What if we gave a war and no one came because they were mourning their dead and nursing the living. What if we finally just didn't give a fuck about war and the war toys these boys(and some girls) just love to use to kill people far away.
I spit my coffee this morning when I saw this headline:
Rachel Maddow goes on a hypocritical rant
Trump Irresponsible, Dangerous w/Lies
Hey, Rachel, let's talk about how you lied to the country about the IRA 'Russian troll farm' shall we?
Another flashback to February 2018, when the Russian troll farm employees were indicted:

[holding back tears]
"Finally, it feels like someone is defending us." pic.twitter.com/oV3Dp561Fz

— Aaron Maté (@aaronjmate) March 16, 2020
Seriously LMAO here. Rachel is on the verge of tears because Mueller charged the 13 Russian trolls and was close to saving the country from Russia. Oh boy. But I'm sure Rachel didn't tell her viewers that a judge told Robert to quit saying that they had ties to the Russian government nor will she tell them that they dropped the charges. Mueller never expected anyone to show up to defend their client and the reason the charges were dropped was because the defense didn't want to share its evidence.
Yes Trump has been lying his tush off during the epidemic and has totally dropped the ball which is going to have catastrophic effects, but is Rachel even aware of how hypocritical and silly this makes her look? It sure does for me.
An unhinged Russia phobe
Lol even Kos is saying that the media should do this. This after his site pushed every damn lie on Russia Gate and pushed Russia phobic content. There is a diary on the wretched list right now on how Putin is lying about how bad the epidemic in in Russia because you know he's a dictator and that's what they do. And of course Trump is taking his cues and orders from Vlad cuz you know... reasons.
Both the lie and the ignorance are fucking dangerous. So why the hell are the news networks still airing this shit live?
call it the trumpvirus, or rushvirus