Comparing DSA and OWS to the Tea Party
Submitted by gjohnsit on Thu, 08/30/2018 - 1:50pm
For the establishment media, socialism is an extremely flexible thing.
On one hand, socialism has failed and been discredited. It's followers have already abandoned it. Any poor soul who still gives it a second thought is an anachronism deserving of public humiliation.
On the other hand, socialism is a scary force that is taking over everything. Socialism is hiding under your bed, lurking around every corner, is plotting to take away your children, and destroy everything that is good in the world.
Unlike virtually everything else in life, socialism can be whatever its detractors say it is. At the same time, whatever it's supporters say can safely be ignored.
Truthdig had a good article about this.

Following the losses, corporate media outlets were quick to declare the Democratic left wing dead in the water:

"Bernie and His Army Are Losing 2018" (Politico, 8/8/18)
"Down Goes Socialism" (Politico, 8/8/18)
"Democratic Party's Liberal Insurgency Hits a Wall in Midwest Primaries" (Washington Post, 8/8/18)
"Alexandria Ocasio-Cortez's Movement Failed to Deliver Any Stunners Tuesday Night" (CNN, 8/8/18)
"The Far Left Is Losing" (US News & World Report, 8/8/18)
"Most Candidates Backed by Alexandria Ocasio-Cortez, Bernie Sanders Falter" (Wall Street Journal, 8/8/18)
"Socialist Pin-Up Alexandria Ocasio-Cortez Sees Four Candidates FAIL in Tuesday Primary Contests, With One Coming in Fourth Out of Five" (Daily Mail, 8/8/18)
"Socialist Torchbearers Flame Out in Key Races, Despite Blitz by Bernie Sanders and Ocasio-Cortez" (Fox News, 8/8/18)
"If Democrats Embrace Socialism to Get Away From Donald Trump, They Can Kiss the Midterms Goodbye" (USA Today, 8/22/18)
"Why 'Medicare for All' Is Playing Poorly in Democratic Primaries" (Politico, 8/21/18)
So socialism is dead and buried. It was laughable that those crazy left-wingers even tried. So stupid.
There's just one little thing: Those crazy left-wingers aren't paying attention, or don't care, about the news media obituaries.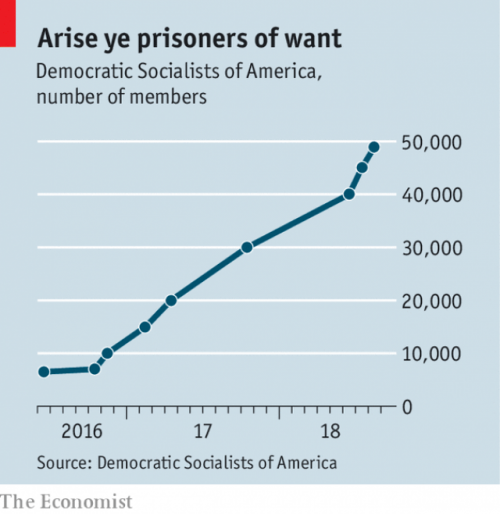 So socialism then becomes the Tea-Party-Of-The-Left.

Looking at the actual mix of success and failure by insurgent Democrats, it's hard not to conclude that they have received inordinately skeptical treatment by corporate media, particularly receiving much more negative press than the 2010 Tea Party insurgency in the Republican Party, which Sanders' movement has often been compared to. CBS News (8/13/18) even called Ocasio-Cortez the "Sarah Palin of the left."
First of all, the Tea Party accomplished many of its goals, so comparing the DSA to the Tea Party is only a negative for someone on the left.
Secondly, the Tea Party had heavy corporate backing, and was embraced by the GOP.
The DSA has no corporate backing and is hated by establishment Democrats.
Then it occurred to me that this false comparison has been made before.
Mic: What the Tea Party and Occupy Wall Street Have in Common

As the movement gains momentum, it seems to be taking off in an eerily similar way to another political wave which has swept the country since 2008: the Tea Party.

The Occupy Wall Street protesters wave signs broadly demanding a better economic system, less government interference, an end to costly war, and a greater focus on privacy.

Sound familiar? Limits on government intrusion into Americans' private lives and economic reform are also major talking points for Tea Partiers.

Strikingly, both of these movements claim they represent the voice of average Americans, and they are right.
WashPost: Occupy Wall Street vs. Tea Party

Conservative commentators Karl Rove and George Will argue this week that the Occupy Wall Street (OWS) movement isn't comparable to the Tea Party, reasoning that the former is composed of whiners and extremists while the latter is all about mom and apple pie.

But nearly every complaint these commentators lodge against the OWS protesters could have applied to the Tea Party in its early days, and many still do.
HuffPost: The Tea Party and Occupy Wall Street Movements

Both are frustrated with a government and institutions who are seen as overstepping their bounds, driven by self-interest and no longer serving the "American people."
Both have leveraged the energy into large gatherings of people in order to be a visible and passionate expression of that frustration.
Both are claiming to speak on behalf of a large sector of the United States who share their frustration.
Both have been targets of media and political sensationalism and labeled, "anarchist" "fringe" or "radical" and have had "bad apples" used as sources for broad sweeping characterizations.
Both have individuals — the aforementioned "bad apples" — who act in ways that do not represent the core values of the movement.
Both have had politicians, entertainers, organizations and religious leaders pledge their support.
Both illicit strong emotional responses from those who see themselves as part of the ideological opposition.
So OWS and the DSA are just like the Tea Party, except for their agendas, their backers, their participants, their values, and their lack of establishment allies.
Otherwise they are the same.
The fact that they won't go away makes them very, very scary.

Conservative news stations like Fox News scream on the daily about how scary democratic socialism is, while print outlets continue to churn out anti-socialist hit pieces:

"Democratic Socialism Is Dem Doom" (New York Times, 7/6/18)
"Democrats Embracing Socialism Is Dangerous for America" (The Hill, 8/12/18)
"Bernie Sanders and the Misery of Socialism" (Wall Street Journal, 6/25/18)
"Sorry, Democratic Socialists—You're Still Pushing Poison" (New York Post, 8/5/18)
"They Call Themselves Socialists, but They Don't Know the Meaning of the Word" (Miami Herald, 7/26/18)
"It's the Spoiled Children of America Who Are Drawn to Socialism" (Chicago Tribune, 7/26/18)
"Democratic Socialism Threatens Minorities" (The Atlantic, 8/9/18)
"Democratic Socialism: Who Knew That 'Free' Could Cost So Much?" (Investor's Business Daily, 8/8/18)
"Socialism Returns: An Old Adversary" (Commentary, 8/14/18)
"Democratic Socialism Breaks the Bank" (Las Vegas Review-Journal, 8/16/18)
So yeh, the DSA has been treated by the media just like the Tea Party was....except for all the negative coverage. Otherwise, they are just the same.