The Caucus Cafe v1.2
Submitted by

Cordelia Lear

on Wed, 02/18/2015 - 6:00pm
Grand Opening Special: Freshly Baked Bread
Welcome to The Caucus Cafe and what I hope will be a regular weekly series featuring recipes, food discussions and a place to ask for help with your own "kitchen conundrum." Everyone has to eat. More importantly food is a great way to bring people together and that's always a wonderful thing. Last week we opened our larder and found seasonal clementines. Tonight we're sharing a genuinely easy-to-make country-style boule.
Here's to many more weeks of sharing good food, recipes and friendship! Now, go pour yourself your favorite beverage because we're going to get to why we came - the food. I'll wait. Take a sip, put your feet up, and let's get to it...
I became fascinated with yeast as a child. As far as I was concerned, the best treats were made of dough. My mother was an avid baker. She taught me to knead during the summer between fifth and sixth grade. My father was remodeling our kitchen, so he moved the stove and refrigerator to our basement. It was a hot summer, but the deep basement of our old farmhouse was nice and cool. I don't think it had ever dawned on my mom what a nice place it could be to bake in before then.
And bake we did. Pastries, breads, sticky buns...
At the time, I was active in 4-H. Our county fair was the second week in August. I decided I was entering all the yeast categories, not that there were all that many, but you get the idea. I even entered fancy baked goods. Everyone else in fancy brought decorated cakes that were so large, you could serve a wedding reception. My tree shaped cinnamon rolls drizzled with a confectionary sugar and water mixture didn't impress the judges.
Most kids would have went home in tears. I had a few, but it didn't take long to knead my bruised ego away. I'd be back. Over the next several years I continued to bake. I even won an award (a dinky pin and a certificate really) for outstanding achievement in yeast one year before I graduated high school.
And then something happened. I went away to college and became more interested in football games, dates and bar hopping when I wasn't pouring over ways to explain variables in economic models. Fast forward some years. Enough stories of my childhood culinary adventures came out that MrLear decided to coax out a few loaves of bread, one at a time. My birthday and Christmas presents became kitchen tools: baguette pans, pizza stone, a Kitchen Aid...
For years now I've been baking up a storm. You name it, I bake it. I even buy caraway seeds by the pound because we make so much rye bread. And then, damn if something else didn't happen. I found a recipe I downloaded, but never tried. It was Mark Bittman's original article on a no-knead, bread-in-a-pot technique and a recipe from the Sullivan Street Bakery in New York.
It got me wondering. It just couldn't be that simple, could it? Several days later when I visited my local library, I stopped by section 641 and checked out My Bread by Jim Lahey, founder of the Sullivan Street Bakery. From the introduction to his book:
"The article, written by Mark Bittman, had an immediate impact: a cascade of Internet traffic that resulted in home bakers all around the world giving it a shot---and reporting great success.

"That's just what I always wanted. I wanted to do whatever I could to help bread matter more, for people to fall in love with bread and I did when I began baking two decades ago. The object of my deepest affection, especially early on, was the rustic, deep-flavored bread of the Italian countryside."
Amen.
I don't care if you've never made a loaf of bread before, you MUST try this. It's utterly amazing. No wonder this no-knead method of baking has acquired an almost cult-like following. You can put a loaf of rustic bread on your table every day. It only takes a few minutes of time and a few pennies for the ingredients. Watch this video demonstration by Bittman and Lahey.
Yes, you need a dutch oven. One that's four to five quarts is perfect for this recipe. Buy one at a yard sale if you don't already have one. Don't even worry about why it works.
The Basic No-Knead Bread Recipe by Jim Lahey

3 cups (430g) flour
1 ½ cups (345g or 12oz) water
¼ teaspoon (1g) yeast
1 ¼ teaspoon (8g) salt
olive oil (for coating)
extra flour, wheat bran, or cornmeal (for dusting)

Mix all of the dry ingredients in a medium bowl. Add water and incorporate by hand or with a wooden spoon or spatula for 30 seconds to 1 minute. Lightly coat the inside of a second medium bowl with olive oil and place the dough in the bowl. Cover the bowl with plastic wrap and let the dough rest 12 hours at room temperature (approx. 65-72°F).

Remove the dough from the bowl and fold once or twice. Let the dough rest 15 minutes in the bowl or on the work surface. Next, shape the dough into ball. Generously coat a cotton towel (not a terry cloth one) with flour, wheat bran, or cornmeal; place the dough seam side down on the towel and dust with flour. Cover the dough with a cotton towel and let rise 1-2 hours at room temperature, until more than doubled in size.

Preheat oven to 450-500°F. Place the pot in the oven at least 30 minutes prior to baking to preheat. Once the dough has more than doubled in volume, remove the pot from the oven and place the dough in the pot seam side up. Cover with the lid and bake 30 minutes Then remove the lid and bake 15-30 minutes uncovered, until the loaf is nicely browned. Remove from pot and cool on a rack before slicing.
In a nut shell, the long, slow rise has the same affect on the ingredients as kneading. The blazing hot dutch oven simulates a bakers oven - it's very hot and lid traps in the steam, which contribute to a good rise and a great crust.
Over the last couple of years, I've made this bread and several variations. I've added wheat and rye flours, cheese, herbs, cocoa powder and dried cherries, unsweetened coconut and semi-sweet chocolate chips. Everyone of them has been better than the one before. Every one of them has been consumed with gusto in lightning time. This bread brings smiles to people's faces. I'm hooked.
Of course, I'll still make breads that require kneading. But as Alton Brown says, "that's another show."
A few pictures as proof positive, that anyone can make this bread in an ordinary home oven. It weighs about 20 ounces. Similar loaves sell for between $5 and $6 at local stores.
Fresh out of the oven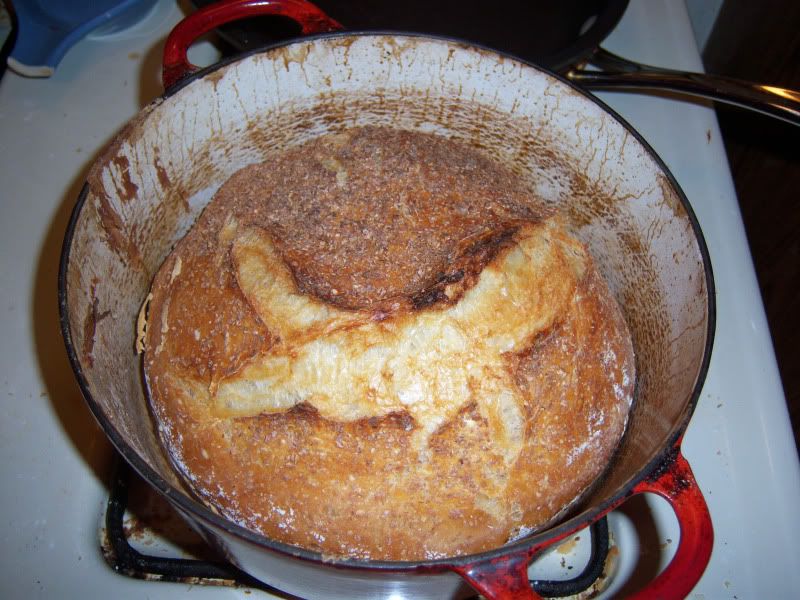 Cooling for a few moments

I've adjusted the recipe to work with a three quart dutch oven too:
2 1/4 cups flour
1 cup plus 1 tablespoon water
¼ teaspoon yeast
1 teaspoon salt
olive oil (for coating)
extra flour, wheat bran, or cornmeal (for dusting)
The baking time without the lid is about 8-10 for the smaller loaf. A three quart dutch oven will fit into a 12" tabletop convection oven. I've baked several loaves successfully this way. You may need to remove the nob from the lid if you need a little more clearance - just plug the hole it leaves by threading some aluminum foil through and fanning it out over the opening.
That's it for now folks. We'll see you again next Wednesday with another Caucus Cafe special. Same time. Same Channel.
In the mean time, please feel free to share a recipe or a culinary custom with your fellow 99%ers.
Finally, an old Irish toast:
"May your glass be ever full. May the roof over your head be always strong. And may you be in heaven half an hour before the devil knows you're dead."