The Breonna Taylor Grand Jury Decision Home Page
Submitted by phillybluesfan on Wed, 09/23/2020 - 8:49pm
The old fountain circle is now a memorial to Breonna Taylor. It is covered over every night, reassembled when weather permits during the day. A flower garden is to be planted behind here, next to where Tyler Gerth died, as a more permanent memorial than the table and flowers there now.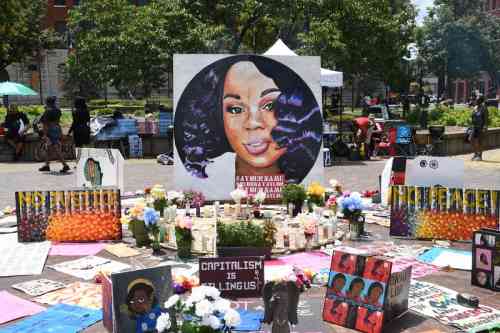 ,
on Wednesday, September 23rd, the long-awaited decision of the Breonna Taylor grand jury was announced. The report of the Jefferson County grand jury was shared with Judge Annie O'Connell in Louisville, with the proceedings being live-streamed. Approximately thirty minutes after that hearing ended, Attorney General Daniel Cameron held a press conference to explain why and how the grand jury came to the conclusions they did.
The grand jury decided to only indict one officer, Brett Hankison, and only for wanton endangerment, a Class D felony. The other two officers were not charged at all. And, Hankison was not charged with endangering Taylor – only her neighbors.
This post will serve as the home page for FORWARD KENTUCKY's coverage of the Breonna Taylor grand jury decision and its aftermath. We will update it as needed.
Forward Kentucky stories on Breonna Taylor announcement