Are you better off than you were? Why that question no longer matters
Submitted by

gjohnsit

on Tue, 11/06/2018 - 12:37pm
Are you better off than you were X years ago?
It's a damn good question, although somewhat unfair due to timing.
Nevertheless, it's a question worth asking...until recently.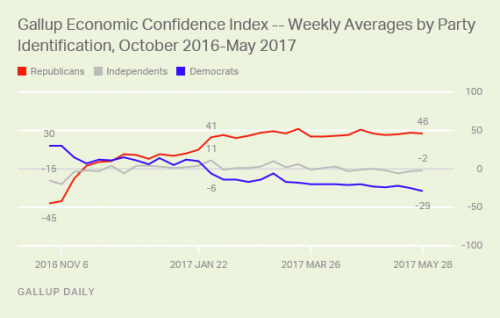 What happened in between that so dramatically altered how Democrats and Republicans each saw the economy? Donald Trump's election and inauguration. Did Republicans truly believe that Trump's presidency immediately and fundamentally strengthened the economy? And did Democrats really conclude that after Trump's inauguration, the American economy was crushed almost overnight?
The answer to those questions is: no, the public is lying about how the economy is doing.

Two academic papers published in 2013 showed that giving survey respondents financial incentives (i.e., paying them) to accurately answer factual questions about the economy (e.g. "What is the unemployment rate?") dramatically reduced partisan differences in responses.
What actually happened is a continuation of what was happening under Obama: the rich continued to get richer while the working class has continued to get shafted.

For most Americans, the answer to that commonly asked election question — are you better off than you were two years ago? — is most likely either no, or not much, unless they're in the stock market.

Excluding investment accounts, Americans' collective wealth, despite the strong economy, has grown $4.7 billion a month slower under President Donald Trump than it did in the two years of Barack Obama's administration before the 2016 election, according to data from the Federal Reserve.

Another sign that Americans' fortunes aren't improving as fast: The cash they have on hand — what is in their checking and savings accounts, as well as any money market funds or under their mattresses — is up just 7 percent since Trump was elected president, according to the most recent data from the Fed. That compares with the 13 percent gain during the two years before Trump's election.

The WashPost may try to say that this is a change for the worst, but in actuality there is no significant difference.
Republicans will point to the low unemployment rate, but a) it was only 4.9% when Trump was elected, and b) Trump repeatedly claimed the official number was a lie when he was a candidate.
What is going on is that people are self-identifying with the crooks and liars of their chosen political party, and that is scary.
It has been clear for some time that Trumpism has all the seeds of a genuine authoritarian movement. Chief among them is an all-consuming deference to The Leader, which even extends to granting him control over The Truth itself. "Just remember: what you're seeing and what you're reading is not what's happening," Trump said last week in Orwellian fashion, with the implication that whatever he says at this moment is what's really happening.

And that seems to be resonating. If Trump says it, it is so.
I can't picture myself trusting ANY politician farther than I could throw one, much less trusting one more than people that I know.
And trusting Trump of all people...???? Well, that is beyond my ability to understand.
Trump-haters are only slightly less unhinged.
Why anyone would wrap up their sense of well-being and identity with a political party that sold them down the river a generation ago I will never understand. It's like those people who go to pro wrestling matches and believe they are real.
On an individual level it's just sad. But on a societal level its dangerously unhealthy.