Another sign of late-stage capitalism
Submitted by gjohnsit on Sun, 05/28/2023 - 12:06pm
Quick question: What is America's fastest growing and 10th largest export?
Quick answer: Blood. Specifically, the blood of poor people.

around 130 million Americans admit an inability to pay for basic needs like food, housing or healthcare, buying and selling blood is of the few booming industries America has left."

According to Macleod, the U.S. supplies 70 percent of the world's plasma, mainly because "most other countries have banned the practice on ethical and medical grounds."
..."The centers are never in a good part of town, always somewhere they can get a never ending supply of poor people desperate for the hundred bucks a week."
58% of Americans live paycheck to paycheck, and millions of children go to bed hungry most nights. Meanwhile the number of collection centers has doubled since 2005.
Oh, and if you were wondering who buys it, wealthy Germany was the largest importer.

One study found that the majority of donors in Cleveland generate more than a third of their income from "donating" blood. The money they receive, notes Professor Kathryn Edin of Princeton University, is literally "the lifeblood of the $2 a day poor."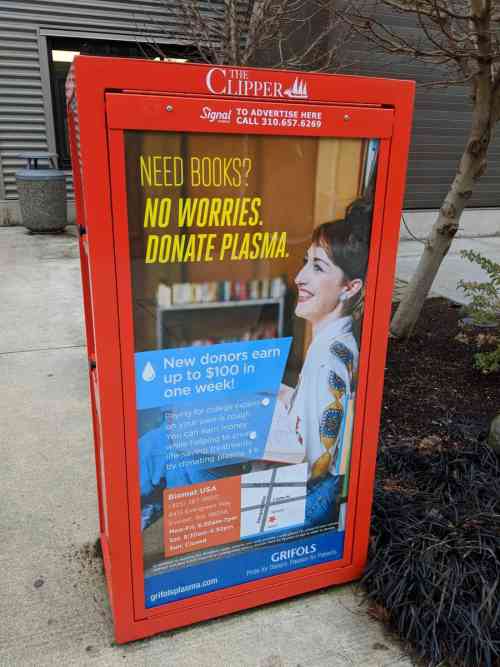 i see we've moved on to the "harvesting the blood of the poor" stage of late capitalism pic.twitter.com/ssOf8xBtUp

— Adam H. Johnson (@adamjohnsonCHI) January 14, 2017
Desperate Americans are allowed to donate twice per week (104 times per year). But losing that much plasma could have serious health consequences. According to one study, 70% of regular donors have health complications.
So why do other nations outlaw it?

The practice is banned on health grounds in Mexico but is completely legal north of the border. According to ProPublica, there are at least 43 blood donation centers along the border that prey primarily on Mexican nationals in a legally ambiguous practice.

According to a Swiss documentary on the subject, there are precious few checks on the cleanliness of the blood these companies accept, with some donors interviewed admitting they were drug addicts. But all is sacrificed in the pursuit of dazzling profits, something donors were well aware of. Rachel from Wisconsin admitted,
I did it for the money, I think we all do it for the money, but it's not really something you out and out say because there's a veneer of "helping the sick" slathered over it. But I caught glimpses of what kind of industry it was on occasion through innocuous questioning. The amount of plasma drawn from one person per donation was worth upwards of $600, I never really got a clear answer on that.

Andrew from Pennsylvania agreed, noting wryly,
I know my plasma was worth thousands of dollars per donation [to others], because I've seen what a hospital in my city charged a hemophiliac for platelets, so the pittance that they pay is ridiculous, but there is only one buyer making offers at the human level. If you're poor and out of other options, you'll take $40 however you can get it. Any port in a storm."
So you thinking, how can this get any worse? This is how.

His start-up, Ambrosia, is charging about $8,000 a pop for blood transfusions from people under 25, Karmazin said at Code Conference on Wednesday. Ambrosia, which buys its blood from blood banks, now has about 100 paying customers. Some are Silicon Valley technologists, like Thiel, though Karmazin stressed that tech types aren't Ambrosia's only clients, and that anyone over 35 is eligible for its transfusions.
Vampire nation.