Another big year for legalization
Submitted by gjohnsit on Thu, 10/15/2020 - 11:23am
Five more states will be voting in a couple weeks on legalizing marijuana.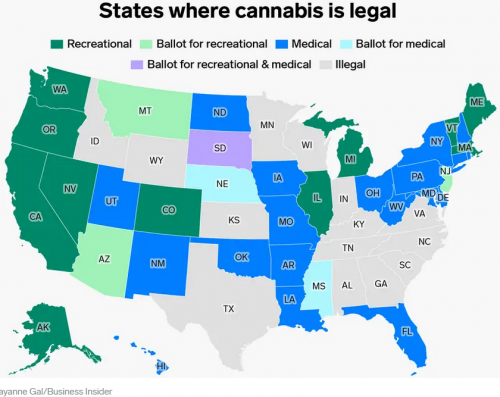 On November 3, New Jersey, Arizona, South Dakota, and Montana are set to vote on legalizing cannabis for all adults over the age of 21. South Dakota also has a medical-cannabis measure on the ballot, and Mississippi is voting on a medical-marijuana program.

Since Colorado and Washington broke ground in 2012 as the first US states to legalize recreational cannabis, nine states and Washington, DC, have joined them. Medical marijuana is legal in 33 states, meaning that a majority of Americans now have some form of access to legal marijuana.
States that appear likely to pass the bills include Montana, Arizona and especially New Jersey. South Dakota will pass medical marijuana at the very least, while Mississippi could go either way..
In almost every case, states legalized marijuana by a ballot measure against the wishes of their representatives. In the few cases where their lawmakers actually showed some initiative, like New York, the bill that they passed was watered down.
By next year marijuana will be legal in almost every state outside of The South.
But that isn't the Big News.
This is.

The Mexican Senate will likely vote on a bill to legalize marijuana within the next two weeks, the chamber's majority leader recently said.

Activists have been eagerly awaiting action on the reform legislation since the Supreme Court deemed personal possession and cultivation of cannabis unconstitutional in 2018—though some are pushing for a greater emphasis on social equity before lawmakers pass the pending bill in its current form.

The high court in April granted a second deadline extension to give legislators additional time to enact the policy change amid the coronavirus pandemic, pushing it to December 15. That said, Ricardo Monreal, the ruling MORENA party's leader in the Senate, said the chamber will advance the bill before the end of October.
It's likely that Mexico will join Canada in legalizing pot, thus decriminalizing most of North America.