What's Wrong With The Democratic Party
Submitted by

dkmich

on Tue, 04/18/2017 - 10:29am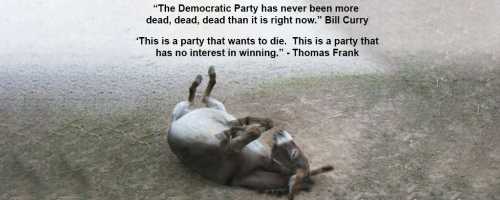 The podcast was pretty interesting, and I would recommend it. Ralph kept pushing the fact that we know what is wrong, but how do we fix it. They talked about when the US had third parties, and how the two parties killed them. They support the Tea Party model and want to know what in the hell everyone is waiting for.
One of the biggest takeaways for me was their contention that we need a new left. It has been coopted at the top and will never hold the Democrats accountable. The example they give is unions, teacher unions specifically. Planned Parenthood was another example. Bernie was stronger on women, trade, and unions, yet these useless tools backed Hillary in defiance of their membership. If they hadn't of bailed Hillary out, she would have lost to Bernie early in the primary.
The bottom line, which pisses me off, is that we are the change we seek. It is up to us to primary and hold accountable the Dems, particularly the leadership. They all think destroying the Dems from within is the way to go, and say that if we think that's hard, third party is 10x harder.
None of these men are novices, naive, or tools when it comes to politics or the Democratic Party. For me, this podcast gave me some clarity on how to move forward and vote in 2018.
What's Wrong With The Democratic Party
Published by Skro35 at April 15,
- See more at: https://ralphnaderradiohour.com/whats-wrong-with-the-democratic-party/#s...
Just click on download. It will download to your browser, not your computer. It is about 40 minutes long.