The Lifeboats are for the Wealthy
Submitted by

Big Al

on Sun, 11/18/2018 - 10:50pm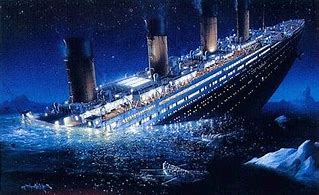 "An imbalance between rich and poor is the oldest and most fatal ailment of all republics"
Plato (around 350 B.C.) (Notice he said oldest in 350 B.C.)
I noticed this news the other day.
"As multiple devastating wildfires raged across California, a private firefighting crew reportedly helped save Kanye West and Kim Kardashian's home in Calabasas, TMZ reported this week. The successful defense of the $50 million mansion is the most prominent example of a trend that's begun to receive national attention: for-hire firefighters protecting homes, usually on the payroll of an insurance company with a lot at risk.

The insurance companies AIG and Chubb have publicly talked about their private wildfire teams. AIG has its own "Wildfire Protection Unit," while Chubb—and up to a dozen other insurers—contract with Wildfire Defense Systems, a Montana company that claims to have made 550 "wildfire responses on behalf of insurers," including 255 in just the past two years. Right now in California, the company has 53 engines working to protect close to 1,000 homes."
https://sorendreier.com/kardashians-private-firefighters-expose-americas...
Of course, that's not new. Back in the robber baron days the wealthy had their own fire departments, police departments, and whatever else money can buy. They even buy our government. But it further illustrates that wealth inequality now has surpassed even those haughty days.
The rich can buy their own fire departments, security departments, doctors, rock band performances, anything they want.
They've always had their own military, because that's what the United States military is for, the rich.
Do they deserve all that because they're rich? Is that the way we want society to be forever and ever amen? The haves and the have nots. Survival of the fittest. Money talks, bullshit walks. Gangster capitalism, crony capitalism, dog eat dog capitalism, war capitalism? If you've got money, you can live. If not, you must die.
Do the rich get to rule over the rest of us for eternity?
It's the question for the ages. I wonder if the human race will ever decide on that. Maybe we already have. Maybe that's it. Maybe this is just the way it is with us humans. Greed wins. I mean, look at that Plato quote. And he learned that from Socrates. See, this goes way back. To the beginning.
But I still wonder if we can change it. Because if not, that sucks. It just doesn't look like the way it's going, things are going to work out in the long run. And that would be too bad for the human race. Unless you're rich. Maybe.