Introducing Pet Vet Help: Raising Funds to Help Pets Afford Vets
Submitted by elenacarlena on Fri, 09/30/2016 - 10:38am

Oreo and Ginger approve this message!
For many of us, through no fault of our own, veterinary care has become increasingly unaffordable. The rate of inflation in veterinary costs is similar to that in human medical costs whilst wages have stagnated for over a decade. But we love our pets and want the best for them, including modern medical equipment and clinical expertise. So it comes as no surprise that when we hold fundraisers, they are often to help with veterinary bills. The current charities to help are underfunded and have waiting lists.
So we thought, why not create a new nonprofit to help pay vet bills for people who cannot afford them? Then contributions to this worthy cause will be tax deductible. After all, we've been discussing how we can't expect the government to do things for us. And we know pet welfare is going to be very low on their list. Since I lost a part-time job recently, I have made setting this up my work, in collaboration with some fellow animal lovers who are volunteering behind the scenes.
Our articles of incorporation have now been filed and accepted by the state of Kentucky. We are in business!

Success!
So what we need right now is to raise funds, about $1500-2000, to pay my expenses and startup expenses so that I can work on Pet Vet Help fulltime for the first month. I recently lost one of my part-time jobs due to a change in ownership, so have both the time to devote to this project and the need for income. We need to get filed with the IRS, which will be the priority so that we can receive 501(c)(3) status as soon as possible. Once our financials are complete, we need to design a website and obtain target lists. We need to write compelling prose for the site and mailings and emails and press releases and social media and so on. We plan to contact thousands of veterinarians, pet supply companies, and animal lovers. There is a variety of nonprofit-supporting software that I will investigate to see if it will allow tracking of supporters and finances, as well as communication simultaneously across a variety of social media, allowing me to work on a large scale with a relatively small investment of labor. If not, we'll design an efficient system. Anything collected in excess of expenses will immediately be available for pets in need of help with their veterinary bills.
It is my hope to work myself right out of this fulltime job, so that once everything is in place I can do this part-time on-call as a consultant, and more of the funds raised will be available for pets in need. It will depend on how much communication is needed to raise adequate funds for all those we want to help. The board is volunteering their time, so I have taken responsibility for the bulk of the workload.

Things are looking up for pets!

Yes, things are looking way up for pets!
The excellent news is, donations are tax deductible from the date of filing, so that donations today for setup count as charitable donations to the organization. As you can see above, our date of filing was yesterday. Assuming that we receive future approval from the IRS as a 501(c)(3), donations today will be tax deductible. We have a volunteer lawyer on board to help with our verbiage, and contacts at the city and state government and the IRS, so there is every reason to think that we will obtain approval.
We hope you are as excited as we are to be able to form an organization that will be effective in helping to ease the cost of veterinary care while providing donors with a tax deduction! We greatly appreciate you donating today so that we can keep our own pets in food and meds while rolling out quickly; every day, more pets face high bills for veterinary care.
If you are able and wanting to donate, please donate via PayPal to my business partnership email address. There is no other fundraising going into that account right now, so it will effectively keep Pet Vet funds separate. Setting up a dedicated account is, of course, on the to-do list. For now, donations can be made to:
Instructions for PayPal, since many have asked: To donate via PayPal, if you already have an account, please go to https://www.paypal.com/home and log in, proceed to "My PayPal" and hit "Send & Request". You should see a screen that looks like this:
Please choose the icon on the left, "Send money to friends and family". That way neither you nor we will be charged for the money transfer when you use your linked bank account.
If you do not have a PayPal account and do not want to log in, then go to the above PayPal Home page and hit "Send". You will then see this drop down from the top:
Please type in the above email address and the amount you wish to donate, and hit "Continue". The top of your screen will change to this:
Again, please select the option on the left, "This is to friends or family," so that no one is charged for the money transfer, and then proceed. I believe there is a small charge if you use a credit card, but none if you use a bank account.
And finally, if you would like to be notified of future fundraisers for Pet Vet Help, please let me know to put you on a group Caucmail list, and I will use that list to keep everyone informed who is interested.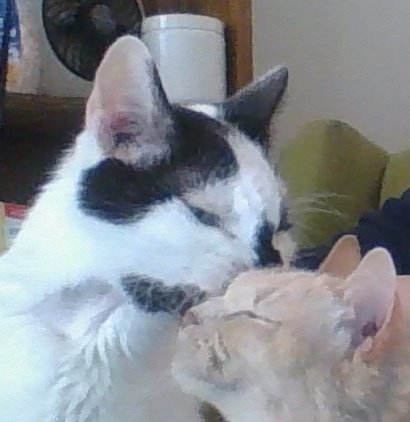 Hooray! More pets will get help!
Please consider this an open thread. Discuss pets, the state of the economy, whatever issues. We thank you and all pets thank you!