A Healthy Dose Of Nostalgia
Submitted by phillybluesfan on Thu, 01/13/2022 - 1:44am
If you need a respite from politics and Covid-19, have I got a deal for you!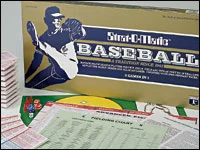 Strat-O-Matic is the funny-sounding name for a modest-looking board game with a decades-long fan base. The Strat-O-Matic simulates a baseball game by using dice and a series of cards filled with statistics for each Major League player.

Strat-O, as it's known to its fans, was the brainchild of Hal Richman, a Bucknell University mathematics student. Since then, it's developed a loyal following, including celebrities like Cal Ripkin, Bryant Gumbel, Drew Carey and Spike Lee, who featured the game in his film "Crooklyn."

Now Strat-O-Matic has reached further back in baseball history. A new version lets players see how they would stack up against the Negro leagues.
Next Big Thing: Strat-O-Matic Baseball
Strat-O-Matic was one of the first diversions for numbers-obsessed sports fans. Launched in 1961, it's a predecessor to the stat-based sports fantasy leagues now attracting millions of participants. For some -- including ESPN and San Francisco Giants sportscaster Jon Miller, who played obsessively as a child -- it was even a tool for self-discovery.
In the five decades since Strat-O-Matic hit the market, the game not only inspired a generation of baseball fans, but it has expanded to include football, hockey and basketball. Moreover, the game served as a childhood introduction to include football, hockey and basketball. Moreover, the game served as a childhood introduction to the inner workings of baseball for a fraternity of announcers and movers-and-shakers of the game that include Jon Miller, Bob Costas, former ESPN anchor Bill Daughtry, STATS, Inc. founder John Dewan and Chicago Cubs President of Baseball Operations Theo Epstein along with a number of former players that include Doug Glanville and Keith Hernandez. For Richman, a diehard baseball fan dating back to childhood, a fascination with a game called All Star Baseball that only measured hitting prompted him to create his own baseball game when he was only 11.

"I took dice in hand and rolled them 5,000 times and created a probability table and from there started creating the game," he recalled.
Statistics are the food of love. Baseball is nourished by numbers, and all of us who have followed the game with intensity have found ourselves transformed into walking memory banks, humming with games won, games lost, batting averages and earned-run averages, games started and games saved, "magic numbers," final standings, lifetime marks, Series, seasons, decades, epochs. -- Roger Angell

The game is played with three dice – one red and two white die – which when rolled together determine the outcome of each at-bat. The red die determines whether to look on the batter's card or the pitcher's card, as columns 1, 2, and 3 refer to the hitter's card, columns 4, 5, and 6 to the pitcher's card. The total of the two white die determine where (from 2-12) to look within the column (nowadays there is a far more advanced computer version which essentially does the dice roll for you). So, if you roll a 1-7 (red die one, white die seven), you look to the hitter's card in column 1, number 7 for the outcome of the at bat. If you roll a 4-6 (red die four, white die six), you refer to the pitcher's card at column four, number six. The game plays quickly and easily, with a nine-inning game played in about 20-25 minutes. Each card contains its own personality, as a singles hitter like Matty Alou or Pete Rose might have a row of singles mixed in with a few walks scattered in other columns, while a power hitter like Willie Stargell, may have HOME RUN at 1-4, 1-5, and 1-6, followed by doubles and singles in the 1 column and a series of walks in the 3 column. A good pitcher's card, however, like Tom Seaver's 1969 card, could shut down a good offense with rows of outs in the 4, 5, and 6 columns.
The smell of cut grass, the crack of the bat and the slap of the baseball on leather…the thought is enough to get any baseball fan through the wintertime. With Strat-O-Matic Baseball, the classic baseball managerial simulation, that feeling can be yours any time, if you feel like substituting with the smell of a freshly sharpened pencil or the sound of dice tumbling across the tabletop. Either way, Strat-O-Matic promises to transport you to your own personal field of dreams, allowing you to manage players from years past as they engage in America's pastime.