The Weekly Watch
Submitted by Lookout on Sun, 05/22/2022 - 6:30am
The Ukrainians are Not Zs

The Russian troops had a Z displayed on their equipment and uniforms. Ukraine therefore canceled the letter Z, so that makes them not Zs.
The most popular theory used by military experts to explain the letters is that they were written according to the respective areas where the Russian troops are usually stationed, with Z potentially standing for Zapad (west).

Others believe the letters were drawn in an attempt to avoid friendly fire, while some pro-Kremlin Russian military experts have speculated that the letter Z stands for the name of Ukrainian President Volodymyr Zelenskiy, and the letter V for Vladimir Putin.

The Russian defense ministry itself has not commented on any of the theories, and instead posted on its Instagram channel that Z meant Za pobedu ("for victory") and V stood for "power of truth".
The Germans are not Zs too. German States Outlaw Display of Russia's 'Z' War Symbol.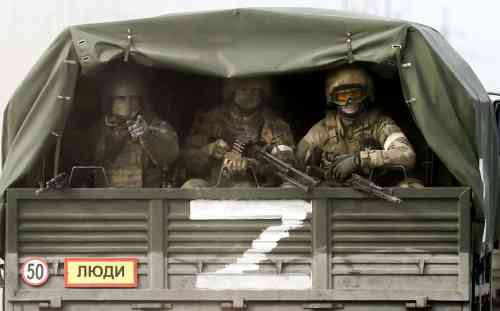 So why in the world is the US supporting Nazis? Well Matt Orfala has made a short film to explain our motivation. Jimmy had a version with commentary as well.
He's an excellent film maker.
Speaking of excellent film makers, Oliver Stone was interviewed by Lex Fridman Whole interview is at the link with topical time stamps, here's a clip.
If you didn't see his film Ukraine on fire it is worthwhile.
Ukraine On Fire – An Oliver Stone Documentary (2016)
"Ukraine. Across its eastern border is Russia and to its west-Europe. For centuries, it has been at the center of a tug-of-war between powers seeking to control its rich lands and access to the Black Sea. 2014's Maidan Massacre triggered a bloody uprising that ousted president Viktor Yanukovych and painted Russia as the perpetrator by Western media. But was it? "Ukraine on Fire" by Igor Lopatonok provides a historical perspective for the deep divisions in the region which lead to the 2004 Orange Revolution, 2014 uprisings, and the violent overthrow of democratically elected Yanukovych. Covered by Western media as a people's revolution, it was in fact a coup d'état scripted and staged by nationalist groups and the U.S. State Department. Investigative journalist Robert Parry reveals how U.S.-funded political NGOs and media companies have emerged since the 80s replacing the CIA in promoting America's geopolitical agenda abroad."
Much has happen this past week in relation to the Ukrainian special operation. Scott has his views...
He thinks the troops being trained in Germany and Poland could prove problematic for the Russians.
But Gonzalo disagrees and sadly for him it wasn't respectfully.
You can disagree and not be disagreeable most of the time... if you choose to lead with kindness.
I still go to Alex Christoforou for my daily updates. Here's his latest report from yesterday afternoon.
'Destroy' Russia navy & feed the world. Shoigu warns Finland-NATO. Trudeau's CBC expelled
Last week there was a Debate: Russia-Ukraine War |
Stephen Walt, John Mearsheimer v Michael McFaul, Radosław Sikorski
Here's a couple of short clips...
featuring John Mearsheimer.
MSM has so misled Americans and Europeans. Caity has a couple of nice articles explaining the war propaganda.
Western Media Run Blatant Atrocity Propaganda For The Ukrainian Government
Twitter To Ramp Up Censorship Of 'Misinformation' About The Ukraine War
I find it difficult to understand the EU's rush to suicide to curry favor with the US.
EU set to bury itself with its new Ukrainian misadventure.
MoA has a similar take.
https://www.moonofalabama.org/2022/05/how-europe-was-pushed-towards-econ...
Meanwhile back at home the Ministry of Truth (fortunately) has been put on hold. However the Dims have more 1984 policies in store. Domestic terrorism you terrorists you!
Democrats are pushing a new 'war on terror' on American citizens: Greenwald
However, the Hunter laptop story has finally made it to the MSM.
When the GOP takes over in January, plan on an impeachment trial unless Biden resigns and Kamala pardons him.
The US attempt to crush Russia's economy has come home to roost, as another $40 B is stuffed in the grift machine. Ukraine is the grift that just keeps on giving. Now it is on the China, and Joementia is in Asia trying to stir up another conflict. Will we ever try to create peace and harmony? Of course not, and those that try that will be arrested as terrorist! There was so much more to discuss about surrenders, cauldrons, bombing of weapon caches and troop barracks, transportation links,...
But I think we covered enough ground this week.
Time to catch a few more Z's.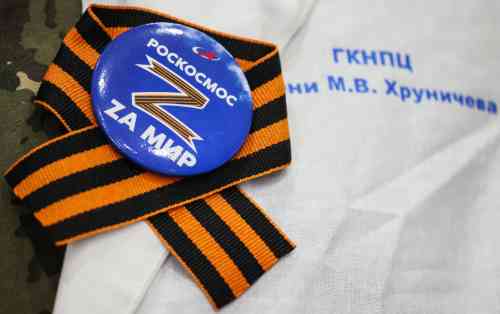 A Z-badge on the black-orange ribbon of St. George is seen during an event titled "For Peace! In Support of the President!" held at the Khrunichev State Research and Production Space Center.