The Weekly Watch
Submitted by Lookout on Sun, 05/02/2021 - 6:37am
Endless Aggression?

The plan was revealed in 1992. Instead of promoting international cooperation and global peace like China's belt and road initiative, we want to be the bully of the world.
https://militarist-monitor.org/profile/1992_draft_defense_planning_guida...
The CIA, the mafia branch of US government is a driving much of the foreign aggression.

Oliver Stone does a great job explaining the rise of the CIA and it's operations. (28 min)
Do you remember how there was global outrage after the Panama Papers exposed a massive international tax evasion scheme involving many high-profile wealthy elites, leading to mass incarcerations and sweeping overhauls to the world's taxation and legal systems?

No?

How about the huge scandal when it was revealed that the CIA unilaterally funds its own clandestine operations via secret drug trafficking programs to circumvent the oversight of elected bodies, leading to the dismantling and disbanding of the entire CIA? Or the time WikiLeaks exposed war crimes leading to tribunals at The Hague and a complete restructuring of the US military? Or all the criminal investigations and paradigm-shattering arrests after we learned that powerful intelligence agencies have been using child sex slaves to manipulate our society via blackmail?
https://caitlinjohnstone.com/2021/04/30/what-if-the-big-reveal-already-h...
Jeremy Scahill has an excellent piece on Biden and his relationship to the CIA and the US war machine called empire politician. (10 min)
https://theintercept.com/empire-politician/
Amy interviewed him about his article this week. (video and text below)...
https://www.democracynow.org/2021/4/28/empire_politician_joe_biden_jerem...
https://www.democracynow.org/2021/4/28/jeremy_scahill_joe_biden_foreign_...
https://www.democracynow.org/2021/4/28/jeremy_scahill_biden_white_house

The near-universal failure of Biden's diplomacy in his first months in office reflects how badly he and those who have his ear are failing to accurately read the limits of American power and predict the consequences of his unilateral decisions.
https://www.codepink.org/bidens_appeasement_of_hawks_and_neocons_is_crip...
Biden's speech Wednesday night to a joint session of Congress provided a portrait of panic, crisis and desperation on the part of the American ruling class. And more significant than the various calls for reform measures, a far more important and sinister strategic perspective was elaborated throughout:
https://www.wsws.org/en/articles/2021/04/30/pers-a30.html
The Biden administration has finally admitted that the US is indeed providing offensive material support to Saudi Arabia's genocidal assault on Yemen, directly contradicting Biden's February claim that it would no longer be providing offensive support in that war.

"The United States continues to provide maintenance support to Saudi Arabia's Air Force given the critical role it plays in Saudi air defense and our longstanding security partnership,"
https://caitlinjohnstone.com/2021/04/29/biden-lied-about-yemen/
Max and Stacy suggest the US petrodollar is going to be sacrificed in the great reset. Going green would require its death as world currency. I like their premise that maintaining the petrodollar requires war and aggression.
https://www.youtube.com/watch?v=npAQdp2_pZA (25 min)
As they point out, the US has lost the trade war with China. How could that be? We only outsourced all our production there. What could go wrong? So do we learn and create an American belt and road project designed to share resources, skills, and labor in this hemisphere? Hell no we want WAR!
The global balance of trade shifts from the US (blue) to China (red) this century.
https://www.lowyinstitute.org/
How is war manufactured? Aaron, Jimmy, and Ron explain the Syria cover up.
Biggest Cover-Up Since Iraq Exposed By Journalist Aaron Maté (40 min)
Ending War????
As Vice-President, Joe Biden pledged that all US troops would be out of Afghanistan by 2014. Seven years later, is President Biden's new withdrawal pledge any different? Scott Horton, editorial director of Antiwar.com and author of "Enough Already", discusses how the US has previously extended the war in Afghanistan and how it might continue it in new forms.
Officials say that the Taliban have been sending letters to individual Afghan officials, past and president, including former President Hamid Karzai, inviting them to participate in direct talks on peace in Afghanistan.
https://news.antiwar.com/2021/04/28/taliban-invites-afghan-officials-to-...
Biden's Banner Headlines on Afghanistan Obscure US Motives
https://consortiumnews.com/2021/04/19/patrick-lawrence-bidens-banner-hea...
The US Navy SEALs are undergoing a major overhaul. The special operations forces are following the rest of the US military and shifting focus away from counterterrorism in the Middle East to face China and Russia.
https://news.antiwar.com/2021/04/28/navy-seals-shifting-focus-away-from-...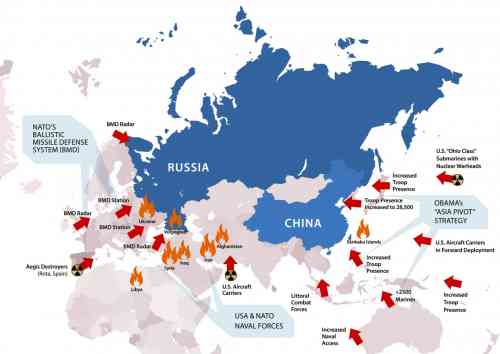 Russia
On the same day that the claim of "Russian bounties" in Afghanistan collapsed, another US intelligence-sourced, evidence-free claim was treated as vindication for conspiracy theories about Trump-Russia collusion.
Glenn Greenwald and Aaron Maté discuss the predictable demise of the "Russian bounties"; the Biden administration's new evidence-free assertion that Paul Manafort associate Konstantin Kilimnik passed Trump campaign polling data to Russia; and why major US media outlets continue to parrot Russiagate disinformation no matter how many times the "bombshells" turn into duds.
Glenn Greenwald. Journalist whose latest book is "Securing Democracy: My Fight for Press Freedom and Justice in Bolsonaro's Brazil." He writes at https://greenwald.substack.com/​.
35 min
The Biden administration has been extremely hostile to Russia through sanctions, rhetoric, and support for Ukraine. On Wednesday, Russian Foreign Minister Sergey Lavrov said US-Russia relations are even worse now than during the Cold War.
https://news.antiwar.com/2021/04/28/russian-fm-us-russia-relations-worse...
https://www.wsws.org/en/articles/2021/04/29/rutr-a29.html
How to stir up a war? Incite a coup in a bordering nation?
Mimi featured this interesting conversation with a Texan fighting in the Donbas against the US supported fascists. (1.3 hours)
https://www.youtube.com/watch?v=F5O8h1dpP_k
As the anti-Russia hawks in the Joe Biden administration push for more aggressive policies in Ukraine, Moderate Rebels speak with Russell Bentley, an American from Texas who moved to the Donbas region to fight on behalf of the breakaway Donetsk People's Republic. Bentley discusses the ultra-nationalist fascists and neo-Nazis in the Ukrainian forces. He also explains the Christian Communist ideology that motivates him and his combat unit.
Amidst the ongoing military confrontation with Russia, reports have emerged proving that Ukrainian President Volodymyr Zelensky is seeking to appoint the far-right Serhiy Sternenko as head of Ukraine's Security Service (SBU) in Odessa, in an attempt to further his alliance with neo-Nazi forces.
https://www.wsws.org/en/articles/2021/05/01/ukr-m01.html
There have been outright Nazi parades in Kiev.
https://www.moonofalabama.org/2021/04/german-ambassador-wants-more-nazis...
Matthew Rojansky is the head of the Kennan Institute, a notable think tank at the US government-funded Woodrow Wilson International Center for Scholars in Washington. Despite his well-established expertise on Russia and lengthy record of leadership on the issue, he has been judged "too soft" to work in the Biden White House.
https://thegrayzone.com/2021/04/29/ukrainian-ultranationalist-lobby-bide...
Excellent summary of Ukraine's situation and how the US was outplayed yet again.
https://thesaker.is/what-just-happened-in-the-ukraine/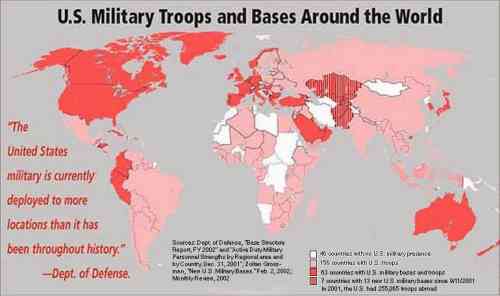 China
In his first address to Congress on Wednesday night, President Biden took the Cold War rhetoric against Beijing to a new level and declared that the US was in competition with China to "win the 21st century."
https://news.antiwar.com/2021/04/28/biden-us-in-competition-with-china-t...
Surprise, surprise...
Bezos' Blog And NATO Lobby Continue To Stir Anti-Chinese Sentiment
https://www.moonofalabama.org/2021/05/bezos-blog-and-nato-lobby-stir-mor...
Satellite images showed a US warship shadowing a Chinese aircraft carrier and its strike group on Monday in the Philippine Sea.
https://news.antiwar.com/2021/04/28/us-warship-shadows-chinese-aircraft-...
Prime Minister Scott Morrison yesterday announced a revamped $747 million package to overhaul four strategic military facilities in the Northern Territory, clearly in preparation for a US-instigated war against China.
https://www.wsws.org/en/articles/2021/04/29/usau-a29.html
The US is also trying to foment coups on China's border.
Western media coverage of Myanmar has relied heavily on organizations funded and developed by a notorious US intelligence cutout and UK Foreign Office partner. Can they be trusted?
...
the US government's regime-change arm, the National Endowment for Democracy (NED). The NED is notorious for sponsoring media and civil society organizations around the world to undermine governments the US seeks to topple. Its founders have even admitted the NED was created specifically to do overtly what the CIA used to do in secret.
...
similar US efforts in geopolitical flashpoints like Hong Kong have had a significantly destabilizing effect, and by design.
https://thegrayzone.com/2021/04/27/us-government-media-myanmar-propagand...
Domestic Aggression the empire comes home...
https://www.youtube.com/watch?v=Dg5YKSLHfZI 25 min
On the show this week, Chris Hedges discusses police abuse and torture with civil rights attorney Flint Taylor.
With his colleagues at the People's Law Office, Taylor has argued landmark civil rights cases exposing the corruption and cover-up within the Chicago Police Department and throughout the city's political machine from the alderman to the mayor's office. The book takes the reader from the 1969 murder of Black Panther Party chairman Fred Hampton and Panther Mark Clark - and the historic thirteen-year trial that followed - through the pursuit of chief detective Jon Burge, the leader of a torture ring within the Chicago Police Department that used barbaric methods, including electric shock and suffocation, to elicit false confessions from suspects - a violation of the UN Convention against Torture. Taylor and People's Law Office gathered evidence to bring suit against the Chicago Police Department, breaking the department's "code of silence" that had enabled decades of cover-ups. The legal precedent they set has since been adopted in human rights legislation around the world.
Sadly, the trend of fatal police shootings in the United States seems to only be increasing, with a total 213 civilians having been shot, 30 of whom were Black, in the first three months of 2021. In 2020, there were 1,021 fatal police shootings, and in 2019 there were 999 fatal shootings. Additionally, the rate of fatal police shootings among Black Americans was much higher than that for any other ethnicity, standing at 35 fatal shootings per million of the population as of March 2021.
https://www.statista.com/statistics/585152/people-shot-to-death-by-us-po...
Then there the assault on our health and environment...
Zach Bush, MD is triple board-certified physician specializing in internal medicine, endocrinology and hospice care. He is the founder of Seraphic Group, an organization devoted to developing root-cause solutions for human and ecological health in the sectors of big farming, big pharma, and Western Medicine at large. And he is also the founder of Farmers Footprint https://farmersfootprint.us/​, a non-profit coalition of farmers, educators, doctors, scientists, and business leaders aiming to expose the deleterious human and environmental impacts of chemical farming and pesticide reliance -- while simultaneously offering a path forward through regenerative agricultural practices.
25 min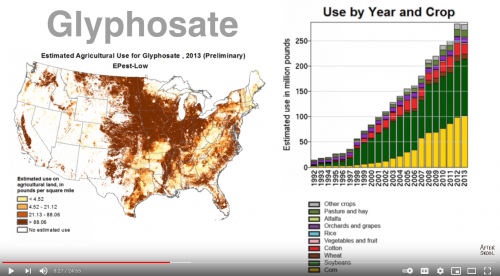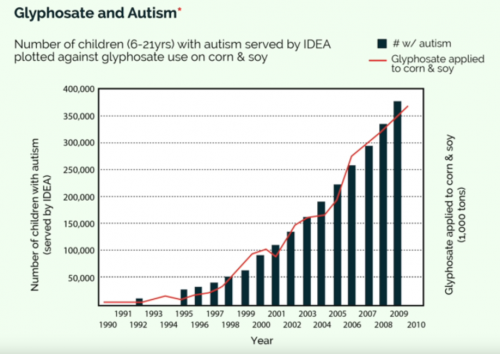 The radical increase in chronic disease is coincidental with not only roundup, but also the dietary guidelines requiring more carbs and less fat, a push for margarine and seed oil, and the development and use of GMO crops (needed for the broadcast use of glyphosate).
Then I've got some COVID News...
India is in an exponential growth phase. The good news is ivermectin just got approved, so we will see if they control the COVID explosion over the next few weeks. Appears to be effective in Mexico and other countries using ivermectin.
John Campbell talks with an Indian doctor about the situation in India. He asks in order...
How is the situation in India now, are you seeing a lot of cases?
How is the death rate, are there a lot of deaths, now and in the past weeks?
What is the causes of deaths in COVID patients, is it mostly respiratory failure?
Have you had difficulties with supplies of oxygen and drugs?
What are the local drivers of infection, are people flowing mask wearing and social distancing?
Are you able to test all of the patients you suspect have COVID?
How are you treating patients with mild and more severe disease?
What drugs do you use in addition to steroids?
Is ivermectin effective to treat COVID?
Do many patients develop secondary bacterial infection after COVID?
Do you think many people might develop long covid with longer term sequala?
https://www.youtube.com/watch?v=YQdKsLZjmaQ 18 min
The vaccines also appear to be effective in slowing the spread.
Well after all that US aggression how about a trip to the farm?
This week let's look at a 1.5 acre permaculture homestead in New Zealand... (25 min)
Syntropic farming is a new and ancient permaculture practice that can be implemented in any region, in any climate, in limitless ways – even in your own back yard. For over a decade the Lotz-Keegan family have been implementing permaculture practices to regenerate a degraded hillside into an abundant food forest of native and exotic trees that feed their family, their community, the wildlife, the soil, and their souls.

Combining the practices of syntropic agroforestry with the principles of permaculture and their own deeply thoughtful approach to land regeneration, food growing, and lifestyle, this family is partnering with nature to create a humming diversity on the land and a positive story about the role of humans in an eco-system.
Sometimes the reality of farming and homesteading is lost in these short clips. This family farm shows some of the issues. There is always something happening...
https://www.youtube.com/watch?v=IqZ4p8303I0 (13 min)
Look how our chickens feed the garden (by making free compost) and the garden feeds the chicken. ALSO in the vlog: Calling the Enquirer Mr. Brown found his shoes, chick death count, asparagus coming in, moving wood chips, making nachos,
In closing let me share my morning sounds. We are covered up with Wood Thrush this year and we awake to a chorus of these birds. It has been lovely. (1.5 min)
Learn how conservation heroes from North Carolina to Belize are working to help the climate-threatened Wood Thrush.
https://www.youtube.com/watch?v=_J4A25H4QIA (25 min)
https://nc.audubon.org/news/wood-thrush-connection-0
I like using nature stories to wrap up this column because we can still find peace in nature. Being aware of the endless US aggression and its desire for global dominance is important to stopping US wars and coups, but I have to continually come back to ground in the garden and woods in order to find my balance and see the beauty as well as the horror of the world. Here's hoping your world is filled with peace, love, and harmony despite the whirlwind of war and aggression around us. I look forward to your thoughts and ideas below.