The Weekly Watch
Submitted by Lookout on Sun, 04/11/2021 - 6:49am
Growth?

There are many types of growth, economic, personal, plant, and so on. We live on a finite planet but have an economic system based on infinite growth. Something must give... probably both the economic and the environmental systems. I guess we are crisis based creatures, but it sure would be nice to head off the impending collapse before it arrives. I featured Mark Shepard's farm a couple of weeks ago, and here he is again discussing his ideas to transition into sustainable agriculture. (30 min)
Mark is a well-known farmer that specializes in permaculture and perennial agroforestry food systems. He has developed an incredible farm in Wisconsin over the past 26 years, written books, taught and helped farmers around the world.
Producing food for yourself and others provides plenty of pleasure. Farming for a living is more stressful to my mind because weather and other possible disasters. It is much like playing music for fun versus trying to make a living with music.
Regardless of your life path, we as people grow. I wish I could say we all grow wiser with age...perhaps some of us do. I wonder what a society looks like that values wisdom and learning over wealth? Today's world of 'more for me' and endless greed for money has been a foolish goal, and may be the cause of our own extinction. We need to grow out of this mess.
The corporate capture of the food system is underway...
Imagine a world where algorithms are used to optimize growing conditions on every fertile square metre of land. Where whole ecosystems are re-engineered. Where drones and surveillance systems manage the farm. Where farmers are forced off the land into e-commerce villages.

Imagine a world where food is treated like a strategic asset and food transit routes are militarized. Where powerful governments and their flag-bearer corporations control resources and food supplies across vast economic corridors.

Imagine a world where many foods are grown in petri dishes, vats, and bioreactors. Where people's eating habits are invisibly nudged using reams of metadata they have unknowingly surrendered via digital wallets. Where AI assistant apps decide on people's food intake based on genetic information, family history, mood, and data readings from inside their waste bins and digestive systems.
https://www.commondreams.org/views/2021/04/07/six-months-prevent-hostile...
There are paths to a saner and more sustainable world...
Jesse Straight, owner of Whiffletree Farm, shows us a different approach. As he gestures to the beautiful landscapes that surround us he explains, "being a farmer is special because this is my office. You spend your day making animals happy...you get to do things that help the things around you thrive". (6.5 min)
For over 70 years farmers have been pressured to make agriculture and food production more and more industrialised. 'Soils are disturbed so intensively that the earth literally moves, causing massive degradation, flooding, water pollution and erosion.' We have been losing land area, essentially from erosion at the rate of about 10 million, 7 – 10 million hectares per year, which is almost the size of Portugal.
All over the world farmers are developing an alternative system to regenerate soil instead of eroding it. To protect and increase water retention by covering with mulch and by growing continuous diverse crops, without tilling or ploughing. It's called Conservation Agriculture or no-till farming. https://www.youtube.com/watch?v=Uj_RgbhJ7XM (8.5 min)
Regenerative agriculture offers a future for sustainable farming of meat in line with nature's needs, by using holistic management and organic/biodynamic practices and even sequestering carbon in the soil – so important in our response to our climate crisis. At Mangarara, in New Zealand's beautiful Hawke's Bay, Greg Hart and his family are in the process of restoring 1500 acres of land, conventionally farmed for over 150 years, into the paradise it once was. (8 min)
I'm an adherent of regenerative agriculture, but there are other approaches, natural farming for example. (20 min) Full documentary here.
A majestic journey through Japan, Korea, and the United States that turns our perceptions of food (and life) upside down in a simple and poetic way. Solutions for our most pressing social and ecological issues come from unexpected places in a bite-sized film that New York Times bestselling author Alicia Bay Laurel calls "beautiful … both art and documentary."

Inspired by the work and philosophy of Masanobu Fukuoka, artist Patrick M. Lydon (USA) and editor Suhee Kang (South Korea) spend four years meeting and studying with multiple generations of modern day natural farmers. The result is a film that weaves breathtaking landscapes and an eclectic original soundtrack together with stories and insights from an inspiring cast of natural farmers, chefs, and teachers. The film gives modern-day relevance to age-old ideas about more sustainable, regenerative, and harmonious ways of living with the earth.
https://www.youtube.com/watch?v=qcCAO1lyYfs (12 min)
"Natural Farming" provides rich harvests "without plowing and fertilizer," using "grass and insects as allies." Yoshikazu Kawaguchi from Nara, Japan, has been practicing this farming method for 40 years. The method is attracting attention as a sustainable agriculture, because crops can be cultivated without bringing in fertilizers and pesticides from outside the field. This 12-minute video summarizes what Natural Farming is and how it evolved
Regenerative and natural farming are not mutually exclusive. Add into the mix the idea of wilding... https://www.youtube.com/watch?v=kvD1DGSS8Aw (57 min)
Isabella Tree recounts the extraordinary return of biodiversity to what had been a relatively barren conventional farm on the Knepp Estate in Sussex, England.
Documentary exploring the concept of rewilding and the arguments surrounding its application in Scotland, including the potential impact on both humans and wildlife.
https://www.youtube.com/watch?v=RInYnVCAo1w (20 min)
Farming can be in harmony with nature. Here's a cattle operation improving the ecosystem and encouraging wild life. (16 min)
Meet John Austel of 4J Horse and Livestock a family operated cattle ranch in San Diego, California raising cattle on 100% grass from start to finish. He'll tell us all about how he raises his cows from calf to harvest, the amazing regenerative effect grazing cattle has had on the land and the state run studies done on his land to prove it, among a myriad of other topics related to raising cattle on pasture.
In ecosystems like mine, in order to promote wildlife and raise livestock there's the option of guard animals...mainly dogs, but also llama, and donkeys.
https://www.youtube.com/watch?v=zGjqjKCI0MQ (25 min)
From ducks and lambs to chickens and alpacas, Virginia farmers turn to livestock guardian dogs to protect their animals and their livelihood.
Can old dogs learn new tricks? Depends on the dog...
Here's a fellow who really dropped out. He hasn't used money in 14 years and lives in caves and camps. https://www.youtube.com/watch?v=HpfHYhyqC-Q (15 min)
I feel for this fellow and wish him well.
Speaking of living in caves, how about an upscale cave that is pretty interesting (19 min)
Talk about a labor of love.
Our friend Ranting Rooster offers an excellent example of how we can alter our life to get to a better place. We do have the ability to change our personal path. The societal, political, and economic path is another problem entirely.
End of the Megamachine: How Capitalism & Its Crises Have Turned Us Into a Failing Civilisation... Fabian Scheidler discusses why capitalism is in terminal crisis due to its continuous growth model, why he classifies human civilisation as a failing civilisation, how capitalism will likely not go through a sudden collapse but rather transition into something else, how crises such a climate change and coronavirus continue to break capitalism, the role of neoliberalism in accelerating capitalism's collapse, capitalism's reliance on 70% of the world being cheap labour, the role of regime change and debt in keeping nations poor.
https://www.youtube.com/watch?v=OPTaIIexSvk (14 min)
The End of the Megamachine brings to light the roots of the destructive forces threatening the future of humankind today. While the first part leads us to the very origins of economic, military and ideological power 5000 years ago, the second and key part retraces the formation and expansion of the modern world-system through the last 500 years. Dismantling Western progress mythologies, Scheidler shows how
The corporate corruption runs deep...
Matt Stoller discusses the Biden administration's need to distance itself from McKinsey in order to pass the infrastructure bill.
https://www.youtube.com/watch?v=MV11WVISDws (6.5 min)

Growing War...
They are lying to promote global aggression...Now focused mainly on China
Thoughts and ideas to consider on the connection between the rise in anti-Asian hate and geopolitically driven anti-China Propaganda, and some first steps required to begin putting us in a position where we can meaningfully address this issue.
https://www.youtube.com/watch?v=146QKmclArQ (8 min)
Some facts and my opinions on the Xinjiang cotton narrative, where the west are boycotting Xinjiang cotton over accusations of forced labour.
https://www.youtube.com/watch?v=O2kgZQLAdXQ (9 min)

As part of their campaign to agitate for intensified rivalry with the Chinese government, China hawks are feigning interest in arms control so that they can engage in reckless fearmongering about a mostly imaginary Chinese nuclear buildup.
According to U.S. government estimates, China possesses fewer than 300 nuclear weapons, and there is no reason to think that they are looking to increase that number significantly. Hawks like Senator Tom Cotton (R-Ark.) claim that China is intent on achieving parity with the United States, and that their government is working on a massive secret expansion of their nuclear arsenal, but they have no evidence to support their wild charges. These critics hope to frighten Americans about Chinese nukes in order to build support for a more aggressive anti-China policy and to justify huge, unnecessary expenditures on new nuclear weapons.
https://responsiblestatecraft.org/2021/04/08/hawks-up-the-ante-china-is-...
They continue with the Russiagate propaganda too. This is pretty funny.
Amid mounting tensions with both Russia and China, the Biden administration has requested the largest military budget in US history, demanding $753 billion, or more than the next 10 biggest militaries combined, in annual military spending.
...
The budget exposes the hollow promises of the "progressive" wing of the Democratic party, including Bernie Sanders and Alexandria Ocasio-Cortez, who claimed that a Biden presidency would be a departure from the militarism and warmongering of former president Donald Trump.
https://www.wsws.org/en/articles/2021/04/10/budg-a10.html
CODEPINK Statement on President Biden's Pentagon Budget Proposal
President Biden: We need jobs and healthcare, not more money for bombs and bullets.
The peace movement needs you now more than ever before! Join us to make a difference.
"The U.S. government is deeply concerned over the situation that is developing near the borders of Ukraine and in every possible way supports the sovereignty and territorial integrity of Ukraine."

The U.S. and NATO in every possible way support Kiev's war near the Russian border.
https://news.antiwar.com/2021/04/09/ukraines-top-commander-invokes-natos...
The sending of US warships to the Black Sea is the latest in a series of extraordinarily provocative moves by NATO-backed Ukraine and the US in the crisis. In March, shortly after Joe Biden took office and reaffirmed that "Crimea is Ukraine," the Ukrainian government of Volodymyr Zelensky announced a strategy to "recover Crimea" and the Donbas....
The announcements of an offensive to retake these territories was tantamount to declaring that Ukraine is preparing for war.
https://www.wsws.org/en/articles/2021/04/10/ukr-o04.html
The bear bit back and things may be calming down.
Russia gave several verbal warnings that any Ukrainian attack on the renegade provinces of Luhansk and Donetsk or Crimea would cause a serious Russian intervention. There was never a chance that the U.S. or NATO would intervene in such a war. But it was only after Russia started to move some of its troops around that sanity set in. It daunted to the Ukrainian leadership that the idea of waging war against a nuclear armed superpower was not a good one.

Late yesterday it suddenly decided to file for peace (machine translation):

The Armed Forces ruled out the use of force to "liberate" Donbass

KIEV, April 9 - RIA Novosti. "Liberation" of Donbass by force will lead to mass deaths of civilians and servicemen, and this is unacceptable for Kiev, said Commander-in-Chief of the Armed Forces of Ukraine Ruslan Khomchak.

"Being devoted to universal human values ​​and norms of international humanitarian law, our state puts the lives of its citizens in the first place," the General Staff's press center quoted him as saying.

According to Khomchak, the Ukrainian authorities consider the political and diplomatic way to resolve the situation in Donbass a priority. At the same time, he added that the Armed Forces of Ukraine are ready for an adequate response both to the escalation of the conflict and to "the complication of the military-political and military-strategic situation around the country."
https://www.moonofalabama.org/2021/04/after-the-bear-showed-its-teeth-th...
More in this article:
https://news.antiwar.com/2021/04/09/ukraines-top-commander-invokes-natos...
I feel fortunate to have been influenced by MLK. I often wonder what he might have accomplished had he not been assassinated (probably by the FBI)
As I have walked among the desperate, rejected and angry young men, I have told them that Molotov cocktails and rifles would not solve their problems. I have tried to offer them my deepest compassion while maintaining my conviction that social change comes most meaningfully through nonviolent action. But they ask, and rightly so, "What about Vietnam?" And they ask if our own nation wasn't using massive doses of violence to solve its problems, to bring about the changes it wanted. Their questions hit home. And I knew that I could never again raise my voice against the violence of the oppressed in the ghettos without having first spoken clearly to the greatest purveyor of violence in the world today: my own government.
https://www.youtube.com/watch?v=AJhgXKGldUk (55 min)
https://www.crmvet.org/info/mlk_viet.pdf
Dr. Martin Luther King Jr.'s 1967 speech in New York. In this speech, he opposes violence and militarism, particularly the war in Vietnam.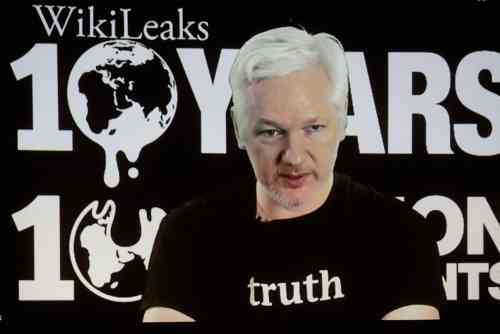 Today voices that inform us are silenced.

Two years ago on Sunday, WikiLeaks founder Julian Assange was seized from the Ecuadorian embassy in London. He has been incarcerated ever since, fighting extradition to the United States where he faces life imprisonment in barbaric conditions for exposing war crimes, coup plots, mass state surveillance, torture and corruption.
https://www.wsws.org/en/articles/2021/04/10/assa-j01.html
Here's a couple of good conversations about this shameful situations.
UN Special Rapporteur on Torture Nils Melzer. He discusses the significance of the arrest of Julian Assange on this day 2 years ago on the war on press freedom, how Julian Assange's persecution started with the arbitrary detention at the Ecuadorian Embassy, the health of Julian Assange and his assessment that he has been psychologically tortured, the war crimes and corruption Wikileaks has exposed, the media's role in the psychological torture of Assange
https://www.youtube.com/watch?v=ICDEQ2fnUNs (15 min)
Former counsel at the Ecuadorian Embassy Fidel Narvaez discusses the events leading up to Assange having his Ecuadorian citizenship revoked and the British Police entering the embassy to arrest him, why Lenin Moreno's decision leaves him ashamed, the significance of Julian Assange's contribution to journalism and the fight against corruption worldwide, the end of Lenin Moreno's Presidency, the candidacy of Andres Arauz, a socialist economist in the Ecuadorean elections. https://www.youtube.com/watch?v=hKp0glFSCdg (13 min)
It is curious to me how the US vilifies countries like Cuba which are much more successful contributing to the world instead of destroying it.
https://www.democracynow.org/2021/4/9/cuba_covid_19_vaccine_development
AMY GOODMAN: Why do you think Cuba has far surpassed the United States when it comes to COVID-19 and people surviving? I mean, the U.S. — I mean, per capita, I think Cuba has something like, over the year, between 40 and 60 times less the death toll per capita than the United States. How is this possible, with the U.S. being the wealthiest country in the world and the U.S. imposing this massive embargo against Cuba, which is not only stopping U.S. support for Cuba, but countries around the world?

DR. ROLANDO PÉREZ RODRÍGUEZ: You know, it's what I tried to explain before. There is a combination of a national pharmaceutical — biopharmaceutical industry, but also how we organize the healthcare system in Cuba, that is free, universal, full coverage, with access to all the population, and also this health primary care system that is looking for people with disease. So, we are not expecting that people come to the healthcare system; we are looking for the people, so it's a very active and preventive approach to the healthcare. And I think that this kind of organization made possible that with not so much resources, you can have a big impact on healthcare. That is the reason maybe, the way we organize all this healthcare system.
...

REED LINDSAY: I was in Haiti for five years, and that was my first direct experience with Cuban doctors. And I found it remarkable. What the Cuban program in Haiti was doing wasn't only bringing Cuban doctors to work in the poorest areas of Haiti, it was also training Haitian doctors in Cuba. And Cuba, at that time, was graduating more doctors than the public universities in Haiti, and they were returning to Haiti and working there. And, in a sense, it was brain drain in reverse.
The US Economy is in free fall, but you wouldn't notice from MSM reporting. They keep talking about how great things are.
Chris Hedges discusses the nearly $5 trillion being allocated by the Biden Administration for COVID-19 relief and infrastructure projects with economist Richard Wolff.
The dominoes are being set up for an epic collapse...
Max and Stacy look at the explosion in mortgages for second properties. In the second half, Max interviews Wolf Richter of wolfstreet.com about whether or not the debt is sustainable.
https://www.youtube.com/watch?v=YYEISIPph50
Too bad the US goal is to maintain the status quo. You know, "Nothing will fundamentally change"...heard it from the horses mouth. Fortunately we have the ability as individuals to choose a path that fits our personal values and goals. I hope your spring is evolving. Dogwoods are in bloom here. Have a wonderful Sunday. Treasure every day!
I look forward to your ideas and comments below.