Tuesday Open Thread ~ A Big Ball of Wibbly-Wobbly
Submitted by Anja Geitz on Tue, 07/14/2020 - 3:26am
~
The past is a foreign country; they do things differently there."
~ L.P. Hartley
~
~
There's a scene in the movie Ferris Bueller's Day Off where Ben Stein plays a burnt out history teacher droning on about the particulars of the 1930 Smoot-Hayley Tariff Act to a classroom of students whose eyes have glazed over in a collective stupor of boredom. For many this was how they experienced learning history. For me, the experience was very different. When I was in college I had a history professor whose enthusiasm for the subject was apparent the first day he showed up for class wearing his full academic regalia. Standing in front of us, his arms stretched akimbo, he asked us if we could guess why.
"You're an ego maniac," shouted one student from the back.
We all laughed.
Instead of the usual introduction to the lesson, Professor McKendry decided to appeal to our imaginations and present the Protestant Reformation in a uniquely engaging way. Not only was his attire relevant to the question of why Pastors began wearing academic robes after the Reformation, he sparked our curiosity about history as though we were time travelers observing current events as they happened. Which I suppose was the part about history I liked the most. The traveling back in time.
~
~
"Have you ever wondered how nostalgia isn't what it used to be?"
~ Jasper Fforde, First Among Sequels
~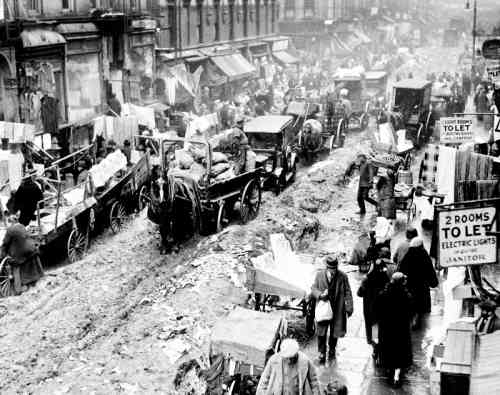 ~
As much as I enjoy reading about traveling back in time, I'm not so sure how eager I would be to actually jump down the time warp rabbit hole. My trepidation notwithstanding, the challenges and dangers time traveling presents often gets lost in the excitement of the adventure. This became very clear to me when I posed the possibility of time travel to some of my young co-workers who seemed to liken the experience more to Bill and Ted's Excellent Adventures then I did. For people who complain when someone in the break room heats up fish in the microwave, I was tempted to advise them to limit their travels to the future because any time traveling before the turn of the twentieth century and they'd better have a pretty strong gag reflex.
~
London in 1900 had 11,000 cabs, all horse-powered. There were also several thousand buses, each of which required 12 horses per day, a total of more than 50,000 horses. In addition, there were countless carts, drays, and wains, all working constantly to deliver the goods needed by the rapidly growing population of what was then the largest city in the world. Similar figures could be produced for any great city of the time.*

The problem of course was that all these horses produced huge amounts of manure. A horse will on average produce between 15 and 35 pounds of manure per day. Consequently, the streets of nineteenth-century cities were covered by horse manure. This in turn attracted huge numbers of flies, and the dried and ground-up manure was blown everywhere. In New York in 1900, the population of 100,000 horses produced 2.5 million pounds of horse manure per day, which all had to be swept up and disposed of.

In 1898 the first international urban-planning conference convened in New York. It was abandoned after three days, instead of the scheduled ten, because none of the delegates could see any solution to the growing crisis posed by urban horses and their output.

The problem did indeed seem intractable. The larger and richer that cities became, the more horses they needed to function. The more horses, the more manure. Writing in the Times of London in 1894, one writer estimated that in 50 years every street in London would be buried under nine feet of manure. Moreover, all these horses had to be stabled, which used up ever-larger areas of increasingly valuable land. And as the number of horses grew, ever-more land had to be devoted to producing hay to feed them (rather than producing food for people), and this had to be brought into cities and distributed—by horse-drawn vehicles. It seemed that urban civilization was doomed.
~
Doesn't sound like you'd be keeping your windows open at night, does it? But let's say for arguments sake one could get used to copious amounts of foul-smelling horse dung littering your neighborhood. Care to guess what odors were emanating from the over-crowded cemetery across the street from where you lived?
~
~
Burial was the norm; cremation a peculiar foreign custom. The difficulty lay in finding room for an ever-increasing number of corpses. The capital's burgeoning population, upon their decease, were filling up its small churchyards, burial grounds and vaults.

The consequences, wherever demand exceeded supply, were decidedly unpleasant. Coffins were stacked one atop the other in 20-foot-deep shafts, the topmost mere inches from the surface. Putrefying bodies were frequently disturbed, dismembered or destroyed to make room for newcomers. Disinterred bones, dropped by neglectful gravediggers, lay scattered amidst the tombstones; smashed coffins were sold to the poor for firewood. Clergymen and sextons turned a blind eye to the worst practices because burial fees formed a large proportion of their income. Macabre scenes awaited those who pried too closely into the gravedigger's work.

The key to the problem was gas emanating from rotting corpses. The existence of such gases was undisputed – sextons and undertakers were often called up to "tap" coffins in church vaults, drilling a hole to prevent them breaking open with explosive force. Walker dutifully recorded the effects of leaking miasma on the constitution of gravediggers, ranging from general ill health ("pain in the head, heaviness, extreme debility, lachrymation, violent palpitation of the heart, universal trembling, with vomiting") to sudden death. Gas could, indeed, prove fatal: graveyard workers who broke into bloated coffins were occasionally suffocated by the release of "cadaverous vapours".
~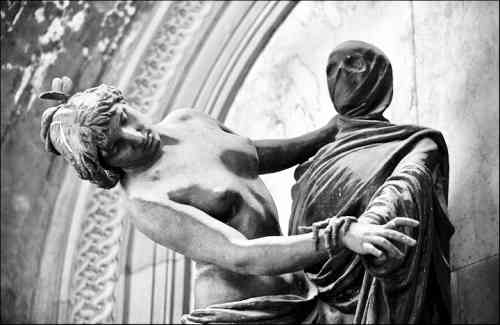 ~
Unappealing as those details are, I haven't even started with the raw sewage in the streets, the constant cholera outbreaks as a result, or the fact that penicillin wouldn't be invented for another 100 years. Indeed, time traveling does have its conundrums. On the one hand, who wouldn't want to walk the streets of Florence while Michelangelo was alive, or watch Brunelleschi's Duomo being built? On the other, there's no denying that there would be lot of gruesome health and safety concerns to overcome.
~
"People assume that time is a strict progression of cause to effect, but actually from a non-linear, non-subjective viewpoint - it's more like a big ball of wibbly wobbly... time-y wimey... stuff." ~ Steven Moffat

~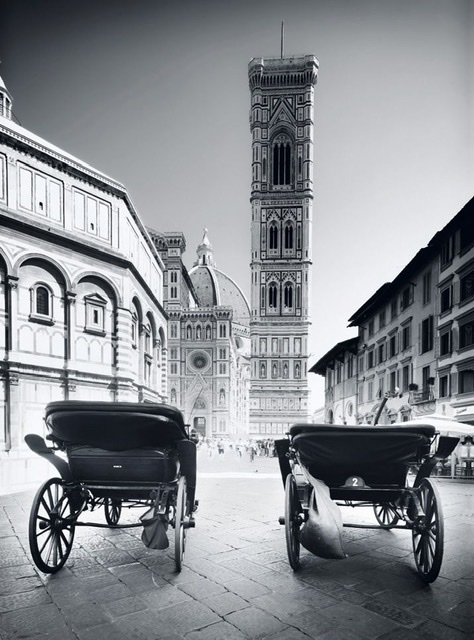 ~
Judging by the amount of books and screen time devoted to the subject one might come away thinking there is little new to write about. But time travel is one of those genres that re-invents itself with each new story. Among the guilty pleasures I indulged in last fall, binge watching Diana Gabaldon's Outlander series was one of them. A time travel saga that incorporates a great love story with Scottish history (not to mention a hunky guy wearing a kilt who is sensitive and romantic). But as a time travel model, I found the method Gabaldon chose to send her main character back in time troubling. One minute Claire is picking herbs on a hillside and the next she accidentally transports herself to 18th century Scotland. Don't get me wrong, narratively it's a brilliant dramatic device, but if we were to consider time travel in real life terms, then the consequences of accidentally finding oneself transported back to, oh, I dunno, Italy in 1348 would be catastrophic.
~
~
One would imagine that being accidentally dropped in the middle of Europe just before the first wave of The Black Plague would be bad enough, but how would you also like to be the only one who knew it was coming? Talk about facing some hard choices. Between rational thinking and the impulse to completely freak out, your survival would largely depend on how well you know your history. Armed with the knowledge that Iceland escaped the first wave of the plague, you could haul your ass over there as quickly as possible and figure out a way to explain how bacteria and antibiotics work to an intrepid scientist free-thinking enough to believe you. Which means everyone else's survival would depend on you knowing history and chemistry. Failing that, I suppose the best you could hope for is to quarantine yourself somewhere with a roaring fire to keep the infected rats away and maybe write a book about your time travel predicament. While it might not be Boccaccio's The Decameron, it would definitely offer a unique perspective on living in Europe during The Great Mortality.
~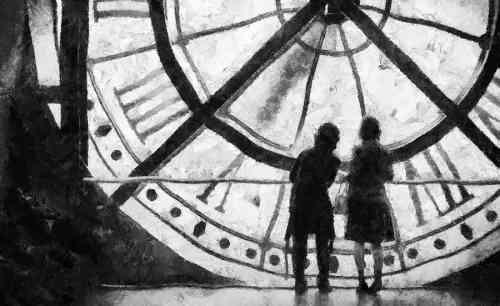 ~
Admittedly, saving the world from the Bubonic Plague is a fairly grandiose idea as time travel stories go, but it also brings up the question of how much we are allowed to interfere with the trajectory of history. The answer to that depends on which model the time travel story is using. Typically you'll see one of four different timelines, or models, writers will employ in their time traveling stories. Each of them with their own rules.
~
1. Single Timeline (Everything Predestined)

The most elegant model is the single timeline, or time stream, or universe, which amounts to a closed loop. In its simplest terms: the future time traveler was always in the past. Any "changes" made to the past are not changes at all, because they already occurred. It's impossible to change the past, since the past has already happened. Which came first, chicken or egg?

When I say "predestined", I don't mean that in a philosophical or religious sense. Single timelines have nothing to do with the issue of free will. I mean simply that everything has already happened: the future self was always in the past to begin with. The future self is not changing anything or creating new events by traveling to the past; it's impossible to change the past.

2. Multiple Timelines (Changing History)

Changing history is fun and offers high-stakes drama, but it's hard to do right by. Most filmmakers blunder at some point. The idea is simple enough: the act of time travel automatically changes the past and forces the universe on to a different trajectory. It creates a new timeline, or an alternate history, a new causal chain, or a parallel universe — whatever you want to call it (see right diagram). Because it is a new timeline, it operates independently of the original one. That last part is what often gets muddled.

The most celebrated example of this model is Back to the Future (1985). Marty McFly goes back in time, and when he returns to the present, he finds that his parents are much more enjoyable people. For the most part the logistics are handled well, but there are some silly elements, as when for example Marty's body starts to fade as he intervenes in the past, and starts to prevent his parents from falling in love. This misses the whole point of new time streams. Marty can't possibly erase himself, because he comes from a time stream in which those threats to his existence never happened. If his parents don't hook up, all that means is that there won't be a version of himself born in the new timeline; it has no bearing on any versions of himself in or from other timelines.

3. The Repeated Loop (The Do-Over)

In the do-over, scenarios are repeated until the protagonist triggers a reset, usually by dying, going to sleep, or getting knocked unconscious. The protagonist then wakes up and repeats the scenario again, making different choices, until he or she can finally escape the loop.

For whatever reason, do-overs are often saturated with comedy. Perhaps it's because repeating yourself over and over again is something you have to roll with and play for laughs in order to keep your wits. In Groundhog Day (1993), the Bill Murray character relives the same day over again, until he finally obtains love and happiness.

Dickens' classic A Christmas Carol is a variation of the do-over. Scrooge gets to visit the future of his current timeline, and even though he can't affect the timeline directly, he observes things which allow him to change his actions in the present. So instead of the timeline he's on which results in Tiny Tim's death, he's able to make a different choice, and create a new timeline in which Tiny Tim lives. A Christmas Carol is probably the best do-over ever written, though few people think of it as a time-travel story.

4. The Universe Fights Back

This is technically a multiple timelines model, because it is possible to change the past. But doing so results in cosmic disaster. The universe resists any attempts to reorder it, and nasty shit happens when those attempts succeed. That implicitly appeals to the single timeline model: the timeline "must be protected from change" at all costs — or else.

A famous example is Stephen King's 11/22/63, in which Jake Epping goes back to prevent JFK from being assassinated. He finds it extremely hard to do; the closer he draws to saving Kennedy, things work strangely against him. He manages to save Kennedy, but the world eventually goes to hell as it's torn apart by world wars. It's a fatalist view, and a lot like the single time stream model: the past is destined to stay the past; if it doesn't, then calamity rains down. So Jake undoes his mistake and allows JFK to die after all; this gets the universe back on track.
~
Stephen Hawking once asked: If time travel is possible, why are we not inundated with tourists from the future? It's a fair point and yet our fascination with time travel persists. Whether reading about it in a fictional novel or imagining it in real life, the idea of mixing fantasy with science is a powerful alchemy of possibilities. I mean what if someone went back in time and killed Hitler? Or prevented JFK from getting shot? The opportunities are endless. Some might even say our desire to travel back in time, at its most basic level, is a way for us to defeat our own death. Which is definitely an appealing idea these days. So, as I conclude my thoughts on time travel, I'll punt the ball to members here and ask what time in history would you like to go back to and why?
~
Well, that about wraps things up for this week's edition.
~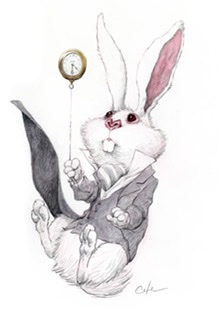 ~
What's on your mind today?